• The Rock Gifts A Car To WWF Veteran
The Rock became "Dwanta Claus" for Old School WWF Veteran Harvey Wippleman and he gifted him a Ford F150 for helping him during his teenage years.
Here's what The Rock wrote on Instagram:
"Merry Christmas, Bruno 🎅🏾 Love you, brother! 100% crackhead free 👹😊
My life (especially my teenage years) has been full of the wildest twists and turns – yet God and the universe had always found a way to put a few people in my path that would change the trajectory of the road I was going down.
Meet one of my lifelong friends, Bruno Lauer — or I prefer to call him, "Downtown Bruno" 😉 🤟🏾
My mom and I were evicted off the island of Hawaii and I was sent to Nashville, Tennessee to live with my dad.
When I landed in Nashville, I quickly found out I wasn't gonna live with my dad.
Shit happens, plans change and that's the way it goes.
Instead, I told I was gonna live with a guy named Bruno. Who at the time lived in a tiny room at a spot called the Alamo Plaza motel.
Bruno could've (and should've) said hell no, I'm not takin' in some kid who I don't know.
But he didn't.
He took this punk kid in and we became lifelong friends.
Then ironically – about 9 years later when I had the infamous "$7 Bucks" in my pocket – I started my wrestling career in Memphis, Tennessee and AGAIN – had no place to live and Bruno took me and let me shake up in his trailer, til I could get on my feet.
And hell, when I was 15yrs old, Bruno even gave me his last $40 bucks so I could hustle a crackhead out of his car one night at a honky tonk in Nashville 😈🤦🏾‍♂️
But the hustle was on me, because when I took off down the road there was a SECOND CRACKHEAD passed out on the floor in the back! 👹
Wild times at 15yrs old.
Merry Christmas, Bruno and since you helped me "buy" my first car – I figured I could return the favor and buy you one that 100% does NOT have a crackhead in the back seat.
I love you, brother.
Your kindness and heart – helped change my life's trajectory.
And when you're ready to retire from "the business" you just say the word.
I got you covered.
We'll go "downtown" 🤟🏾
Enjoy your new ride and give Walls, Mississippi my love and gratitude 🖤 "
Wippleman got really emotional. You can watch the video below:
View this post on Instagram
WATCH: Torrie Wilson Brutally Spanks Stacy Keibler:
You can download our official WrestleFeed mobile app to check out more Wrestling news & Divas content. Tap here to download.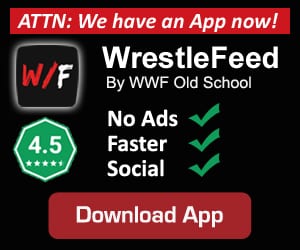 • ON THIS DAY IN WCW HISTORY (December 31, 1994) – WCW Worldwide (BEST OF 1994)
On this day in 1994, Ted Turner's World Championship Wrestling aired an episode of their weekly TV show 'WCW Worldwide'.
This episode featured pre-taped matches & storyline segments on the road to the 'WCW SuperBrawl V' PPV.
The card can be found below:
WCW TV Title: Lord Steven Regal vs. Flyin' Brian (WCW Worldwide 3/12/94)
Interview Honky Tonk Man
Dustin Rhodes & Arn Anderson vs. Bad Attitude *joined in progress* (WCW Worldwide 7/16/94)
Hulk Hogan Press Conference (WCW Saturday Night 6/11/94)
Hulk Hogan & Sting vs. Bruise Brothers (WCW Worldwide 11/12/94)
Tuxedo Match: Stunning Steve Austin vs. Johnny B. Badd (WCW Worldwide 5/7/94)
Interview Hacksaw Jim Duggan
Harlem Heat vs. Nasty Boys (WCW Worldwide 11/26/94)