• Dolph Ziggler Reveals Original Plan For Him In WWE
Current Intercontinental Champion Dolph Ziggler was recently a guest on Lilian Garcia's Chasing Glory podcast. He discussed various topics and also revealed what WWE had planned for him before making him a member of The Spirit Squad.
Below is what he said about his original role in WWE:
"A little before I got called up to do the Spirit Squad I was told by the in-between when you're hearing you're gonna get called up to WWE, the main roster. They were like, 'Hey, they really like that you have an amateur wrestling background' and I had my crew cut, my military haircut. They go, 'It's great that you have no tattoos, we're kinda looking at you as Kurt Angle's protégé or something.'
If Kurt Angle hadn't won that gold medal and came to WWE I might not have even got a chance. But because he was so good and he did so well when he got here they're like, 'maybe we can give some smaller guys a try and because of him I got a chance to work here. And they go, hey maybe we consider you as his protégé and I go, 'What? This is the craziest thing ever!' Cut to four weeks later and I'm a cheerleader with four other guys, but still the thought was there that maybe that was gonna happen."
• Two RAW Stars Out Of Action With An Injury
Nia Jax was last seen on RAW 3 weeks ago when she faced RAW Women's Champion Alexa Bliss. Since then, she hasn't been on TV.
According to PWInsider, Nia Jax is currently out of action with an injury of sorts. Jax hasn't been traveling with the RAW brand. She posted a story on Instagram in which she captioned herself as "rehabbing".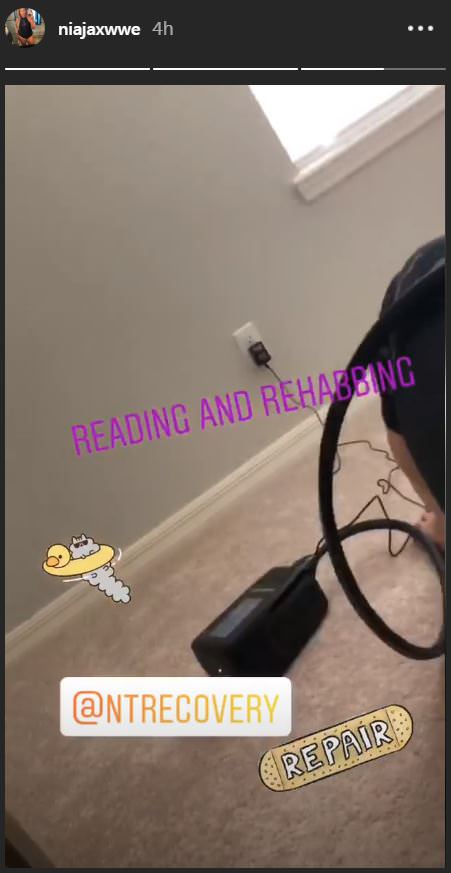 While it is unknown what kind of injury she has suffered, we hope she recovers soon. We will keep you updated as we find more on the condition of Jax.
Also, RAW Women's Champion Alexa Bliss noted during this week's RAW that Mickie James is out of action with an injury.
Mickie later noted on Twitter that she'll be back soon:
Thanks for all the love everyone. I'll be back soon. I tell ya what @AlexaBliss_WWE I couldn't have picked a better friend & ally myself than in @AliciaFoxy . You both looked and did so amazing last night! #FoxyLady ? ❤️?‍♀️ https://t.co/juBObMR0yc

— Mickie James~Aldis (@MickieJames) July 31, 2018
Announcement: We have launched our 'WrestleFeed' App on both Android & iOS. We're trying to create Wrestling's own Social Media with it. Apart from all the wrestling news, videos & other updates on the app, we're also going to do a 'Wrestling Quiz' every week before Monday Night RAW soon. The winner of that Quiz will win $100.
Please download our app now! Below are the download links:
Android – http://bit.ly/2IVQ3yU
iOS – https://apple.co/2Oido0R