• ON THIS DAY IN WWF HISTORY (October 23, 1995) – WWF Monday Night RAW
On this day in 1995, the World Wrestling Federation aired another episode of their weekly TV show 'WWF Monday Night RAW'.
It was taped in Brandon, Manitoba, Canada and featured matches, interviews & storyline segments on the road to the 'WWF Survivor Series 1995' PPV.
Here's the card:
1. Battle Royal feat. Owen Hart, King Kong Bundy, Marty Jannetty, Isaac Yankem, Kama, Sid, Henry Godwinn, Duke Droese, Jean Pierre Lafitte, Skip, Barry Horowitz, The 1-2-3 Kid, Aldo Montoya, Savio Vega, Hunter Hearst Helmsley, Fatu, Hakushi, Bob Holly, Rad Radford and Bam Bam Bigelow
2. Avatar vs. Brian Walsh
3. Alundra Blayze vs. Bertha Faye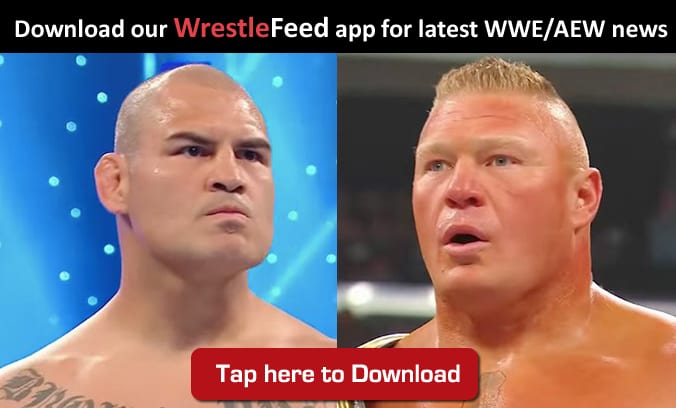 • UFC Fighter Colby Covington Takes A Shot At The Rock Appearing At UFC 244, Wants To Shut Up Seth Rollins
During a recent interview with Submission Radio Australia, UFC Welterweight (170 lbs) fighter Colby Convington took some shots at WWE Universal Champion Seth Rollins and WWF Legend The Rock.
Below are the highlights:
On Seth Rollins:
"The guy that's dating The Man. What's his name? Seth Rollins? Yeah, the little cry baby. I would love to go up against him. He thinks he's so tough, he thinks he's so hard cause he's got a girlfriend that's famous. It's pretty much making his career cause he's dating Becky Lynch.
So, I'd love to just go shut him up. What better way. We can even do a tag team match, me and Ronda versus Seth Rollins and Becky Lynch. That could be a huge tag team type match. But let me tell you something right now, no one on that WWE roster's safe if I come over there."
On The Rock appearing at UFC 244 to present the BMF (Baddest Motherf***er) Title to the winner of the Nate Diaz vs. Jorge Masvidal fight:
"I mean, let him do that, let him hype up these losers that are never gonna sniff anywhere close to the greatness that I've sniffed.
They're not getting calls from the President of the United States, they're not getting texts daily from the first family, they don't have an open invite to the White House.
Oh cool, you got some pro wrestlers? I know lots of pro wrestlers. Actually, I might have to have Kurt Angle show up and beat the Rock's a$$. I mean, let's be honest, Kurt Angle won the Olympics with a broken freakin' neck. The guy's an intense machine.
And Bobby Lashley, my friend over at the WWE, Ronda Rousey. I got so many friends over at the WWE. Paul Heyman.
I got a lot of friends over there, I could care less about The Rock. He's all hype, and they probably just had to pay him a ton of money to show up to do that."
WATCH: Nikki Bella Juggs Compilation: