– Update On When Raw Might Invade SmackDown Live Ahead Of Survivor Series 2017
As seen on this week's episode of Raw, SmackDown Live Superstars invaded Raw and destroyed almost the whole Raw roster backstage. Dave Meltzer of the Wrestling Observer addressed this situation and below are the highlights:
On Sami Zayn not being present during SmackDown Live's invasion of Raw:
"I was really glad there was no Sami Zayn because of the Shane McMahon-Sami Zayn thing. I mean it was kind of weird even to have Baron Corbin there. I can't really explain why certain people were there and certain people weren't.
You know Jinder….but wouldn't want Jinder there. Charlotte, I guess could be there. I don't see any reason why she couldn't but she wasn't. Randy Orton was probably just given the day off.
Sami not being there…. you know he shouldn't have been there because he screwed Shane and everything. He shouldn't be on TV backing Shane."
On SmackDown Live's women dominating Raw's women:
"That was really weird because that was like a fair fight they just beat them up. I guess they had to because the story is like that. But it should have been like an advantage thing where it was like four on two or something or four and three but it was like even. And they just went in there, beat them up, took about what ten seconds and then they moved on."
On the last segment of Raw:
"The last segment was great. I thought it did put a lot of heat on everyone. I'm sure there's gonna be a comeback by Raw, maybe even tomorrow night. If not, next week for sure. It's been pretty good and so to build some heat for those matches. So it's gonna be five on five.
I don't think Kane would be in the match. So the the top guys would probably be Finn Balor who has just got destroyed, makes even more sense. He got beat up like a geek anyway. He was just thrown around like he was a nobody.
Well they pretty much took out everyone except for (they protected) Kane. And they protected Alicia Fox for god only knows what reason. And Asuka, she wasn't there. Thank God. She shouldn't have been there. That was a smart move."
On when Raw might invade SmackDown Live:
"I could see not doing it tomorrow. Probably would have to happen on SmackDown Live the following week. Raw Invasion needs to be done either tomorrow or next week's SmackDown Live. They need to get it done in the next two weeks."
Speaking of the Raw – SmackDown Live invasion, WWE is teasing that Raw might invade SmackDown Live tonight:
"Riding high off his victory at WWE TLC, Raw General Manager Kurt Angle invited SmackDown LIVE Commissioner Shane McMahon to last night's Monday Night Raw. Angle may not have realized it at the time, but as the battle for brand supremacy at WWE Survivor Series 2017 draws near, he was inviting the enemy in through the front door.
As Angle was set to disclose the members of Raw's team for the 5-on-5 Men's Survivor Series Elimination Match, Shane-O-Mac had a revelation of his own to make: He did not come to Raw alone. And with that, nearly all of SmackDown's Superstars swarmed the arena, overwhelming Team Red, its roster and its General Manager.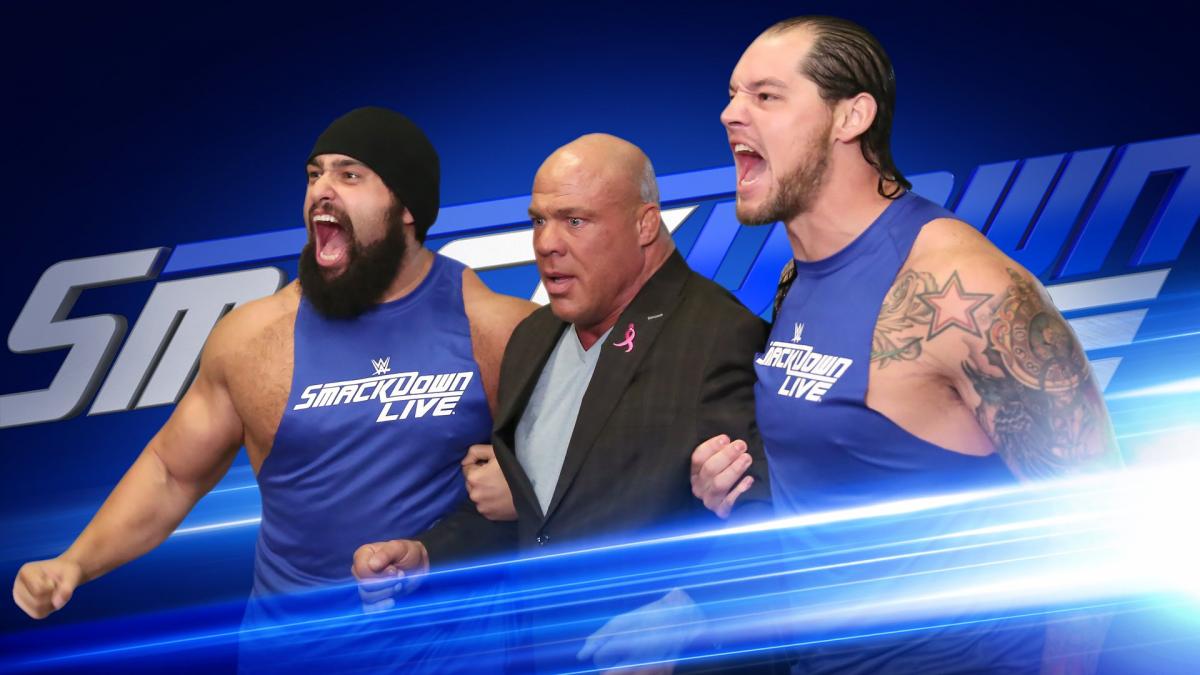 While Team Blue will certainly be reveling in getting one up on their rivals, there is no doubt that Raw is seething after Monday's ransacking. Will Team Red be looking for payback? Find out tonight on SmackDown LIVE at 8/7 C on USA Network!"
You can watch SmackDown Live's invasion of Raw below:
– WWF Veteran Comments On Vince McMahon Redoing Segments At TLC 2017
During a recent edition for "The Taz Show" podcast, WWF Veteran Taz commented on Vince McMahon redoing the Elias – Jason Jordan segment at TLC 2017:
"I didn't get into this. Elias was playing a guitar and all of a sudden he is getting hit with like vegetation and then it's Jason Jordan. And then later on he comes back again and he's playing the song.
And then we see the same shit happen and I'm like this – No way. Vince wanted to do that again! And then he came out for a third time and they had the match. It's unbelievable. Elias is awesome, but they put him back a little bit.
As a whole, I gotta be honest, I didn't like the show. I hate to say that. I know there's a lot of work and money that goes into production and I know that and I hate to be that. I don't normally do that but I just wasn't a fan. I think the booking was very sketchy and very hokey."