• Old School Wrestling Veteran Would Have Celebrated His Birthday
Old School Wrestling Veteran Silo Sam (Real name: John Harris) would have celebrated his 67th birthday today.
Standing 7ft 5in (billed as 7ft 7in), he ranks #3 on the list of the tallest professional wrestlers ever, which can be seen here.
Known as Silo Sam in Verne Gagne's AWA (1986), he was known as Big John Harris on CWA Memphis Wrestling TV (1984-1985) and as Little John in Fritz Von Erich's WCCW.
In 1987, he wrestled on untelevised WWF House Shows, but they didn't end up hiring him.
Quite a lot of people remember him for chasing Pee-Wee Herman because of a girl in the movie "Pee Wee's Big Adventure".
HAPPY BIRTHDAY & † REST IN PEACE
September 12, 1952 – April 19, 2005
• Which RAW Guests Vince McMahon Specifically Requested To Take A Photo With?
The chairman of WWE, Vince McMahon, enjoys one of the most enduring, uncompromising, and faithful love stories in the entertainment world. With all due respect to his wife, this burning passion isn't for one person. It's for celebrities. All celebrities. What makes this all-encompassing love particularly unusual is that it comes from a billionaire with quite a bit of his own name recognition.
Maybe, though, this love is really business savvy—part of the strategy he used to bring pro wrestling into the mainstream.
Former WWE Cruiserweight Champion Hornswoggle recently appeared on Edge & Christian's Pod of Awesomeness podcast and shared an interesting thing about Vince McMahon. He revealed the guest who Vince McMahon specifically asked to get a picture with.
Vince McMahon considers Jim Henson (the creator of the famous show, "The Muppets") a hero and this led to Vince specifically requesting to take a photo with The Muppets on the Halloween edition of RAW in 2011.
Below is the photo: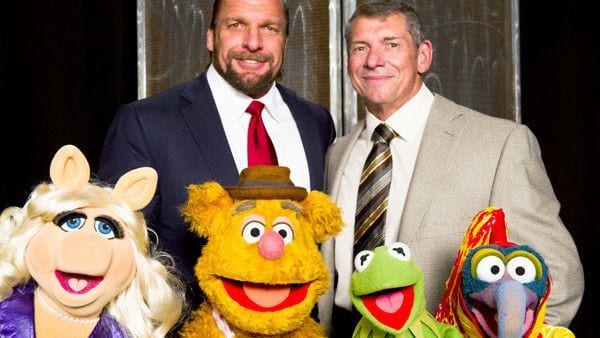 Request: Please download our official "WrestleFeed" app for the latest WWE/AEW News & Clash Of Champions 2019 updates!
Below are the download links for our Android/iOS app:
Android – http://bit.ly/2IVQ3yU
iOS – https://apple.co/2Oido0R