WWE Superstar Matt Riddle's private video showing his junk got leaked online while this week's RAW was going on. This is the reason he was trending on Twitter.
While Riddle didn't appear on RAW, he was interviewed by Cathy Kelley on RAW Talk and he obviously made no mention of the leaks.
A fan sent Riddle the leaked video in a message. The screenshot of their conversation was posted online as well.
You can read it below:
Fan: Riddle what have you done now
Riddle: Where did you get this?
Fan: It's all over Twitter and a $ex tape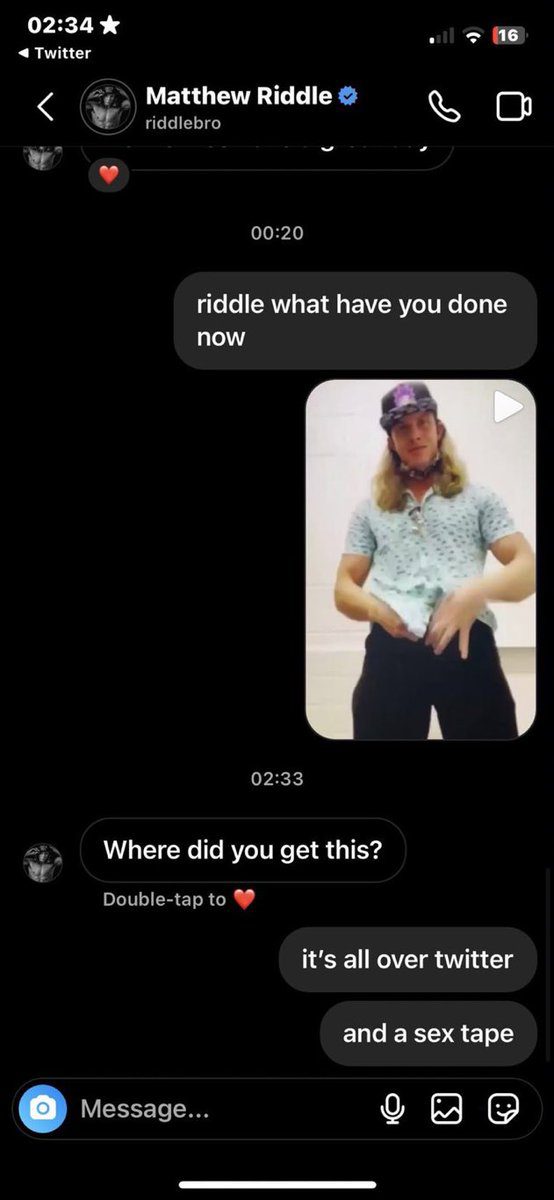 In an update on this situation, this video wasn't leaked by hackers, but by the person who Riddle sent this to on Snapchat. There are ways to record videos on Snapchat without alerting the user who sent it.
Riddle thought his video would go away after 24 hours (as that's what happens on Snapchat), but the person who received the video recorded it and leaked it online.
Riddle's ex-girlfriend Daniella saw the leaked video and tweeted the following:
"@SuperKingofBros now I'm getting sent your f**kin d*ck swinging vid by randoms still!??!
Go back to rehab 100% this time not just for substance abuse but for a s*x addiction ya f**kin s*xual predator!!!!
@therealmishamontana get your dog on leash @WWE"
Riddle's current girlfriend, adult movie star Misha Montana, saw this and tweeted the following:
"I hope that one day the 'news' will be more interested in factual reporting rather than perpetuating false narratives and encouraging severely mentally ill, unstable individuals to deepen their unhealthy attachments and obsession which endangers the families of their subjects."
Daniella replied:
"@therealmishamontana calling women like myself liars etc when you weren't present to know what I went through or others. Minaj calls that a stupid h*e.
Mentally illness for standing up against a man who made me a victim in his track record.
Darling I have courage & determination to speak truth! And be a voice for those who are hidden you know sh*t about.
Using this old video when I was still with Matt. It's crazy I lost 70 lbs since then from depression & anxiety caused by his BS this last year."
Below is the video that she's talking about:
@therealmishamontana 💋🖕🏼calling women like myself liars ect when you weren't present to know what I went through or others. Minaj calls that a stupid hoe 😆😆 mentally illness for standing up against a man who made me a victim in his track record.@ringsidenews_ @wwedoudrop pic.twitter.com/80wki9jFHw

— Dániella (@Dniella16) May 11, 2023