Tonight's WrestleMania 39 Saturday is airing LIVE from the SoFi Stadium in Inglewood, California.
The main show kicked off with WWE Hall of Famer Snoop Dogg and the Host of WrestleMania Hollywood, The Miz. They hype up the 75,000 fans in attendance!
United States Champion Austin Theory makes his way out next, followed by 16-time WWE World Heavyweight Champion John Cena! This is Cena's first WrestleMania since 2020.
Make-A-Wish kids who wanted to go to WrestleMania were on the stage during Cena's entrance.
They begin the match and Theory bit Cena's ear at one point. Cena countered a move from Theory and locked in the STF, but Theory broke it up by biting Cena's hand.
Cena picks up Theory for an Attitude Adjustment, but Theory counters with a DDT. Theory flexes and mocks the crowd.
John hits his 5 Knuckle Shuffle sequence. Cena goes for the AA, but the referee gets knocked out. Theory gets out of the AA, but Cena counters with an STF. Theory taps out, but the referee is out.
Cena breaks the hold and celebrates. Theory low blows Cena and hits his finisher for the win.
Austin Theory (c) def. John Cena to retain the United States Championship
Up next is the Men's WrestleMania Showcase Match. During this match, Ivar of The Viking Raiders hit a Moonsault, but missed. Braun Strowman then hit him with a Splash from the top rope!
All men teamed up to do a crazy spot. You can watch it below:
— @LuigiWrestling (@videosluigiw2) April 2, 2023
Ricochet hit a crazy Shooting Star Press from the top rope to the outside. He went for another one inside the ring on Angelo Dawkins, but Dawkins got his knees him and kept Ricochet there, and Montez Ford hit a Frog Splash for the win!
— @LuigiWrestling (@videosluigiw2) April 2, 2023
The Street Profits def. Ricochet & Braun Strowman, Alpha Academy & The Viking Raiders in the Men's WrestleMania Showcase Match
Up next is a first time ever match between Logan Paul and Seth Rollins. Both men got special entrances. Logan came flying through the air on a zip line on his 28th birthday.
During the match, Seth stomped Logan's hand on top of the steel steps. However, a few minutes later, Logan hit Seth with a KO punch, but Seth kicked out of it.
The Prime bottle mascot that came out with Logan is actually KSI and he pulled Logan out of the ring.
Logan has Seth set up on the announce table for an Elbow Drop from the top of the ring post. KSI is recording and mocking Seth. Seth pulls in KSI on the announce table and Logan Frog Splashes KSI through the table!
— @LuigiWrestling (@videosluigiw2) April 2, 2023
Seth immediately takes Logan to the ring and hits the Pedigree! Seth goes for the cover, but Logan kicks out. Logan hits Rollins with a GTS, followed by a Frog Splash! Logan goes for the cover, but Rollins kicks out.
Logan was going for a Coast To Coast, but Rollins countered with a Superkick. Rollins hits the Stomp for the win.
Seth Rollins def. Logan Paul
Up next is the 6-woman tag team match. Damage CTRL makes his way out first, followed by Trish Stratus and WWE Women's Tag Team Champions Lita & Becky Lynch.
Bayley, Dakota Kai & IYO SKY aren't allowing Becky to tag in her partners, but Lita eventually tags in.
Lita hits IYO with the Vertigo, but IYO kicks out. When the referee is distracted, Dakota kicked Lita in the head. Damage CTRL hits Lita with a Triple Superkick. Bayley goes for the cover, but Lita kicks out.
Trish finally tags in. This is her first match since SummerSlam 2019.
All women are fighting in the ring. Lita hits the Twist Of Fate and the Moonsault. Becky hits Bayley with the Manhandle Slam from the second rope for the win.
Trish Stratus & WWE Women's Tag Team Champions Lita & Becky Lynch def. Damage CTRL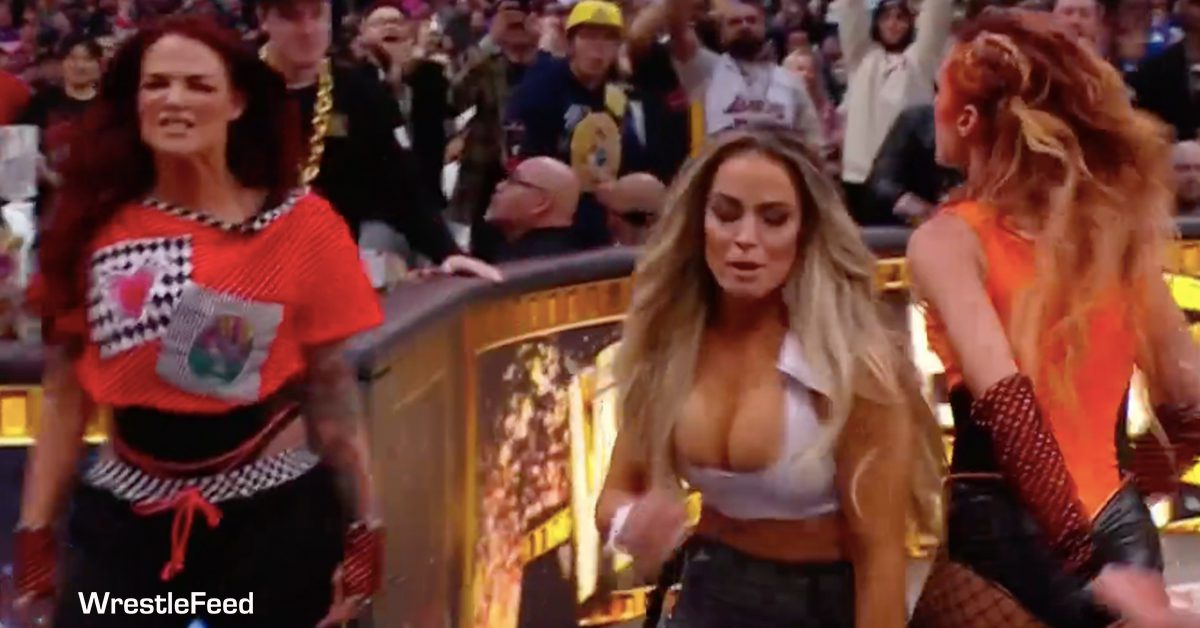 Up next is Father vs. Son. Bad Bunny is the special Spanish Guest Commentator in this match.
Dominik Mysterio gets brought out by the cops while being handcuffed. He was also wearing his father's mask.
The 2023 WWE Hall of Famer comes out next in a car with Snoop Dogg with Eddie Guerrero's music!
During the match, Rey gave a spanking to Dominik and Dominik threw water in his sister Aalyah's face at ringside. Dominik came back to ringside to talk trash, but this time got slapped by his mother Angie.
— @LuigiWrestling (@videosluigiw2) April 2, 2023
Judgment Day members Finn Balor and Damian Priest have come out now.
Rey hits the 619 on Dominik and is going for the splash, but Finn and Priest stop him. Legado Del Fantasma comes out to beat up Balor & Priest.
Dominik hits Rey with the 619, followed by the Frog Splash. Dominik goes for the cover, but Rey kicks out! Dominik takes out a steel chain from Damian's jacket, but Bad Bunny takes it away!
Rey hits the 619 and the Frog Splash for the win!
Rey Mysterio def. Dominik Mysterio
You can watch the finish below:
— @LuigiWrestling (@videosluigiw2) April 2, 2023
Up next is the SmackDown Women's Championship match. 2023 Women's Royal Rumble winner Rhea Ripley makes her way out first, followed by the champion, Charlotte Flair.
During the match, Charlotte countered Rhea's finisher with a spike DDT. Ripley went for the Riptide again, but Charlotte countered again, this time with a German Suplex.
Rhea hits Charlotte with a vicious German Suplex, where Charlotte turns upside down completely and landed on her head!
Charlotte hit Rhea with her signature Moonsault from the ring post to the outside.
Flair almost hit the referee and Rhea took advantage and finally hit her finisher. Rhea went for the cover, but Charlotte kicked out! Rhea can't believe it!
Ripley locks in her Cloverleaf Submission, but Charlotte manages to reach the ropes. Charlotte hits a Spear and goes for the cover, but Rhea kicks out!
Both of them are trading back & forth blows, and Charlotte puts Rhea down with a Big Boot. Charlotte locks in the Figure 4 Leg Lock, but Rhea reaches the bottom rope before she could turn it to a Figure 8.
They were fighting on the second rope and Rhea smashes Charlotte's face on the ring post.
Ripley hits the Riptide from the second rope for the win!
Rhea Ripley def. Charlotte Flair (c) to win the SmackDown Women's Championship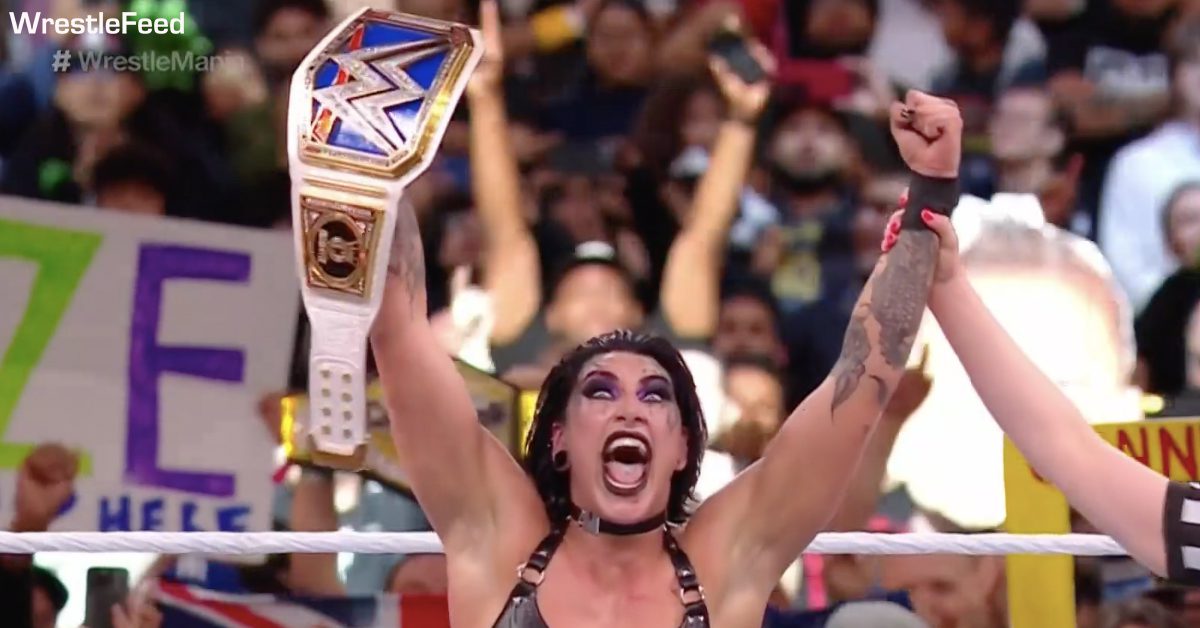 Below is the finish of this match:
— @LuigiWrestling (@videosluigiw2) April 2, 2023
The Miz and Snoop Dogg announce tonight's attendance to be 80,497. Snoop said the only thing that'll make tonight better is if Miz has a match. Miz said he laid out an open challenge on Social Media, but no one answered.
Pat McAfee makes his return and the match begins. Miz tries to leave and pushes the Football player at ringside, but he lays him out.
— @LuigiWrestling (@videosluigiw2) April 2, 2023
McAfee punts Miz in the mouth to pick up the win.
Pat McAfee def. The Miz
Up next is the main event of the evening and it is for the Undisputed WWE Tag Team Championship.
Lil Uzi Vert performed and then raised his finger as The Usos come out. They have been champions for 622 days now. Kevin Owens comes out next, followed by Sami Zayn.
Undisputed WWE Universal Champion Roman Reigns is watching this match and tweeted the following:
"Bloodline.
The greatest Main Event family of all time."
Sami and Jimmy Uso are starting the match, but Jimmy feels Jey Uso should be the one who faces Sami, so he tags him in.
Jimmy & Jey are brutalizing Sami, but he's not willing to give up and lose. Usos slam Owens through the announce table.
Usos hit the 1D on Sami and Sami kicks out! Nobody in history has kicked out of this finisher until now!
Jey is now venting his frustrations at Sami. He's slapping and punching him left & right, saying he thought Sami was his brother.
Sami gets hit with a Helluva Kick by Jey. Jey is shouting that Sami should've never left The Bloodline, which leads to Sami turning the tables and hitting the Exploder Suplex on Jey in the corner. Sami tags in Kevin.
Kevin hits both Usos with Pop-Up Powerbombs. Sami hits the Helluva Kick on Jimmy and Kevin hits Jey with the Stunner and goes for the cover, but Jey kicks out!
All 4 men get up and Kevin shouts 'let's end it' and they all begin fighting. Usos take out both KO & Sami with superkicks. Usos hit a double Uso Splash on Kevin and go for the cover, but Kevin kicks out!
Sami hit Jey with 3 Helluva Kicks in a row, while Owens hits Jimmy with a Stunner, to pick up the win.
Sami Zayn & Kevin Owens def. The Usos (c) to win the Undisputed WWE Tag Team Championship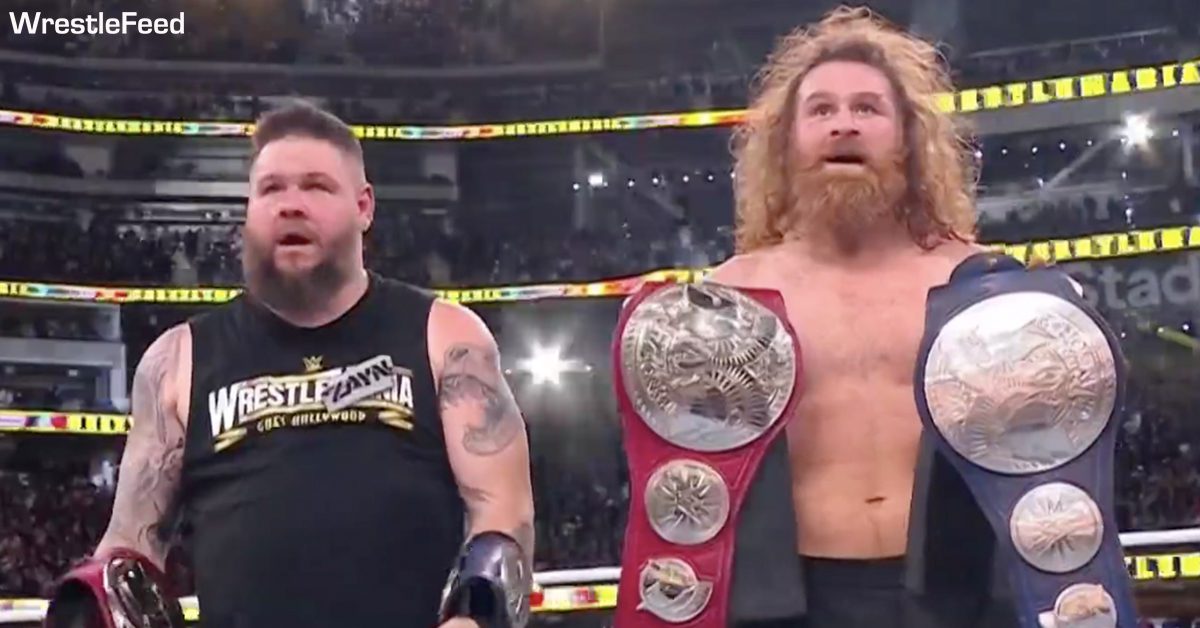 You can watch the finish below:
— @LuigiWrestling (@videosluigiw2) April 2, 2023
New Video: Terri Runnels (Goldust's Ex-Wife) Exposes Her Bare Buns At Divas Undressed Event: