• Old School Wrestling Legend Celebrates His Birthday
Old School NWA/WWF/WCW Legend "King" Harley Race (which is actually his real name) celebrates his 76th birthday today.
Harley Race is a former 8 time (WWE only acknowledges 7) NWA World Heavyweight Champion, who later also wrestled for the World Wrestling Federation from 1986 till 1989.
In 1990, Race joined Ted Turner's World Championship Wrestling, where he slowly moved from a Wrestler into the role of a Manager, managing the likes of Lex Luger, The Colossal Kongs, Yoshi Kwan & Big Van Vader.
He was inducted into the 2004 class of the WWE Hall of Fame by his old rival "The Nature Boy" Ric Flair.
HAPPY BIRTHDAY HARLEY RACE!
• WWE Analyst Almost Quit WWE After Altercation With Michael Cole At WrestleMania 35
During a recent edition of The Pat McAfee Show, WWE analyst Pat McAfee talked about Michael Cole being angry at him for wearing shorts at WrestleMania 35 and said he almost quit WWE after that altercation.
Below is what Pat said:
"[Michael Cole said] 'I told you no shorts!' I said you told me no jorts. He said 'you look unprofessional, you look sloppy.' He was like yelling at me in front of all these people that I looked up to.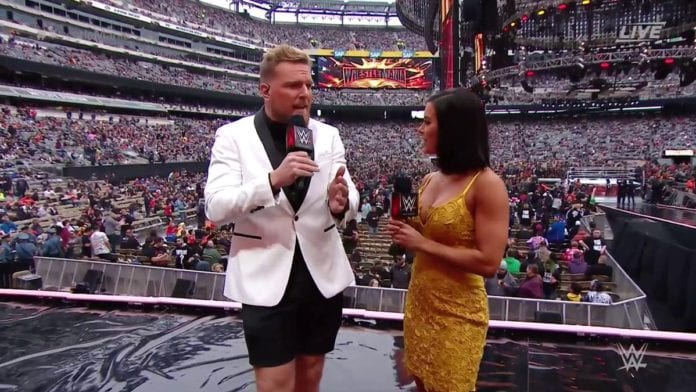 He was like yelling. This wasn't like a rib, or like a gimmick, you could tell there was actual panic.
I then walked back to where watch-a-long was happening and I grabbed my bag and I told the digital guy…I said 'you can tell Michael Cole to go f*** himself. I am leaving. I am not getting punked and yelled at like a child in front of everybody.
You guys think I'm some schlub. This is a second job to me, I'm very lucky to be here, very excited to here but I'm not going to get yelled at like I'm a f***ing child."
WATCH: Sasha Banks Gets The Finger Down There On RAW: