Now it's time for the WWE Hall Of Fame Class Of 2021 inductees to make their speeches.
Corey Graves & Kayla Braxton are the host of this ceremony.
– The 1st inductee of this class is former WWE Champion Rob Van Dam. RVD talked about how a lot of people tried to change him, but he didn't let their opinion affect him.
He also talked about an advice The Sheik gave him – he told RVD to not listen to anyone as people don't know what they're talking about.
RVD thanked fellow ECW Legend Sabu for helping him build confidence and become a better wrestler.
"I had so many people trying to change me because I was different…and I didn't let them."

One of a kind. #WWEHOF @TherealRVD pic.twitter.com/dp5wpnLe8G

— WWE (@WWE) April 7, 2021
– The 2nd inductee is Molly Holly.
"The entertainment you see would not be possible without the talent of the crew!" – @WWE Hall of Famer #MollyHolly

❤️❤️❤️#WWEHOF pic.twitter.com/QqyBRUZ1sZ

— WWE (@WWE) April 7, 2021
– The 3rd inductee is former World Heavyweight Champion The Great Khali. He made his speech virtually.
The #WWEHOF just got a whole lot BIGGER with its newest inductee, #TheGreatKhali! pic.twitter.com/lqGV0TvPyT

— WWE (@WWE) April 7, 2021
– The 4th inductee is Ozzy Osbourne, who got inducted into the Celebrity Wing. He also made the speech virtually. He gave a very short speech (which lasted under a minute) and said it's all about the fans, as the fans keep them alive.
– Legacy Wing inductees for the WWE Hall Of Fame Class Of 2020 were revealed after this:
Dick The Bruiser
Pez Whatley
Buzz Sawyer
Ethel Johnson
Paul Boesch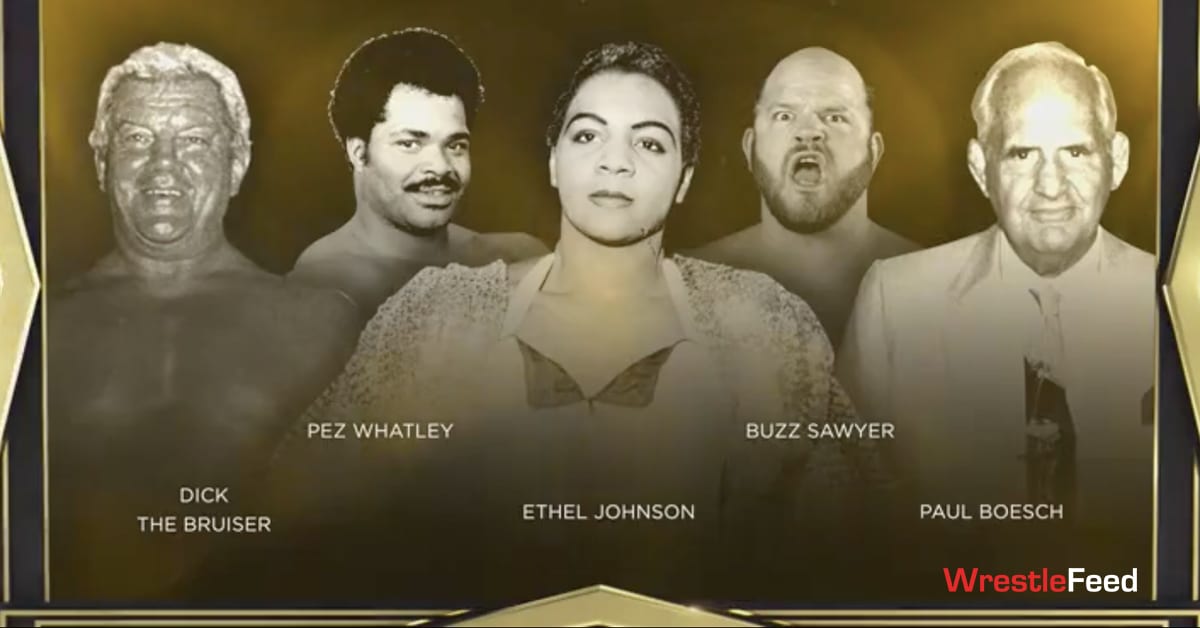 – The next inductee is former WCW President Eric Bischoff. Bischoff said that he has been told he only has 3 minutes to make his speech.
Bischoff thanked the giants of the wrestling business, who have made pro-wrestling one of the best platform for entertainment in the world today. Bischoff then ended his speech by thanking the fans from the bottom of his heart.
– Rich Hering got the Warrior Award next. He has worked for the company for 51 years and counting. He's known as the "Problem Solver" backstage in WWE.
Thank you, Rich! 👏👏👏#WWEHOF #WarriorAward pic.twitter.com/ebD0CuVaqk

— WWE (@WWE) April 7, 2021
A well-deserved recipient of the #WarriorAward!

👏👏👏#WWEHOF #RichHering pic.twitter.com/0zdRJqSqS3

— WWE (@WWE) April 7, 2021
– Up next is the final inductee of the evening – former WWF Champion "Big Red Machine" Kane!
Kane's mask is in a glass box on the podium. Kane revealed his mom loved his Isaac Yankem DDS character.
"My mom LOVED Isaac Yankem, DDS." ❤️🦷#WWEHOF @KaneWWE pic.twitter.com/fjBCnJ0246

— WWE (@WWE) April 7, 2021
Kane says he has only one regret – not being able to spend enough time with his wife and kids. He says marriages in wrestling don't last long, but he has been married to his wife for 26 years now and he's very thankful for that.
He thanked people like Jim Ross and Jim Cornette for helping him get a job in the WWF.
Kane then put over all the wrestlers as he thinks they all are the best entertainers in the world.
Kane then thanked Paul Bearer and The Undertaker. He then said the Kane-Undertaker saga is the best story that WWE has ever told. He then told some funny stories of him and Undertaker and said Taker always believed in him.
He then thanked the fans for making Kane one of the most memorable characters ever.
He then ended his speech by doing his signature pyro blast by raising his arms and bringing them down to end the night.
.@KaneWWE with the ultimate 🎤 drop! 🔥👏#WWEHOF pic.twitter.com/d9A92qFCGS

— WWE (@WWE) April 7, 2021
THAT'S GOT TO BE @KaneWWE!

🔥🔥🔥#WWEHOF @WWE pic.twitter.com/WtPQjIdAdl

— WWE (@WWE) April 7, 2021
WATCH: Former WWE Ring Announcer JoJo (Bray Wyatt's Girlfriend) Shows Off Her Huge ASSets:
You can download our official WrestleFeed mobile app to check out more Wrestling news & Divas content. Tap here to download.