• WWE Hall Of Famer "Didn't Feel Safe At All" During The First Tribute To The Troops
WWE Hall Of Famer JBL was a guest on Wednesday's episode of WWE's The Bump.
He spoke about WWE's annual Tribute To The Troops event, which he gets praised for, as people consider it his idea, but he clarified that it wasn't him who created it and he only had a small role in it.
"I've gone to Afghanistan – I think it was the first civilian group to go after the invasion. After that next year, they said, 'How about you go back with some WWE Superstars.' We went back but to Southern Iraq in the summer, and it was unbelievably hot. We were on one of the busses, and I grew up watching the 'Bob Hope USO Shows.' I always thought that it would be cool to do something like that.
I don't know if I emailed or called Vince [McMahon] about it, but immediately he said he was going to come up with some sort of idea of Tribute To The Troops. He said, 'Let's take over lots of souvenirs to give as gifts to the troops.' I get a lot of credit, especially on social media, but this was an idea WWE formulated. I was just the spark."
When asked about having any fond memory from those trips, he said:
"I was over in Afghanistan, and there was a blackout everywhere. We were still getting mortared all over the place; it was a real, real warzone. There were times during the surge where it was calm, and there were places that were relatively safe.
When I first went over there, I didn't feel safe at all. I met some wonderful Special Forces Soldiers from our country and from around the world. You could hear the mortars at night, and it was a complete blackout. It was probably the most incredible thing that I've ever done.
The growth, to me, is something that's a feeling in our country, which I think is important. These guys are heroes. They do their part and we need to do ours."
WWE Tribute To The Troops 2020 event will air on Sunday, December 18th on FOX.
Also Check Out: Fans Discover Video Of A WWE Wrestler Without Clothes
WATCH: AEW Wrestler Tay Conti's Big Buns (Part 2):
You can download our official WrestleFeed mobile app to check out more Wrestling news & Divas content. Tap here to download.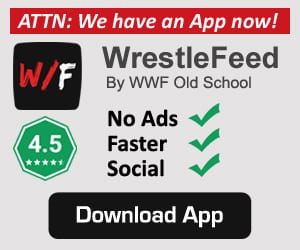 • Old School Wrestling Legend Celebrates His Birthday
Old School Pro Wrestling Legend Jerry "The King" Lawler turns 71 today.
Lawler started his long illustrious career in 1970 and still occasionally wrestles today.
During all those years, he won countless championships, including several World Titles (AWA, CWA/USWA, WCCW, …), but never won one in the World Wrestling Federation.
In 2007, The King was inducted into the WWE Hall of Fame by his friend, Star Trek actor William Shatner.
HAPPY BIRTHDAY JERRY LAWLER!