• Big Changes Made To Next Season Of Total Bellas
Brie Bella revealed during an interview with Sports Illustrated that the upcoming season of Total Bellas will be re-filmed due to the real-life breakup between John Cena & Nikki Bella.
The season was originally set to feature Cena & Nikki getting ready for their wedding, but now the season will focus on what led to their breakup.
Below is what Brie said:
"So many people have so many questions where John and Nicole are at, and why everything happened, and I think this season will answer a lot of those questions. I give them a lot of credit for opening up their lives. We all told ourselves we had to be an open book. If you're going to do reality, you need to do the good and the bad. I think that's why so many people love Nicole and me. We're real and honest. There are some really intimate conversations between Nicole and John. I think my sister is just like, 'Other women go through this,' and she wants them to feel like they're not alone."
• OLD SCHOOL VIDEO HISTORY (April 30, 1986) – Ricky Steamboat In Action
On this day in 1986, the World Wrestling Federation aired a match of Ricky "The Dragon" Steamboat against enhancement talent Joel Navarro.
You can watch the entire match below:
• WWE Returning To Saudi Arabia In November For Another Major Show
Turki Al-Sheikh has announced that WWE will be returning to Saudi Arabia later this year in November for another major show.
Exclusive:
Turki Al-Sheikh announces another major show for #WWE to be held in November and will be in the capital Of #Saudi Arabia #Riyadh
#اعظم_رويال_رامبل #WWEGRR #WWE pic.twitter.com/J1kTQBCfl4

— Riyadh Report (@RiyadhReport) April 27, 2018
Speaking of Turki Al-Sheikh, below is a photo of him and his children with The Undertaker: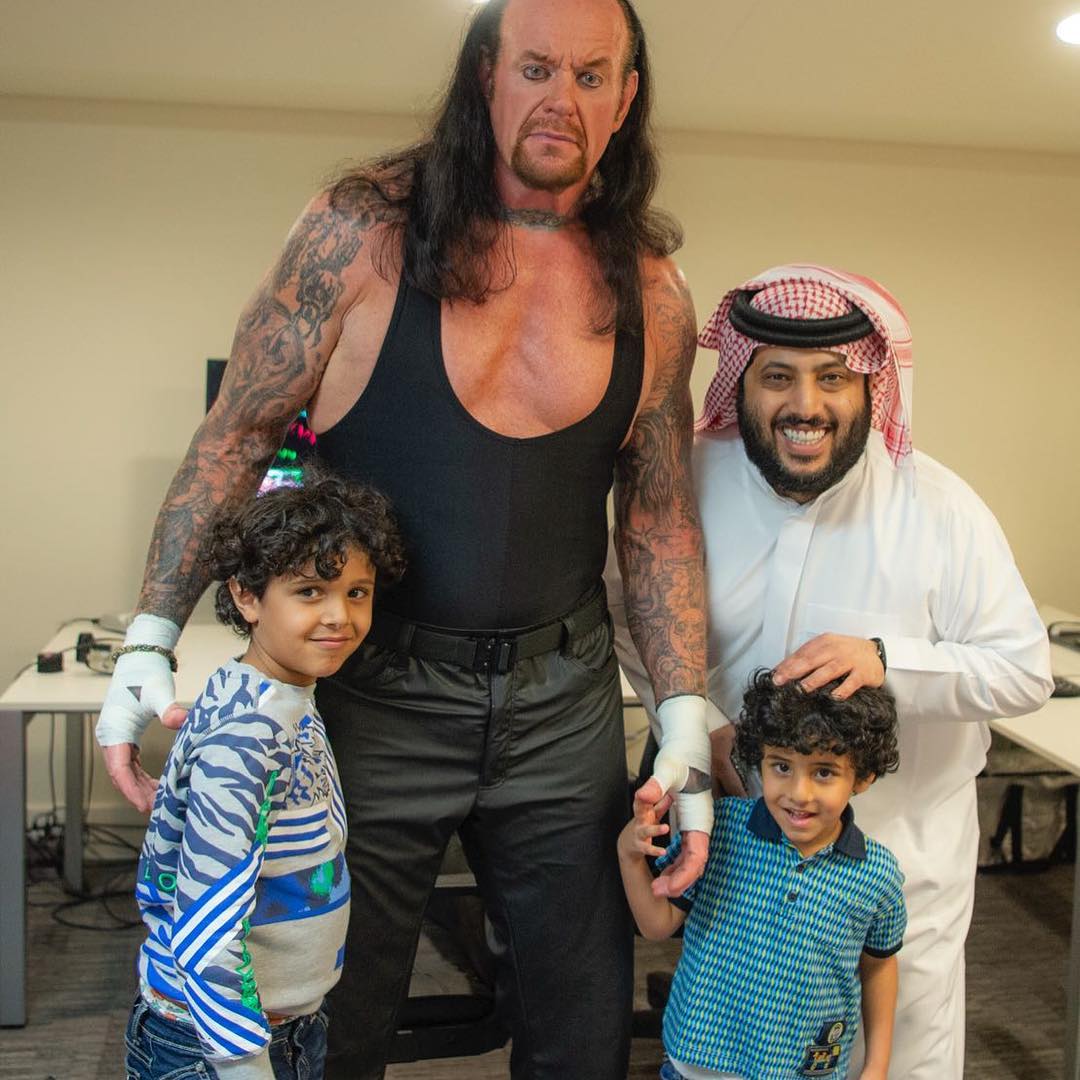 Also Read: Vince McMahon's Reaction To Titus O'Neil's Greatest Royal Rumble Botch Revealed – Click Here.
Also Read: RAW Star Didn't Work Greatest Royal Rumble Event In Order To Respect The Culture Of Saudi Arabia – Click Here.
• RAW Star Comments On Not Wearing His LGBT Gear At Greatest Royal Rumble
Below is what RAW Superstar Finn Balor had to say regarding not wearing his LGBT gear at the Greatest Royal Rumble:
My Rainbow Gear was a statement at Wrestlemania Weeekend
Although the gear has not been worn since in 6 appearances(Hartford CT, Cape Town x2,Pretoria, Johannesburg ,St.Louise
Saudi Arabia)
My support continues despite any color choice, change or laundry schedule. #dirtypants

— Finn Bálor forEVERYone (@FinnBalor) April 28, 2018
Must Read: Controversial Former WWE Star Returns After 13 Years – Click Here.
Also Read: Top RAW Star Turning Heel? – Click Here.