• WWE Selling A Replica Version Of The Rare WrestleMania III André The Giant Title Belt (Photo)
WWE Shop is now selling a replica version of the legendary special André The Giant WWF World Heavyweight Championship belt, that was never actually held by anyone.
The giant sized title belt was created, because the one that Hulk Hogan held at that point (nor any of the previous versions) wouldn't have fit on André's gigantic waist.
So in case The Giant would have defeated The Hulkster in the WrestleMania III main event, he would've won this championship belt, that was made for the occasion.
The belt did pop up in several interview segments like Piper's Pit and The Snake Pit, as well as an episode of WWF Prime Time Wrestling, where Bobby Heenan & Gorilla Monsoon presented it on their studio table.
Rumor has it that Vince McMahon had the title belt made, in case André would've refused to put Hulk over and went into business for himself, but we all know that Hogan won the legendary main event encounter, so the special André belt was never seen again on WWF TV after the pay-per-view.
For Mattel's Elite 100 series, an André The Giant figure came out with a figure-size variant of that rare and forgotten belt.
Here's the official WWE Shop description for the replica version:
"Fortify your WWE memorabilia collection with a relic pulled from the annals of WWE history by grabbing this Andre The Giant World Heavyweight Championship replica title belt.
Modeled after the Championship seen in the buildup to the classic contest between Andre The Giant and Hulk Hogan at WrestleMania III, this prize is big enough for even the 8th Wonder of the World.
Featuring various countries' flags on its multiple side plates, this prestigious title calls back to a bygone era. Rest assured, it's the perfect collectible any devout WWE fan would be proud to call theirs.
Product ID: 5166292
Brand: WWE Authentic
Imported
Snap fasteners
Debossed graphics with enamel overlay
Printed graphics on carrying bag
Main plate measures approx. 11.37'' x 13.75''
First side plate measures approx. 4.25'' x 6''
Second side plate measures approx. 3'' x 4.25''
End cap measures approx. 4.94'' x 2.25''
Strap measures approx. 60'' x 12.23''
Belt with stamped details
Includes carrying bag with zip closure
Material: 100% Polyurethane – Strap; 100% Zinc Alloy – Center and Side Plates
Officially licensed"
This belt is priced at $499.99. Below is a photo: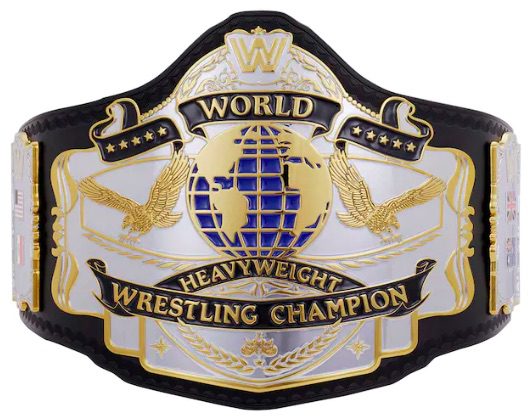 WATCH: The Iron Sheik Hated Andre The Giant
• ON THIS DAY IN WWF HISTORY (March 9, 1985) – WWF Championship Wrestling
On this day in 1985, the World Wrestling Federation aired another episode of their weekly TV show 'WWF Championship Wrestling'.
This episode was pre-taped at the Mid-Hudson Civic Center in Poughkeepsie, New York and featured matches & interviews on the road to the first ever WrestleMania.
You can find the card below:
The Junkyard Dog vs. AJ Petruzzi
Don Muraco vs. Peter Pompei
Hillbilly Jim vs. Charlie Fulton
Iron Sheik & Nikolai Volkoff vs. Shawn Grady & Brian Grady
Piper's Pit w/ Paul Orndorff
Greg Valentine vs. Aldo Marino