• Old School Wrestling Veteran Celebrates His Birthday
Old School WCW Veteran Bunkhouse Buck (Real name: James Golden) celebrates his 69th birthday today.
He first made a name for himself under the name Jimmy Golden, wrestling for several territories such as the Continental Wrestling Association, Southeastern Championship Wrestling, Continental Championship Wrestling and Smoky Mountain Wrestling, before he joined Ted Turner's World Championship Wrestling in 1994 and became Bunkhouse Buck.
After leaving WCW in 1999, he continued to wrestle on the independent scene and even appeared on WWE TV in 2010, where he portrayed Jack Swagger's father.
HAPPY BIRTHDAY BUNKHOUSE BUCK!
• WWE Set To Promote SmackDown On FOX Using The Lex Express Idea
According to Brad Shepard, WWE officials are set to promote SmackDown's debut on FOX using the Lex Express idea.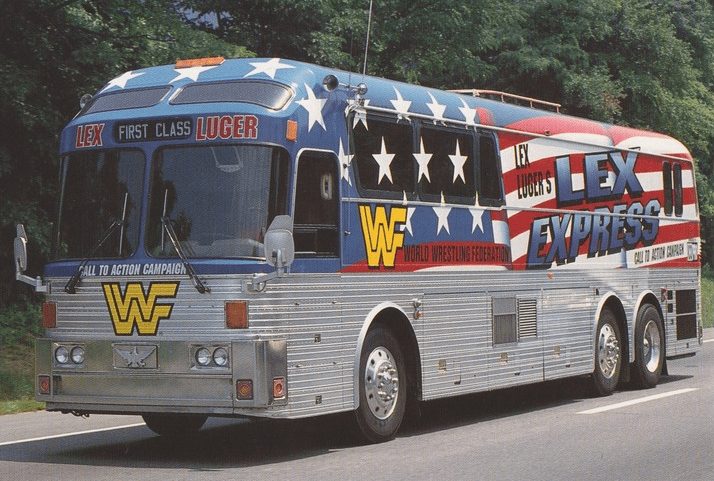 Below is what Brad said about this promotional idea:
"The SmackDown Express will be state of the art and an interactive company trailer that will accompany them from city to city. It was described to me as close to the trucks that the Army uses on their recruitment tours with HD monitors showcasing the best SmackDown matches from over the years. Free mugs and t-shirts and water bottles and memorabilia pieces etc. Complete with tour guides who will answer questions.
The talents who will travel in the bus haven't been decided on yet, but I'm told they will alter folks in and out. Meet and greet tents will also be set up next to the trailer and a small ring may even be set up in certain cities for a free three-match show in arena parking lots.
I should know the launch date soon, but the potential launch date is August. They are ramping up the word and promotional marketing for SmackDown."
Announcement: Please download our official "WrestleFeed" app for the latest WWE News & SummerSlam 2019 updates!
Below are the download links for our Android/iOS app:
Android – http://bit.ly/2IVQ3yU
iOS – https://apple.co/2Oido0R