– Former World Champion Says Lio Rush Isn't Accomplished Enough To Make Fun Of Emma's WWE Release
During a recent edition of "E&C's Pod Of Awesomeness" podcast, former World Champions Edge & Christian talked about NXT wrestler Lio Rush making an insensitive tweet regarding Emma's release from WWE.
Below is what they said:
Christian: "I guess he had said something kind of insensitive. I guess he meant it to be somewhat cool or funny, saying, 'this is what happens when you're truly not ready for Asuka.' And man, it's like here's the thing. Yes, the guy made a mistake.
He probably regrets doing what he did. And we talked about it before with social media and stuff like that these days, and it's another reason we should probably do an episode someday about the changing in technology, but just think before you hit the send button. Do you know what I mean?
Read it over a couple of times and be like, 'what am I send out into the internet?' because once it's out there, it's out there. Use your head. That's all you have to do. Use some common sense.
Not only that, he's someone that hasn't accomplished nearly what Emma has accomplished. Do you know what I mean? It's not a smart thing to do. And it's not just for him, for any aspiring pro wrestler that wants to step up and make a name for himself and really go places, use your head before you hit the send button."
Edge: "Talent and brains don't always go hand-in-hand, but I don't know the kid. But definitely not a good idea because you're now making a joke about someone's livelihood.
I think even WWE has classes now on social media and how to deal with this whole new thing. It's not necessarily new anymore, but there are ramifications, repercussions, that can happen from what you put out there."
– WWE Title Changing Hands Again Soon?
Despite losing the WWE Championship on this week's episode of SmackDown Live, "The Modern Day Maharaja" Jinder Mahal is still being advertised to defend the WWE Championship against Kevin Owens during WWE's tour of India in December.
Below is an advertisement of the event in an Indian Newspaper: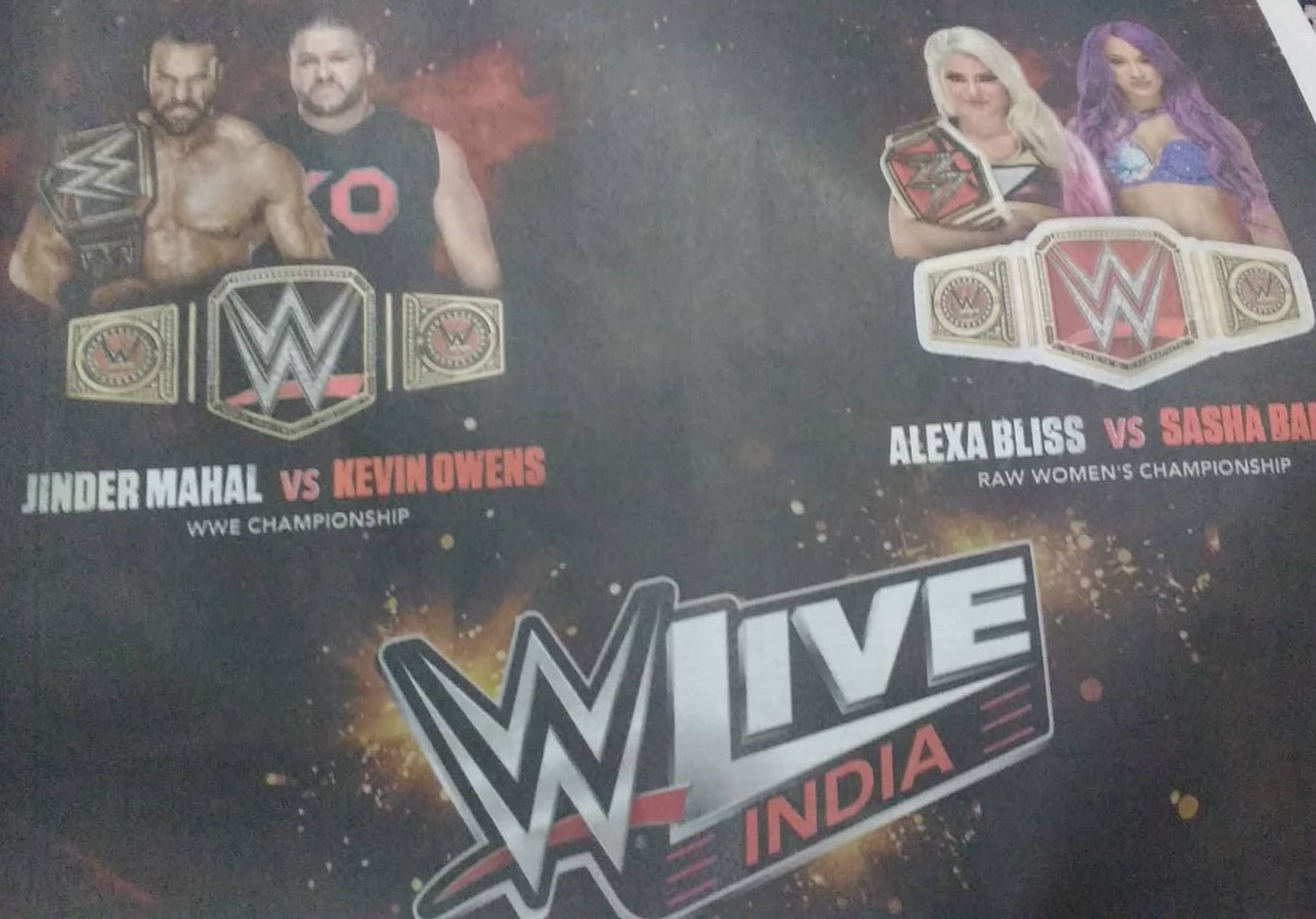 This likely means the WWE Championship would change hands before WWE's tour of India (two live events will take place in India of December 8 & 9) and that Jinder Mahal is going to become a two time WWE Champion.
We'll keep you updated regarding this.
Speaking of WWE's upcoming India tour, below are the match-cards for the two live events that'll be taking place over there:
Match-Card For December 8 Live Event:
WWE Championship Match: Jinder Mahal (c) vs. Kevin Owens
Roman Reigns vs. Samoa Joe
Kane vs. Braun Strowman
Raw Tag Team Championship Match: Cesaro & Sheamus (c) vs. Seth Rollins & Dean Ambrose
Bray Wyatt vs. Finn Balor
Raw Women's Championship Match: Alexa Bliss (c) vs. Sasha Banks
WWE Cruiserweight Championship Match: Enzo Amore (c) vs. Kalisto
Jason Jordan vs Elias
3 on 4 Handicap Match: Apollo Crews, Titus O'Neil & Goldust vs. Luke Gallows, Karl Anderson, Bo Dallas & Curtis Axel
Match-Card For December 9 Live Event:
The Shield (Roman Reigns, Seth Rollins & Dean Ambrose) vs. Kane, Cesaro and Sheamus
WWE Championship Match: Jinder Mahal (c) vs. Kevin Owens
Braun Strowman vs Samoa Joe
Finn Balor vs. Curtis Axel
Bray Wyatt vs. Jason Jordan
Goldust vs. Elias
Mixed Tag Team Match: Kalisto & Sasha Banks vs. WWE Cruiserweight Champion Enzo Amore & Raw Women's Champion Alexa Bliss
Apollo Crews & Titus O'Neil vs. Luke Gallows & Karl Anderson