• WWF Legend Says His AEW Debut Match Will Take Place Soon
Old School WWF Legend The Big Show left WWE earlier this year to join Tony Khan's All Elite Wrestling, where he hasn't wrestled a match yet, but is used on commentary for AEW Dark: Elevation on a regular basis.
Paul Wight (his real name) is not retired from active professional wrestling yet, so most fans ask themselves when he'll actually step in the ring again.
Here's what the former WWF World Champion said in an interview with WrestleZone:
"One of the things Tony Khan and I talked about was me taking my years of experience over decades of competing all over the world against some of the biggest stars the world has ever seen.
How do I employ that in the AEW environment? I've been around a long time. I'm also the new kid in town and my thing wasn't to come in and take up TV time away from younger talent.
With me starting out in a commentary role, it gave me a chance to study the AEW product, study the AEW talent and become familiar with them. So when I start putting on my boots 'real soon', I already have an idea of all the talent I'm working and what they're trying to achieve individually and take some of my experience and help build on that."
You can check out Big Show's AEW ring gear below: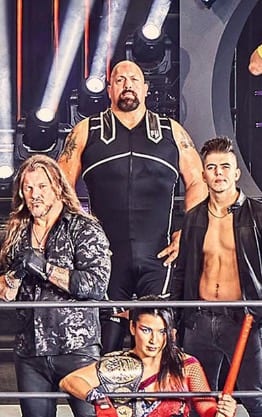 WATCH: Lana In A Hot Outfit (Part 3):
• On This Day In Pro Wrestling History (August 11, 2012) – Old School Wrestling Veteran Passed Away
On this day in 2012, we lost Old School Wrestling Veteran Red Bastien (Real name: Rolland Bastien) at the age of 81 due to alzheimer's disease.
During the 50s, 60s & 70s, Red Bastien wrestled for various territories, such as the American Wrestling Association, the World Wide Wrestling Federation, Pacific Northwest Wrestling, NWA Big Time Wrestling, … among many others.
Still he's mostly remembered for discovering the 2 bodybuilders – Steve Borden (Sting) & Jim Hellwig (The Ultimate Warrior), and talked them into becoming professional wrestlers.
† REST IN PEACE RED BASTIEN
January 27, 1931 – August 11, 2012
Red Bastien vs Harley Race pic.twitter.com/WtKSqT547N

— Wrestling The Way You Remember It! (@SethHanson1982) February 24, 2018