• OLD SCHOOL HISTORY (May 7, 1990) – WWF Prime Time Wrestling
On this day in 1990, the World Wrestling Federation aired an episode of their weekly TV show 'WWF Prime Time Wrestling'.
It featured pre-taped matches, interviews & storyline segments on the road to the 'WWF SummerSlam 1990' PPV.
The card can be found right here:
– Hillbilly Jim vs. Pez Whatley
– WWF Event Center
– The Orient Express vs. Louie Spicolli & Mark Young
– The Brother Love Show: The Big Boss Man Is His Guest
– Highlights Of The Hart Foundation vs. The Bolsheviks From WrestleMania 6
– The Hart Foundation vs. The Bolsheviks
– The Barbarian vs. Jim Gorman
– WWF Event Center
– A Vignette On Rick Rude Training
– Jim Duggan vs. The Brooklyn Brawler
– Paul Diamond vs. Jim Powers
– Intercontinental Title Tournament Match: Mr. Perfect vs. Jimmy Snuka
WATCH: Fan Captures Epic Photo Of Bayley's Fat Bum Next To Sasha Banks:
• WWF Veteran Brags About Sleeping With 2 Girls At Once
Old School WWF Veteran Marty Jannetty hasn't been seen in good light ever since September 2017, when he made a post on Facebook asking people if it's okay to sleep with a girl who he once thought was his daughter (according to reports, he didn't raise the girl, the girl came to him a few years back and claimed she's his daughter), but then found out she's not after conducting a DNA test.
Below is what the post (which was later deleted) on Facebook was:
"Just did DNA (2 weeks ago)..she's NOT my daughter..we both held out of $ex because you don't do that..but now that we ain't???? From a guys side.. SHES F****N HOTT..but..she's been daughter.. I want to too, but can't get past that.."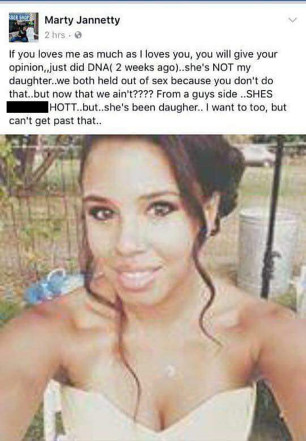 Jannetty is continuing his creepy act on Social Media and you can read his latest tweets below:
Dude, where's my phone?? Last I remember having it was at my neighbor girl's house up on her roof because I could get a better view of her neighbor girl who was laying at her pool naked..but I went back and looked on her roof but it wasn't there..

— Marty Jannetty (@1MartyJannetty) May 4, 2019
I Love's my Winnie to death but she keeps getting mad at me just because of neighbor girl..the neighbor girl lives 40 feet away.. Winni lives in Toronto until my Winnie can be here guess what Im gonna do..lol

— Marty Jannetty (@1MartyJannetty) May 6, 2019
Marty is now bragging about sleeping with two girls at once:
Just had the best phone sex after waking up net to two girls I didnt know ..Elizabeth, loves ya

— Marty Jannetty (@1MartyJannetty) May 7, 2019
Ever wake up with 2 viruses sleeping next to you, one on each side?..lol..that was horrible, they both are sweethearts..loves them to DEATH..my girls

— Marty Jannetty (@1MartyJannetty) May 7, 2019
Also Read: Marty Jannetty Reveals How Many Women He Has Slept With