• WWF Veteran On An Incident That Jerry Lawler Had To Apologize For
During a recent interview on Interactive Wrestling Radio, Old School WWF Veteran Duke 'The Dumpster' Droese discussed his 1994 World Wrestling Federation storyline with Jerry "The King" Lawler, in which the two performers decided they would use Duke's garbage can as a weapon.
Keep in mind that 1994 was the WWF's New Generation era, in which they were TV-PG rated and using trash cans was not a common thing yet, as opposed to the Attitude Era, that came years later.
Here's what the 'garbage man' had to say about the incident:
"It was on the King's Court on RAW and it was live. Live! Live! Live! Live as you could get. Jerry and I talked about it. He wasn't going to let me in the ring, he was going to make fun of me, tell a bunch of stupid jokes, and I was going to get sick of it and walk away.
The heat was I had dumped garbage on him in my debut match on Superstars because he was goofing on me. The plan was he was going to run up on me and attack me from behind as I was walking away.
That is all they wanted. He asked me, 'Would you mind if I hit you with the garbage can?'. Down in Florida, man, I was hitting everyone with it. I was even getting hit with it some! It was a free for all! You could hit anybody you wanted. I said, 'Yeah, of course!'.
We were working with Jack Lanza, who was the agent. It was like the perfect storm, Jack Lanza wasn't going to go ask Vince! Jack said, 'Just go ahead and do it!'
So, he hits me once and I go down. He hits me again and, if you watch it, it is probably still on YouTube, just as he hits me for the second time the camera goes way wide. Way, way, way far away, like, way to the other side of the arena so all you could see was the trash can coming up and going down.
But you couldn't see him hitting me anymore because they deemed it too violent for the product at the time because it was considered family entertainment…Like the 80s.
So, we got to the back and Shane McMahon came up to us and was like, 'What happened?' I was like, 'Well, we talked about it and we decided this was going to be good'.
So, anyway, immediately after they had Gorilla Monsoon and "Macho Man" Randy Savage come on and apologize for it on live TV. They were doing the commentary at the time. They said, 'You'll never see anything like that again.' And then, they turned it into another thing.
I think it had to do with TV stations and sponsors. They cared about that a lot. But, then they had Jerry Lawler do this ridiculous apology thing. When I saw it, and I didn't know a lot, I knew it was kind of killing off a lot of the heat.
They made him do that and if you listen to that apology, the studio voice that is telling him to continue is Shane McMahon.
Shane had filmed a lot of the vignettes with me for my debut. But, when they did that, I know they had taken a bucket of ice water and thrown it on our heat."
Also Read: "I'd tend to agree with Undertaker on that. The talent has softened a bit" – Duke "The Dumpster" Droese
WATCH: Peyton Royce Exposed By Charlotte Flair:
You can download our official WrestleFeed mobile app to check out more Wrestling news & Divas content. Tap here to download.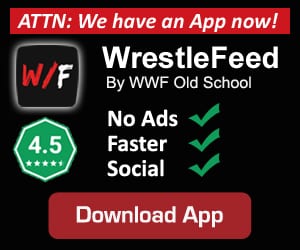 • ON THIS DAY IN WWF HISTORY (February 23, 1998) – WWF RAW IS WAR
On this day in 1998, the World Wrestling Federation aired another LIVE episode of their weekly TV show 'WWF RAW IS WAR'.
It was broadcasted from the Heart of Texas Coliseum in Waco, Texas and featured matches, interviews & storyline segments on the road to the 'WWF WrestleMania XIV' PPV.
Here's the card:
1. WWF World Tag Titles: The New Age Outlaws vs. Legion Of Doom
2. Ken Shamrock vs. Jeff Jarrett
3. The Truth Commission vs. D.O.A.
4. Barry Windham vs. TAKA Michinoku
5. Bradshaw vs. TAFKA Goldust
6. Steve Blackman vs. The Rock
7. NWA World Tag Titles: The Headbangers vs. Rock 'n' Roll Express
8. WWF European Title: Owen Hart vs. Marc Mero