• Kurt Angle Names The Best In-Ring Worker He Ever Wrestled
During a recent episode of his new podcast, WWE Hall Of Famer Kurt Angle discussed a variety of topics.
Below are the highlights:
On learning to become a professional wrestler:
"Christian was vital for me, he was very knowledgeable. He was a young guy that I could grow a relationship with and learn more from him.
That match that I had with Christian, it was only my second month so we did 5 days of training the first month, 5 days of training the second month and then that was when we had that match. It was Christians try-out match for TV and it was against me, and I didn't know what I was doing.
Christian had to rely on me, but because he couldn't rely on me he had to rely doubly on himself because he had to carry me through the match.
We ended up having a great match, he talked me through the whole thing. When I started out, I was a great listener. In order to be a great leader, you need to be a great follower.
You have to learn how to listen, have to keep your mouth shut, listen to the advice and take it as it is. I was really good at that, so I became a great leader a couple years later. Christian taught me that."
On his on-screen character:
"Olympic gold medalist, I take care of my body, I do all the right things, I have medals and trophies and I'm the kid that your parents want you to date, just all the white meat crap that goes with it. Because of characters like Stone Cold Steve Austin, it broke the mold. The bad guys became the good guys.
My character in WWF when I started, it was a bit white meat babyface but there was that little thing where you were like, is this guy for real? Is he feeding me bullsh*t or is he the real deal? I preached all the time, it was Vince's idea to have that.
They wanted me to just be me, but Vince was going to ramp me up a bit, he wanted the same singlet look from the Olympics, bright red shoes, just look sharp and look like a champion' is what he said. The things I did or said, that was all written by Vince or [former WWE writer] Brian Gewirtz.
Brain was a great writer, he wrote a lot of stuff for me. He could relate to my character because he's a cool kid, but he's a dork. He gets the whole character, the Olympic character and what Vince was trying to bring out, the milk drinking dork. Brian could relate to that, he was really good at writing my stuff for me.
When The Rock was trying to be a babyface the first time and it backfired, Vince used the same mold for me but he knew it was going to backfire on me, he didn't know it was going to backfire on The Rock, so he used that same mold to make me who I was.
It worked extremely well, I became the top heel in the business within my first year. It was pretty quick and I couldn't be more excited about it. I looked forward to going to TV every week.
My character when I started, I loved doing it. I loved making an a$$ out of myself, I loved the crowd booing me and not respecting me. I loved having these matches and cheating to win and preaching that I don't cheat to win.
It was a really cool thing to do and I was a bit overwhelmed my first year."
On who was the greatest in-ring worker, he ever wrestled:
"Stone Cold Steve Austin, he could adjust to anything. That guy was the best in-ring worker I ever worked with.
He's very underrated in the ring. Owen was one of the best too, he was a great in-ring worker. He could wrestle any style, that's what made him so valuable."
WATCH: WWE Doctor Touches Stephanie McMahon's Knockers:
You can download our official WrestleFeed mobile app to check out more Wrestling news & Divas content. Tap here to download.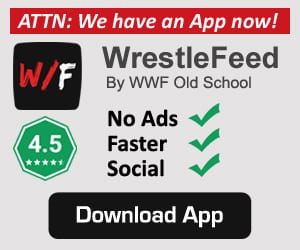 • ON THIS DAY IN WWF HISTORY (February 23, 1991) – WWF Superstars of Wrestling
On this day in 1991, the World Wrestling Federation aired an episode of their weekly TV show 'WWF Wrestling Challenge'.
This episode was pre-taped at the Coliseum in Macon, Georgia and featured matches & storyline segments on the road to the 'WWF WrestleMania VII' PPV.
Here's the match-card:
1. The Big Boss Man vs. Ted Oates
2. The Undertaker vs. Tommy Angel
3. Virgil vs. Haku
4. British Bulldog vs. Brooklyn Brawler
5. WWF Title: Sgt. Slaughter vs. Dusty Wolfe