• 2-Time WWE Champion Almost Lost His Name In WWE
In an interview with Bleacher Report, former 2 time WWE Champion AJ Styles revealed that WWE almost changed his name upon his debut in the company in 2016.
Below is what he said:
"I remember Triple H and I talking and he said, 'I don't know if we're going to be able to keep your name. I said, 'That's fine, I have no problem.
Just so you know, I have this huge tattoo on my side that says AJ. It's not my name, it's my kids' initials and birthdays, but just throwing that out there.' Luckily, I was able to keep the whole name AJ Styles, and it worked out for the best."
The Phenomenal One also spoke about why he skipped NXT and was fast forwarded to the main roster.
"I would've, I think, gone to NXT for a couple of months to get familiar with what's going on and how it's done there, but I felt like as far as my career is concerned, I didn't really have the time to spend in NXT.
I knew it had to be on the main roster so that, somehow, some way, I could make myself a bigger star.
In the end, this is a job and I'd like to make more money, as much as I can before I retire."
WATCH: Sonya Deville Topless (Part 2):
You can download our official WrestleFeed mobile app to check out more Wrestling news & Divas content. Tap here to download.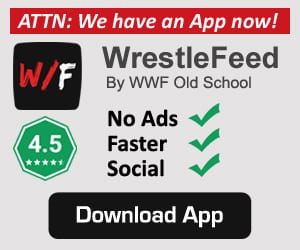 • On This Day In Pro Wrestling History (January 15, 2017) – Old School WWF Legend Passed Away
On this day in 2017, we lost Old School WWF Legend "Superfly" Jimmy Snuka (Real name: James Reiher Snuka) at the age of 73 due to terminal illness.
Let's make one thing perfectly clear, the man was a great legend and a very deserving WWE Hall of Famer (which contrary to false online reports, he still is for a fact) and whether he was actually guilty of murdering his 1983 girlfriend Nancy Argentino, we will never know.
Don't believe for one second, that just because you read stuff in a book (written by Pro-Wrestling-Hater Irvin Muchnik), on social media or in dirt-sheets, that you have the same knowledge that a federal judge would have needed for a fair & extensive trial. That's not possible in any way, shape or form whatsoever.
Did he do it? It does look like he did it, but we will never know for sure. Period. We rather stick with the facts here, as opposed to believe rumors, opinions & biased reports.
So with that being said, let's please remember him for the great Wrestling Legend that he was on TV.
† R.I.P. JIMMY SNUKA