• Old School WWF Veteran Celebrates His Birthday
Old School WWF Veteran The Patriot (Real name: Del Wilkes) celebrates his 57th birthday today.
Some of you might remember his World Championship Wrestling stint, where he teamed with Marcus Alexander Bagwell as the tag team 'Stars and Stripes' from 1994 to 1995.
The Patriot's biggest claim to fame was still his run with the World Wrestling Federation in 1997, where he challenged WWF World Heavyweight Champion Bret "The Hitman" Hart for the title at the 'In Your House 17: Ground Zero' PPV.
An injury kept him from wrestling as a member of Team USA at Survivor Series 1997, and they let him go in early 1998.
Several years after Del Wilkes retired, his former WWF co-worker "Salvatore Sincere" Tom Brandi started using The Patriot gimmick on the independent scene and falsely claimed that Del gave him permission to use the character, which Wilkes has publicly denied.
HAPPY BIRTHDAY!
• 2018 Flashback: Batista Makes A Fantastic Comment About Bayley's Butt
2018 is coming to an end. We'll now be taking a look back at some of the most interesting articles that we posted this year.
Right now, let's take a look at the following masterpiece:
Former SmackDown Women's Champion and current RAW star Natalya posted the following photo of her & Bayley on Instagram:
Under this photo, former WWE Champion Batista made the following comment:
"Damn! Bayley's got a kadunkadunk! Good for her! Get it girls!!"
Below is a screenshot of this: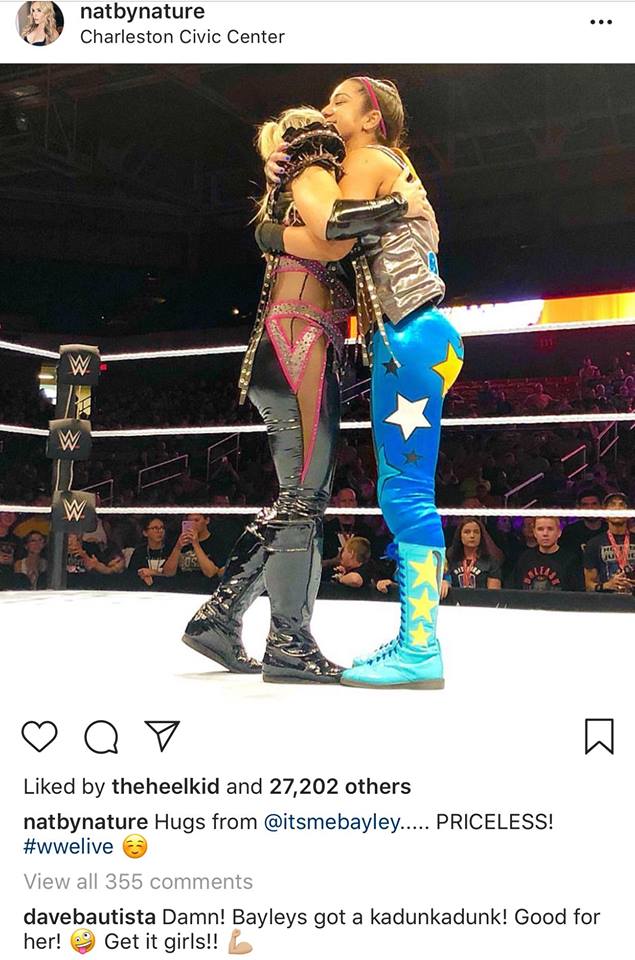 For those who didn't understand what Batista wrote, below is the meaning of the word 'kadunkadunk':
"Someone who has a wide juicy, thick scrumptuous fat a$$. Remember this person has a fat a$$. They are not a fat a$$ person…there's a big difference!"
Well, Batista ain't wrong. Check out the following video of Bayley for proof: