Kofi Kingston vs. Randy Orton has been in the making for 11 years. They've come face-to-face once again after 10 years. The WWE Champion locked horns with The Viper at the 'Biggest Party of the Summer' a couple of weeks ago.
However, the match ended in an unexpected way. Kingston and Orton gave all they had during the match, but Orton did something which took the WWE Champion to his limit. The Apex Predator tried to humiliate Kingston in front of his family during the match.
Kingston could not take it easily, and gave a vicious beat-down to Orton. After hitting him with numerous kendo-stick shots, Kingston took him inside the ring and hit him with a Trouble In Paradise.
The rivalry is far from over as the two are still trying to take each other down on the road to Clash Of Champions. WWE has announced that Orton and Kingston will once again go head-to-head at WWE Clash Of Champions next month for the WWE Championship.
In this article, let's take a look at 5 reasons why Randy Orton should win the WWE Championship at Clash Of Champions 2019.
5. Kingston's Title Reign Is Getting Stale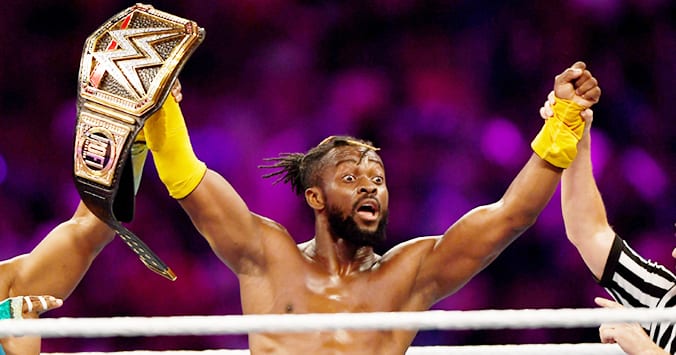 Kofi Kingston has been the WWE Champion for four months now, but we haven't seen anything major during his title reign. Since he won the title, we saw a short feud with Dolph Ziggler, a match with Kevin Owens at Money In The Bank and a match with Samoa Joe for the Title at Extreme Rules.
WWE hasn't been able to book Kingston as the top guy on the blue brand. The WWE Championship doesn't seem prestigious these days. He hasn't had any brilliant moment as a face, but still, most of the fans are behind him.
There has been a lack of depth in the WWE Title picture after Kingston's win at WrestleMania. His feud with Dolph Ziggler had no clear direction. The mini-feuds with Joe and Owens also failed to catch the interest of fans. A win for Randy Orton will bring a much needed change to the WWE Title scene.
Moreover, WWE has been suffering from low ratings since the post WrestleMania season. Fan attendance at house shows has also been really low. Kingston just doesn't feel like the top guy on the blue brand.
Fans have mixed views on his title reign now. A title change is needed to freshen things up. Fans got what they wanted, and Kingston got what he deserved, but perhaps a change would be what's best for business.
*Go to the NEXT page to continue reading this article