WWE RAW once again takes place this week at the Verizon Arena in North Little Rock, Arkansas. Last week's RAW Reunion was highly praised by the fans, which also managed to draw the highest viewership of 2019.
With that being said, things will be taken over once again by the current wrestlers this week. Seth Rollins is set to face Dolph Ziggler in a singles match, while Roman Reigns and Samoa Joe will be looking to work on the tension between them at the Samoan Summit. In addition, RAW Women's Champion Becky Lynch will be facing Alexa Bliss in a non-title match.
Tonight's episode of RAW will be one step closer to the biggest party of the summer, WWE SummerSlam. More matches for the pay-per-view are expected to be announced on tonight's show.
Without further ado, let's take a look at five things that might happen on tonight's RAW.
5. Natalya Interrupts Becky Lynch vs. Alexa Bliss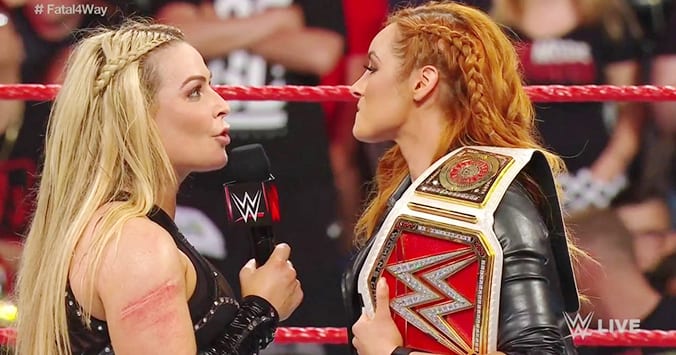 Natalya won a fatal-four way match on RAW two weeks ago to earn a championship match against Becky Lynch at SummerSlam, for the RAW Women's Championship. She reportedly earned the opportunity, because Vince McMahon wanted a Canadian to face Becky Lynch at SummerSlam, which is in Toronto, Ontario this year.
Things have started heating up between the two wrestlers, as Natalya and Becky Lynch had a vicious brawl at RAW Reunion last week, when Lynch was discussing her upcoming match with Natalya, on the Moment Of Bliss.
Lynch is set to face Alexa Bliss on RAW this week. Knowing WWE, we can expect Natalya getting involved in the match somehow, since Lynch and Natalya still have unfinished business from last week, because the referees stopped the brawl at the right time.
Nattie will either cost the RAW Women's Champion her match, or interrupt it to cause a disqualification. Expect things to heat up even more, as the rivalry proceeds until SummerSlam.
*Go to the NEXT page to continue reading this article