• Adult Movie Star Says Matt Riddle Cheated On Her After Saying "I Love You"
WWE RAW Superstar Matt Riddle was recently written of TV for "6 weeks" due to an injury angle caused by an attack from Solo Sikoa.
However, the real reason is that he has violated WWE's wellness policy, again.
Riddle failed his 1st drug test earlier this year when Vince McMahon was still running WWE. This resulted in his SummerSlam 2022 match with Seth Rollins being postponed to Clash At The Castle 2022.
When Stephanie McMahon, Triple H & Nick Khan took over, Riddle was told that he would have to go to rehab or his contract would be terminated if he failed another drug test.
According to Bodyslam, Riddle failed his 2nd drug test recently and he's in rehab right now.
Riddle was recently spotted making out with his new girlfriend, adult movie star Misha Montana.
Below is a photo: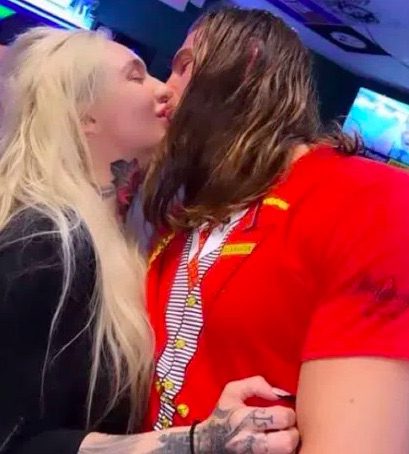 Riddle got divorced earlier this year.
After seeing the above photo, another adult movie star named Jordan Maxx called out Riddle for cheating on her.
Below is what she wrote on Twitter:
"Does it make you feel better about yourself to kick people when they're down?
Try to imagine for one second, the man you've spent the last 6 months with, who said 'I love you' for the first time 2 months ago, is all of a sudden making out with someone else WHO IS IN YOUR INDUSTRY, and then, rather than keeping plans for Christmas and NYE, he's going to rehab?
Do you have any idea how confusing and hurtful that is?
Adding this here since it seems many of you are overlooking it:
I'm not mad that he's in rehab. He told me that he quit drugs, and then to find out he's a) with another girl b) doing those drugs with her and c) failing drug tests so he has to go to rehab for it is disappointing.
I do hope that he takes rehab seriously and gets the help he so desperately needs so that he can be the best version of who he is for his future partners, his kids, and himself."
Also Read: Matt Riddle Suspended By WWE For Doing Cocaine & One More Substance
MUST WATCH: Former WWE Diva Lana Without Clothes:
• Old School WCW Veteran Celebrates His Birthday
Old School WCW Veteran Fury (Marcus "Marc" Laurinaitis) turns 57 today.
During the 80s, Marc was known as "The Terminator", wrestling for several territories, such as Championship Wrestling From Florida (CWF), the Universal Wrestling Federation (UWF) and All Japan Pro Wrestling (AJPW).
In 1993, he formed a Tag Team with Rage (Al Green) called 'The Wrecking Crew' and together they wrestled for Ted Turner's World Championship Wrestling, but never made it past mid-card status.
Marc is the real life brother of Old School NWA/WWF/WCW Legend Road Warrior Animal (Joseph Laurinaitis) and Old School NWA/AJPW Veteran Johnny Ace (former RAW GM John Laurinaitis).
HAPPY BIRTHDAY FURY!