• "AEW has flatlined and it's been that way essentially for a year" – Eric Bischoff
During the latest episode of 83 Weeks podcast, Eric Bischoff talked about a comment Chris Jericho made in 2011, where Jericho said TNA needs to do something different to enhance their product.
Here's what Jericho said in 2011:
"If I was working for TNA I would project that it's the greatest wrestling company in the world because if you're not projecting it, why is anyone going to believe it?
When we were in ECW it was small, I never made more than $250 a show but you would die for that company and when you came across that way, the fans came across that way and suddenly you have this underground revolution going on and it was real, it was a revolution, people believed it was the best.
No one in TNA believes they are in the best company and if they don't believe it then why am I going to believe it as a fan? Why am I going to buy their product?
It's just so bush league, they can do better than that and the guys on top there should know better and it really makes me mad because they're wasting money and they don't have to be wasting money but I'm not burying TNA, I'm saying you should be ashamed of yourself because you can do better."
Bischoff thinks these comments regarding TNA can now be used for AEW as AEW Dynamite's viewership isn't increasing.
Here's what Bischoff said:
"I think it's going to come back to bite him in the a$$ is what I think. AEW last week they did about 800,000 viewers, they opened the door with 1.5 million viewers and haven't been able to crack 1 million since or if they have it's been only on 1 or 2 occasions. They've essentially flatlined at 700,000 or 800,000 viewers on average for the last year and a half.
That's an observation that could, unless something turns around in the next 18 months, come back to haunt someone like Chris.
Quite frankly, AEW has flatlined and it's been that way essentially for a year. It's easy to talk about a business you're not really in. Chris has never run a wrestling business and when he made that statement, he was making it from a position of a talent not an executive."
Bischoff also had an advice for today's wrestling fans:
"Don't watch it to try to be an arm-chair quarterback or a critic or an expert, just watch it and enjoy it and take it for what it is and look for the bright spots in it. We all have opinions and some things we like better than others.
But if you go into it watching anything with the intent of picking it apart and making fun of it because you want to impress people on the internet, you're going into it not being able to appreciate some of the stuff you're going to see.
When I do watch wrestling, I try really hard to not look at it from an analytical standpoint, I enjoy it much more."
Also Read: "Just because you're on the roster doesn't mean you automatically get a pass to be on a WrestleMania card" – Jim Ross
WATCH: AEW Wrestler Tay Conti Suffers Wardrobe Malfunction:
You can download our official WrestleFeed mobile app to check out more Wrestling news & Divas content. Tap here to download.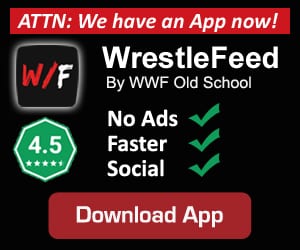 • Old School Wrestling Legend Would Have Celebrated His Birthday
Today would have been the 66th birthday of Old School Wrestling Legend "Gentleman" Chris Adams.
Adams became a professional wrestler in his home country England (UK) during the 70s, before coming to the United States, where he made a name for himself in Fritz Von Erich's 'World Class Championship Wrestling' promotion.
He wrestled for the Dallas, Texas based promotion from 1983 until 1990 (When it was already known as United States Wrestling Association) and later also worked for Ted Turner's 'World Championship Wrestling' from 1997 till 1999.
Adams was known for being the innovator of the now famous Superkick (aka HBK's "Sweet Chin Music"), as well as being the coach of Steve Austin & Scott Hall.
HAPPY BIRTHDAY & † REST IN PEACE
February 10, 1955 – October 7, 2001