• AEW Personality Thinks WWE Has Overexposed The Hell In A Cell Concept
While speaking on the ARN podcast, AEW Head Coach Arn Anderson gave his opinion on WWE doing a Hell In A Cell pay-per-view every year and doing too many Hell In A Cell matches there.
Below is what he said:
"Number one, if you are going to go to Hell in the Cell, my concept as a fan, it means you have exhausted every other opportunity or everything available to you to resolve whatever angle you're in. There is nothing left but Hell in the Cell. OK, you guys have done everything humanly possible to each other. There is no other way to settle this but Hell in the Cell.
When Mick Foley went through the table, that set the standard for what people imagined Hell in the Cell could or should be. That night, there's nowhere else to go. When these angles, when you put them in Hell in the Cell and you want to reap the benefits of just those words, Hell in the Cell, it better be a violent and gory match that you won't see until the next Hell in the Cell, which hopefully will be at least a year or more later. When it is just two guys having a match in a cage, Hell in the Cell is not a driving or selling point.
We have now had about 20 Hell in the Cell matches. We have not had 20 historic angles that warranted a Hell in the Cell match. It's not like it needed to be every year. Now they have two in one night. It's like everything else in this business. You see something that's a new concept. You put it out there. The guys or girls go above and beyond what it asked of them and they make that night special.
Instead of walking away and saying let's put that back in the closet and somewhere down the road we may take that out again because that was awesome and special, they are already trying to book it before the dawn even dawns. It's like, ok, that was good, when can we have another one. Now let's have two in one night. What you end up doing is you run out of things that are special because we just can't wait to get it back on TV."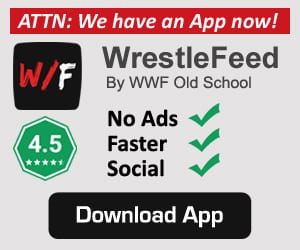 WATCH: Natalya's Juggs Slapped By Her Sister:
You can download our official WrestleFeed mobile app to check out more Wrestling news & Divas content. Tap here to download.
• Old School Wrestling Veteran Celebrates His Birthday
Old School WWF Veteran Paul "Butcher" Vachon celebrates his 83rd birthday today.
Paul Vachon is the brother of the late Maurice "Mad Dog" Vachon & Vivian Vachon, as well as the adoptive father of the late Luna Vachon.
He wrestled for the World Wide Wrestling Federation in 1975, 1977 & 1978 and later for the renamed World Wrestling Federation in 1983, 1984 & 1985.
Many 80s fans will remember him for his appearances on various episodes of the weekly TV show 'WWF Tuesday Night Titans'.
HAPPY BIRTHDAY BUTCHER VACHON!
WATCH: Natalya's Juggs Slapped By Her Sister: