• AEW Return Date For Jeff Hardy
In 2022, former WWE Champion Jeff Hardy was arrested for DUI once again.
This led to AEW President Tony Khan suspending Hardy from All Elite Wrestling. Hardy then entered rehab.
Jeff's DUI case was officially closed in February. Hardy pleaded no contest to 3rd offense of DUI within 10 years, driving while his license was suspended, revoked or canceled, and a driving violation with a driver's license restriction.
The Judge found Hardy guilty on all counts, including a felony charge. Hardy was sentenced to 38 days in jail, but was credited with time already served. This means Jeff will not spend any further time in jail.
Jeff is on probation for 24 months and was fined $4,000. Court costs are listed as $586. His driver's license has been suspended for 10 years.
His sentence also includes vehicle impoundment for 90 days and vehicle interlock device for 2 years.
Jeff recently underwent eye surgery. Below is a recent photo of him with a fan: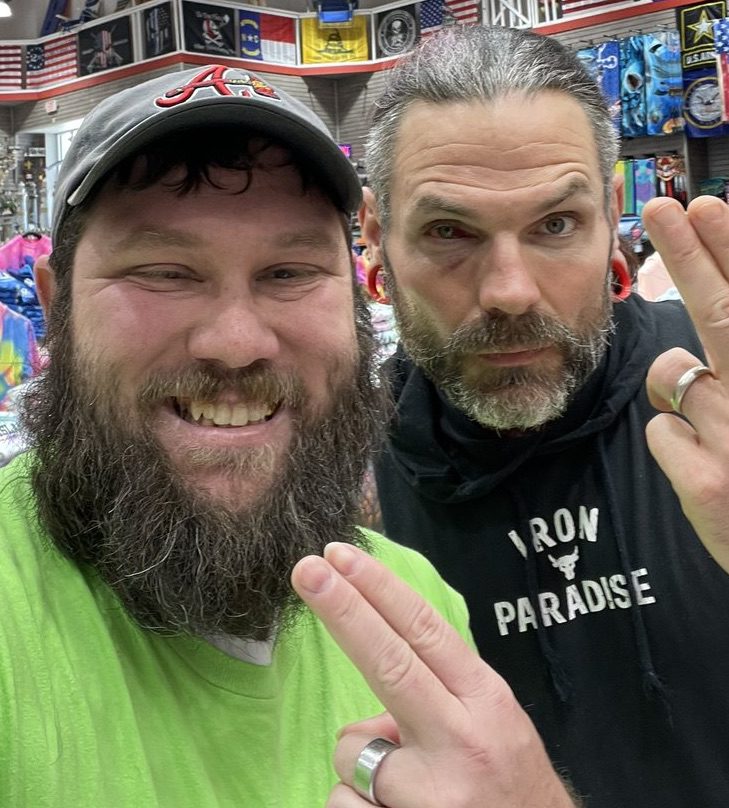 Matt Hardy had the following to say about Jeff's eye surgery during an interview with TMZ Sports:
"His eyes were just a little off-set, probably from wear and tear and beating his body up. They had to work on some ligaments and tendons in one of his eyes. So they corrected that with surgery, and they said probably in 5-6 weeks, he should be okay."
Matt then said the following about Jeff's return to AEW:
"You guys keep your fingers crossed. Maybe 6-8 weeks from now, hopefully, we can see some Jeff Hardy on AEW."
New Video: AEW Star Paige VanZant Without Clothes:
• Old School WWF Veteran Celebrates His Birthday
Old School WWF Veteran T.L. Hopper (Tony Anthony) celebrates his 63rd birthday today.
After touring the territories during the 80s, Tony made a name for himself as "Dirty White Boy" in Jerry Jarrett's United States Wrestling Association (USWA) and Jim Cornette's Smoky Mountain Wrestling during the early and mid 90s.
In 1996 it was also Jim Cornette who helped bringing Anthony to the World Wrestling Federation, where he received the gimmick of wrestling plumber T.L. Hopper.
In the fall of 1997 he was repackaged as Uncle Cletus, heel manager of The Godwinns, before he left the promotion and went on to wrestle on the independent scene.
HAPPY BIRTHDAY T.L. HOPPER!