Below are the top pro-wrestling (WWE & AEW) news & Divas stories of the day:
• AEW Star Confirms He's Officially Retired From In-Ring Competition
Earlier this year, WWE Hall Of Famer Mark Henry revealed that he has dropped 80 lbs to get in shape, and is looking to end his in-ring career with a match in AEW.
He confirmed in multiple interviews that he will wrestle in All Elite Wrestling:
"Well, it's definitely gonna happen in AEW. It's not gonna be anytime soon I think. I want to be a 100%. I'm still nursing injuries from 4 years ago. Like, wrestling business is a tough business, it's not meant for everybody.
Um, being in my home state it'll be cool to be able to do that but just not this current time. I'm here in Austin, can't wait to get to Garland, three-hour drive."
However, Henry has now confirmed that he has changed his mind and won't be returning to the ring ever again.
Below are the highlights from his interview with i95's Large Dave:
On if he'll have one final match in All Elite Wrestling:
"HA HA HA HA HA HA! I mean, Man, you made me laugh, I'm not getting back in there! If somebody hits me, I'm callin' the police!"
On his role in AEW:
"Man, I am a Jack of all Trades, I've been blessed to be able to master a few of them, I'm new to the announcing, and the backstage announcing, but I'm doing pretty good, and I'm enjoying doing it, but I'm most proud of being a part of our community team.
To touch all of the members and fans of the communities that we go into, before we do our shows, that's something special, we leave the place better than we found it."
Mark Henry's final match took place in 2018, at the Greatest Royal Rumble PPV in Saudi Arabia, where he competed in a 50-man Royal Rumble match.
His final singles match took place in 2017, where he was defeated by Braun Strowman.
WATCH: Kaitlyn In A Pool:
🔥
• Chris Jericho Reveals If He's Considering Retirement
During a recent interview with Newsweek, WWF Legend & current AEW Superstar Chris Jericho talked about his longevity in pro-wrestling, retirement & more.
Below are the highlights:
On if his in-ring retirement is near at the age of 51:
"I think a lot of times people always kind of want to put a bow on everything but it really doesn't work that way. I think part of the reason I've had such longevity is that I go with the flow and I follow my heart. Did I ever expect to be 31 years on the job? I can't say that I did, but I can't say that I didn't.
I don't think when you're 19, you really think about [retirement]. I never really said OK, 'I'm going to do it this long,' and I still don't. I don't know how long I'm going to do the sport because I don't think that way.
When people ask 'how long are you going to do this,' I say 'I don't know. When I feel like I don't want to do it anymore.' I don't feel that way right now."
On his longevity:
"I think one of the reasons why I've had such a long career, wrestling-wise, is the diversity and constant evolving and re-inventing that I do.
I can vividly remember, in about the year 2000, really thinking about how do I constantly stay relevant in what I'm doing? There's a way to do that but you have to take chances and you have to be confident in your ability as a character and as a performer."
WATCH: Stacy Keibler Licks Torrie Wilson's Knockers:
• Another Confirmation Regarding The WrestleMania 38 Main Event Picture
Just like WrestleMania 36 & 37, WrestleMania 38 will also be a 2-night event, which will take place on April 2 & 3 at the AT&T Stadium.
There were a lot of rumors about The Rock vs. Roman Reigns finally taking place next year, but we can confirm that The Rock won't have a match at WrestleMania 38.
We exclusively reported last month that WWE Officials are discussing Roman Reigns vs. Brock Lesnar vs. Drew McIntyre for the Universal Championship in the main event of WrestleMania 38 – Night 2.
WWE Officials feel like this is the biggest match they can book at this point, given that The Rock isn't available.
The Wrestling Observer has confirmed half part of the above update, as they are reporting that the Roman Reigns – Brock Lesnar feud won't end at the WWE Day 1 PPV on January 1, and their feud will go all the way to WrestleMania 38.
WWE is currently building McIntyre as an unstoppable force once again on the blue brand, and he's expected to get added to the Universal Title picture on the Road to WrestleMania.
WATCH: Dawn Marie Makes Out With Torrie Wilson:
🔥
• Nick Khan Could Replace Vince McMahon In WWE One Day
WWE CEO Vince McMahon is 76 years old and has been running the company for almost 40 years.
One of the biggest question nowadays is who will be Vince's replacement once he's gone.
According to the Wrestling Observer, it could be WWE President & Chief Revenue Officer Nick Khan:
"I mean it's kind of a Board of Directors thing, but probably (Nick Khan being Vince McMahon's replacement), yeah. Unless they went and hired somebody else from the outside, but probably Nick Khan, yes."
Nick has made a lot of big decisions in WWE in the last year, so this could become a reality one day.
While Vince has the final say in current decisions, Nick was behind some big WWE releases in the past year.
You can watch Nick Khan getting interviewed earlier this year below:
WATCH: Dawn Marie Removes Torrie Wilson's Clothes:
• Carmella Posts Photos In Her Underwear, Corey Graves Reacts
Current WWE Women's Tag Team Champion Carmella recently completed 3 million followers on Instagram.
She posted photos of her in her underwear and wrote the following:
"Me: let's get Wendy's
Corey Graves: ok, as long as you eat it in your underwear
What can I say, I'm gonna make a great wife. 💁🏼‍♀️ 🤗 "
View this post on Instagram
Corey Graves commented the following under this post:
"This was a top 5 moment for me. Ever. In life. 😍 😍 😍 "
Corey & Carmella recently got engaged.
Also Check Out: Bayley Says She's Going To Post A Photo Of Her In Lingerie Just Like Carmella
WATCH: Carmella Suffers Nip-Slip:
• Matt Hardy Gives An Update On Jeff Hardy After Recent Incident
As we reported before, Drew McIntyre, Jeff Hardy & Xavier Woods defeated The Bloodline (Universal Champion Roman Reigns & SmackDown Tag Team Champions The Usos) in a 6-man tag team match in the main event of Saturday's WWE Live Event in Edinburg, Texas.
Hardy spent most of his time inside the ring during this match, getting worked by Reigns & The Usos.
You can watch it below:
Jeff reportedly became more sluggish as the match went on. He then tagged in McIntyre and left the match. Hardy went to the back through the crowd with security guarding him. He didn't return for the post-match victory celebration.
You can watch Hardy leaving below:
For those asking, this is the full video of Jeff Hardy last night #wwe #jeffhardy pic.twitter.com/yZdYiUGIbb

— That wrestling guy (@Rymont14) December 6, 2021
According to PWInsider, WWE sent Jeff Hardy home and he didn't work Sunday's Live Event at the American Bank Center in Corpus Christi, Texas. He was replaced by Rey Mysterio.
On his Twitch stream, AEW star Matt Hardy said the following about this situation involving his younger brother:
"I did speak to Jeff for a little bit today, and he's OK, he's good, and I think he'll be fine, but once again this isn't my business, and if he wants to go into it in more detail, then he'll do it himself. But like, Jeff is OK, he is at home, and he's OK."
WATCH: Rhea Ripley's Big Buns:
• Layla Had The Best Buns In WWE (Proof)
Layla made her WWE debut back in 2006 and retired in 2015. Below are Layla's accomplishments in WWE:
– 1x WWE Women's Champion
– 1x WWE Divas Champion
– WWE Diva Search Winner (2006)
Layla is considered one of the hottest divas of WWE's late Ruthless Aggression Era and PG era. Don't believe us? Check out the videos below:
🔥
🔥
🔥
Also Check Out: Trish Stratus Got Exposed Twice (Nip-Slips) During Her WWF/E Days
Download our WrestleFeed App if you're interested in more Divas content like this!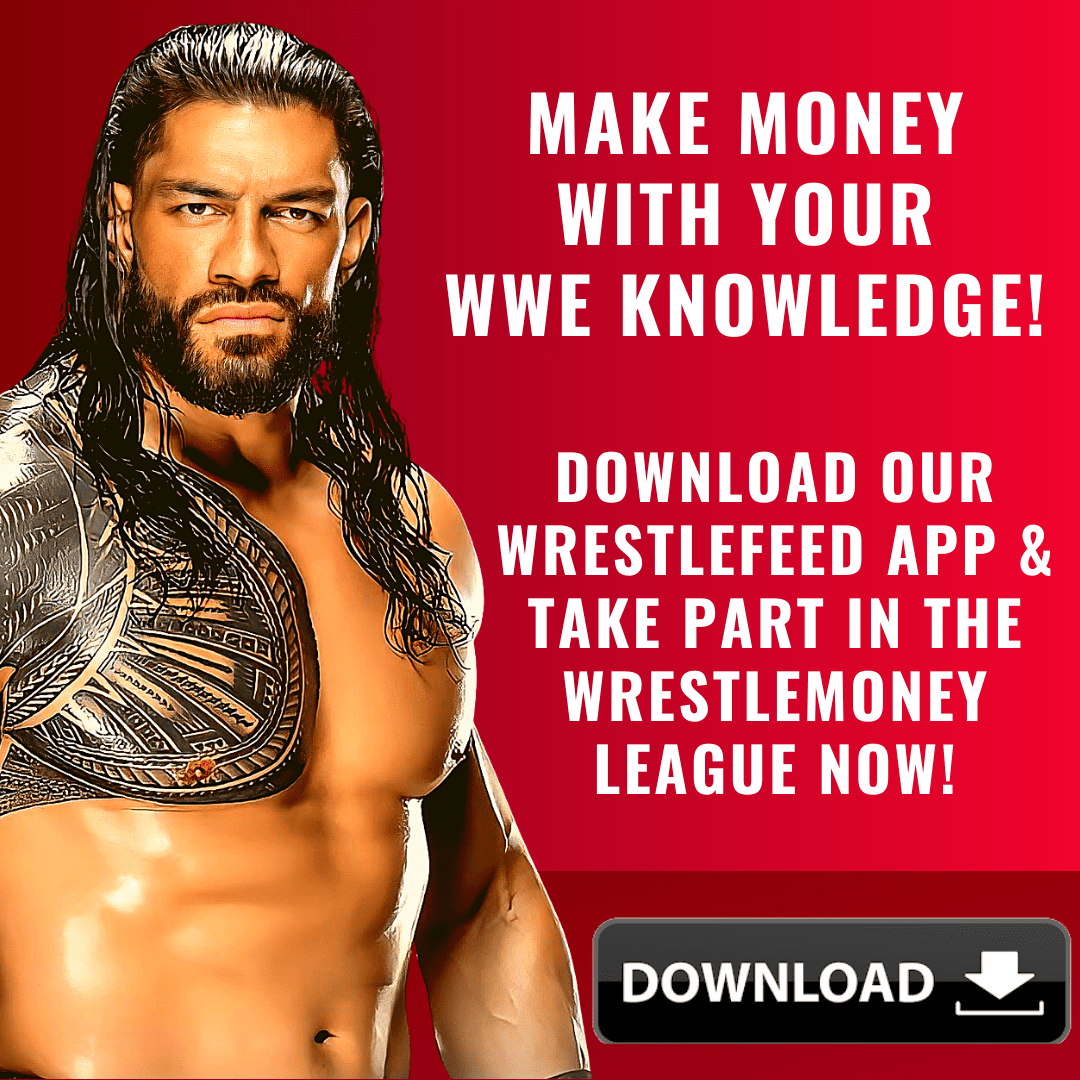 • "If you sit, you die" – AEW Star On How He Stays Alcohol & Drug-Free These Days
Old School WWF Legend Goldust (aka 'The Natural' Dustin Rhodes, currently working in AEW) was interviewed on an episode of the 'Way of the Blade' podcast, where he revealed how he manages to stay alcohol & drug free these days, despite his well known history of problems with both of them.
Here's what the oldest son of 'The American Dream' Dusty Rhodes had to say:
"Let's face it, my knees are hurting. My shoulders are hurting. I need replacements, and I've put on little band aids from time to time to get through. And I do a good job of it and I take care of my body, and I try to stay in shape.
I'm always on the go because I truly believe that if you sit down and just relax, it's going to catch up to you real quick and you're going to die, that's it. If you sit, you die. I believe in that, truly. So I've got to keep stepping, and that's one of my sayings, keep stepping. If you stop, it's going to catch up to you and hit you in the face. And I learned that from dad.
Dad told me that a lot, and this stuck with me because he started saying 'keep stepping' to me when I got out of drug and alcohol rehab. From that day, he just said that every day to me. So that's my saying, and not a lot of people know that but that's where I learned that saying…keep stepping.
I take it to heart. And 13 years of no alcohol, no drugs, no foreign drug or anything in my system, that's saying something, and I do owe that to my grit, my hard work and my family being beside me, and a good support system.
And the only way I see is one way, and that's to keep going forward and get my body in the best shape as possible or stay as the best shape as possible so I can perform at such a high level with these youngsters. Because let's face it…they're getting faster and faster, and they need direction. And I'm there to slow them down. I'm their coach, too. They listen."
Dustin wrestled for the World Wrestling Federation (later WWE) in late 1990 – early 1991 and later returned to the company as Goldust in 1995 but left in 1999, only to return several more times (2002-2003, 2005-2006, 2008-2012, 2013-2019) later on.
WATCH: Lana In A Hot Outfit (Part 5):
• Change Being Made To The WWE Title Match At Day 1?
In the opening match of tonight's RAW, WWE Champion Big E defeated Kevin Owens in a Steel Cage Match.
After the match, a brawl broke out between Big E, Owens & Seth Rollins, which ended with Big E standing tall. Bobby Lashley then attacked all 3 men during the commercial break.
On RAW Talk, it was teased that the Triple Threat Match for the WWE Championship between Big E, Owens & Rollins at the WWE Day 1 pay-per-view could turn into a Fatal 4 Way match, with the addition of The All Mighty.
The change hasn't been made official yet, but we'll keep you updated.
Below is the current match-card for WWE Day 1:
– Universal Championship Match: Roman Reigns (c) vs. Brock Lesnar
– WWE Championship Match: Big E (c) vs. Seth Rollins vs. Kevin Owens
– Edge vs. The Miz
– RAW Tag Team Championship Match: RK-BRO (Randy Orton & Riddle) (c) vs. The Mysterios OR The Street Profits
– SmackDown Tag Team Championship Match: The Usos (c) vs. The New Day
WATCH: Lana In A Hot Outfit (Part 1):