• AJ Styles Recalls The Worst Bump Of His Career (Video)
During a recent Twitch stream, "The Phenomenal" AJ Styles recalled the worst bump of his career, which was taking a Frog Splash from D'Lo Brown from top of a ladder.
Below is what Styles said:
"I was talking about this the other night, and I actually had forgotten about it until someone brought the match up. The guy had said, 'I remember your match with D'Lo Brown in TNA where he Frog Splashed you off a ladder and put you through a table.'
It made me remember laying there and seeing D'Lo jump off the ladder, and then it just went blank. I don't remember anything else until I came to and I was just laying there.
I just remember being in like a dream state. I remember telling myself like, 'You got to get up!' It was weird. I got up and everything was ok to finish the match. I don't remember bumping my head or having a knot, and I don't know if it was just the impact knocking the breath out of me and losing consciousness for a second.
I don't know what happened, because I remember what we were supposed to do and everything. D'Lo was probably 250 [lbs] at the time, coming from an 8 foot ladder to the outside, so that's probably at least 10 foot for a big man coming down to the floor. That was not fun. It wasn't a concussion though; I think it just knocked the breath out of me or something."
You can watch this bump below: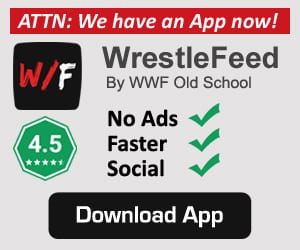 • Old School WWF Legend Would Have Celebrated His Birthday
Today would have been the 85th birthday of Old School WWWF/WWF Legend "The Living Legend" Bruno Sammartino.
During his two reigns as WWWF World Heavyweight Champion, Bruno held the belt for 11 years combined, a record that still stands and will never be duplicated.
Sammartino wrestled for Vince McMahon Sr.'s WWWF (later WWF) from 1959 until 1981, and later as a part-timer for Vince McMahon Jr.'s World Wrestling Federation from 1984 till 1987.
He was inducted into the WWE Hall of Fame in 2013 by his close personal friend, Arnold Schwarzenegger.
HAPPY BIRTHDAY & † REST IN PEACE
October 6, 1935 – April 18, 2018