• OLD SCHOOL VIDEO HISTORY (December 20, 1986) – WWF Superstars of Wrestling
On this day in 1986, the World Wrestling Federation aired an episode of their weekly TV show 'WWF Superstars of Wrestling'.
This episode was pre-taped at the Veterans Memorial Coliseum in Phoenix, Arizona and featured matches, interviews & storyline segments on the road to the 'WWF WrestleMania III' PPV.
Here is the card:
1. The Islanders vs. Magnificent Muraco & Bob Orton Jr.
2. Kamala vs. Pedro Gonzales
3. Honky Tonk Man vs. Jose Luis Rivera
4. King Kong Bundy vs. Steve Gatorwolf
5. Butch Reed vs. Jerry Monti
6. Koko B. Ware & Killer Bees vs. Dennis Stamp & Mike Luca & The Raider
• Becky Lynch Owns Lars Sullivan Big Time In Twitter Exchange
After costing Becky Lynch and Charlotte Flair the SmackDown Women's Championship at TLC 2018, RAW Women's Champion Ronda Rousey posted the following on Instagram:
"TLC wasn't revenge, it was a warning. charlottewwe beckylynchwwe You're both lucky I let you off so easy. Asuka deserves to be champion more than either of you cheating cowards. And beckylynchwwe says SHE came at ME head on!? beckylynchwwe has only ever attacked me when my back was turned – that's some more #BackwardsBullsh*tBecky. If you and charlottewwe are smart you'll consider the score settled, learn this lesson, move on…. and don't provoke me again."
Below is what Becky replied to Ronda:
I remember now you said I attacked you with your "pants down," you little weirdo. Not going to lie though, I did walk in to your dressing room and see an ass – but it was fully dressed. pic.twitter.com/NTAYxf745f

— The Man (@BeckyLynchWWE) December 19, 2018
Becky also went on to own Charlotte after this:
Hey Charlotte, I've replied to Ronnie now, so you can come along behind me, copy me, and put wooo at the end. You know like you do in work.

— The Man (@BeckyLynchWWE) December 19, 2018
Ronda then went on to claim that Becky stole her underwear after she used the hashtag #iknowyouleftwithmyunderwear:
I'm a little weirdo!? You're the one jumping on me while I'm getting changed in the locker room #BackwardsBullshitBecky #iknowyouleftwithmyunderwear

— Ronda Rousey (@RondaRousey) December 19, 2018
Becky replied the following to Ronda after this:
Just how hard were you kicked in the jaw that one time you little freak? https://t.co/S6sxbQujZk

— The Man (@BeckyLynchWWE) December 19, 2018
WWE's upcoming main roster wrestler, Lars Sullivan, decided to change this Twitter exchange and below is what he tweeted: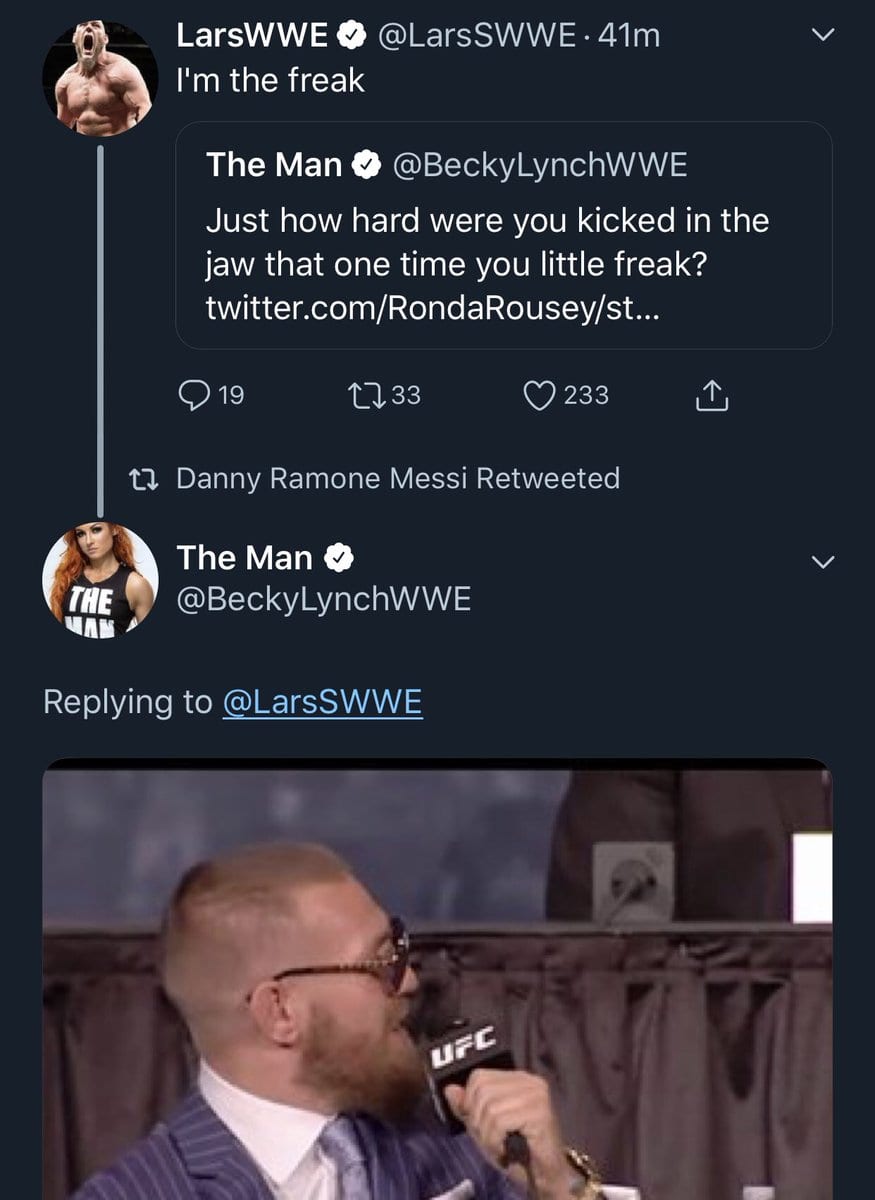 Becky then replied the following to Lars:
— The Man (@BeckyLynchWWE) December 20, 2018
Lars went on to delete his tweet (that's why we posted a screenshot above) and then Becky posted the following regarding Lars deleting his tweet:
Think I broke Lars.

— The Man (@BeckyLynchWWE) December 20, 2018
Lars then acknowledged getting owned by "The Man":
Just got nailed by The Man. Had to delete.

— LarsWWE (@LarsSWWE) December 20, 2018
For those who didn't understand the image that Becky posted while replying to Lars, the image is of Conor McGregor owning a UFC fighter by saying: "Who the f**k is that guy?"
You can watch that scene below:
WATCH: Nikki Bella Enjoying In A Bikini: