• OLD SCHOOL VIDEO HISTORY (December 24, 1983) – WWF Championship Wrestling
On this day in 1983, the World Wrestling Federation aired an episode of their weekly TV show 'WWF Championship Wrestling'.
This episode was pre-taped at the Agricultural Hall in Allentown, Pennsylvania and featured matches, interviews & storyline segments involving the 1983 WWF Superstars.
Here's the card:
– Tito Santana vs. Kurt Von Hess
– Sgt. Slaughter vs. Nick DeCarlo
– Paul Orndorff vs. Victor Mercado
– The Iron Sheik vs. Chuck Tanner
– The Invaders vs. Bill Williams & Israel Matia
– Salvatore Bellomo vs. Jimmy Jackson
• Becky Lynch Reacts To WWE Hall Of Famer Being Negative About "The Man" Gimmick & Women Main Eventing In WWE
During a recent edition of "What A Rush" podcast, WWE Hall of Famer Road Warrior Animal talked about Becky Lynch's "The Man" gimmick, women main eventing in WWE & more.
Below are the highlights:
On giving the fans what they want:
"If the McMahons are really listening to the fans and they want to do what they have to do to make the fans happy, you have got to have a line drawn in the sand on who the bad guy is and who the good guy is. That's what the fans want. They want someone to believe in.
They want someone to cheer. They want someone to boo. They want someone to hate. You can't change the wrestling business that's been based for 150 years on this kind of principle. Now all of a sudden you have good guy vs good guy.
Come on, they want to have a line drawn in the sand because when you make it too confusing for them they can't cheer for Asuka in the same way and all of a sudden cheer for Becky Lynch in the same match. You just can't do it and it ends up making the match horrible."
On Women main eventing in WWE:
"There is a problem in the wrestling business. Yes, the women's movement is growing, but when the women are the main event and they have the best matches on your card, there's an issue."
On Becky Lynch's "The Man" gimmick:
"I would let her back off of 'The Man' thing and let her just be a pure white meat babyface that doesn't quit. Those are the kind of babyfaces that work. When you come out there with the attitude and strutting your stuff like she's some kind of tough guy, come on!
Jesus, Lord, anybody that's ever been in a fight can see right through it and I'm just being realistic because that's what works in this business. You've got to think shoot and work the shoot and right now they're not taking advantage of their stars who are stars."
After reading this, below is what former SmackDown Women's Champion Becky Lynch tweeted about this: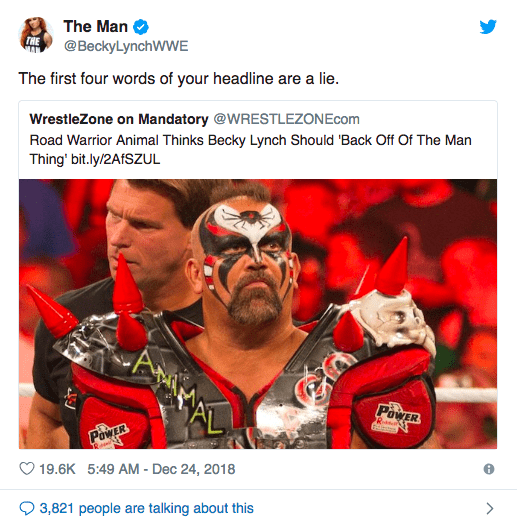 WATCH: Lana Having Fun With Her Assets: