• OLD SCHOOL VIDEO HISTORY (October 29, 1994) – WCW Saturday Night
On this day in 1994, Ted Turner's World Championship Wrestling aired an episode of their weekly TV show 'WCW Saturday Night'.
It was broadcasted from the Center Stage Theatre in Atlanta, Georgia and featured pre-taped matches, interviews & storyline segments on the road to the 'WCW Starrcade 1994' PPV.
The card of the show can be found here:
– Highlights Of Halloween Havoc
– Avalanche vs. Scott Sandlin & Flash Flannigan
– Dustin Rhodes vs. Frankie Lancaster
– Highlights Of Halloween Havoc
– Clash Of The Champions Control Center
– Honky Tonk Man vs. Bill Payne
– Highlight Video On Johnny B. Badd
– Harlem Heat vs. Barry Houston & Joey Barrett
– Highlights Of Hulk Hogan vs. Ric Flair From Halloween Havoc
– Interview w/ The Butcher, Kevin Sullivan & Avalanche
– Steve Austin vs. Pez Whatley
– Interview w/ Dave Sullivan
– Jim Duggan vs. Joe Cruz
– Alex Wright vs. John Stevens
– Promo By Hulk Hogan & Jimmy Hart
– When Worlds Collide Control Center
– Guardian Angel vs. Chris Nelson
– Sting vs. Steve Keirn
– Interview w/ Sting
• Big News Regarding WWE World Cup Tournament At WWE Crown Jewel
While the rumors have been going on for a while now that 16 time WWE World Heavyweight Champion John Cena is refusing to go to Saudi Arabia for WWE Crown Jewel PPV to protect his image in Hollywood, we can now confirm that Cena won't be working the WWE Crown Jewel PPV.
Multiple sources have now confirmed Cena's status and he has been pulled from the event.
Wrestling Observer notes that WWE is expected to give a storyline reason behind Cena not working WWE Crown Jewel PPV tonight on RAW as they will reveal the WWE World Cup tournament brackets tonight.
Furthermore, Dirty Sheets is reporting that WWE originally wanted 3 RAW stars to win their 1st round matches in the World Cup – John Cena, Kurt Angle & Seth Rollins (with only 1 Superstar from SmackDown winning his 1st round match and moving forward in the tournament).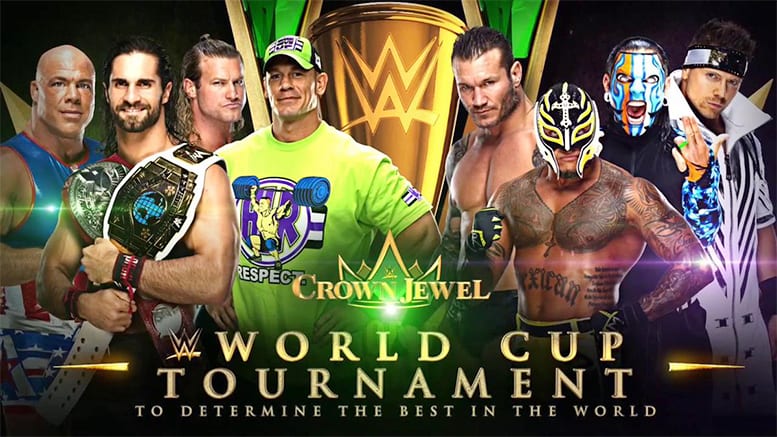 With Cena being out, WWE is now doing a RAW / SmackDown bracket and the final match of the WWE World Cup to crown the "Best In The World" will feature a RAW Superstar vs. SmackDown Superstar.