• Billy Graham On What Kofi Kingston Did After He Suggested Kofi To Use Steroids
When Kofi Kingston was WWE Champion last year, WWE Hall of Famer "Superstar" Billy Graham suggested him to use steroids to improve his physical look.
Graham took to Facebook last night to reveal what Kofi did after he suggested him that.
You can read his full post below:
"Steroid Users ?
That was the question I have been asked about Bruno for decades. We all know that despite this man's incredible muscle mass in his prime plus the fact that it was claimed " The Living Legend " bench pressed 500lbs. Bruno never told me that and I never asked, but I absolutely believe he could have done that number clean. And just for the record he would have been 1 of very few men in the world that could have benched that number.
It has been brought to my attention that many of you fine Facebook fans have asked my FB Administration team if I thought Bob Backlund had ever used steroids. As you can see in this photo he looks in excellent shape. Maybe he did and maybe he didn't, I don't really care and honestly doubt that he ever used roids.
Now, the one WWE champion that we can all agree that did not use roids was Kofi Kingston. The outrage that came out over me suggesting he use them responsibly was beyond ballistic. Especially by his two tag team partners that hate my guts with the uttermost hatred and would not touch the books that I have read.
But an interesting fact that I will now reveal publicly for the first time about the character of Mr. Kingston with the following.
With everyone throwing stones at me for suggesting this evil deed to Kofi, how did Kofi respond? Well he responded with class and dignity by donating 1,000$ to my GoFundMe, anonymously. A young man with class and composure, a man I can call my friend if I ever get the chance to meet him. Thoughts anyone?
Superstar Billy Graham"
Also Read: Billy Graham Says He's Going To Die Soon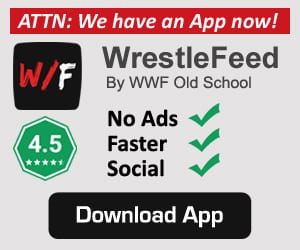 WATCH: Epic Photo Of Bayley's Fat Bum Next To Sasha Banks:
You can download our official WrestleFeed mobile app to check out more Wrestling news & Divas content. Tap here to download.
• Old School WWF Veteran Celebrates His Birthday
WWF Attitude Era Veteran "The Lethal Weapon" Steve Blackman celebrates his 57th birthday today.
Blackman originally wrestled for the World Wrestling Federation as a so called 'Jobber to the Stars' in 1988 & 1989, doing jobs on weekly WWF TV shows, as well as WWF House Shows.
He was then offered a full-time contract to become an actual WWF Superstar, but unfortunately around that time he contracted malaria and dysentery, which sidelined him for 6 years.
He then returned to the WWF, this time as an actual full-time WWF Superstar, in late 1997, making the save for Vader, thus being introduced as a babyface.
He wrestled regularly on WWF TV Shows & PPVs until the summer of 2001, so he was there for the entire time of the famous Attitude Era, an era in history that can never be duplicated.
HAPPY BIRTHDAY STEVE BLACKMAN!