• On This Day In Pro Wrestling History (November 18, 2001) – WWF Survivor Series 2001
On this day in Pro Wrestling history on November 18, 2001, the World Wrestling Federation aired 'WWF Survivor Series 2001' LIVE on PPV from the Greensboro Coliseum in Greensboro, North Carolina.
This pay-per-view's main event marked the end of the infamous WCW/ECW invasion storyline.
Here are the results:
– WWF European Championship: Christian (c) defeated Al Snow
– William Regal defeated Tajiri
– Unification – WCW United States & WWF Intercontinental Championships: Edge defeated Test
– Steel Cage Unification – WCW & WWF Tag Team Championships: The Dudley Boyz defeated The Hardy Boyz
– Test won an Immunity Battle Royal
– Six-Pack Challenge – Vacant WWF Women's Championship: Trish Stratus defeated Ivory, Jazz, Jacqueline, Lita and Mighty Molly
– Survivor Series elimination match: The Undertaker, Chris Jericho, Big Show, Kane, The Rock defeated Booker T, Kurt Angle, Rob Van Dam, Shane McMahon & Stone Cold Steve Austin
• Bray Wyatt Has A Message For Fans Who Hate The Blue Universal Title Belt
As seen on this week's SmackDown, Bray Wyatt debuted the blue version of the Universal Championship title belt.
You can check it out below: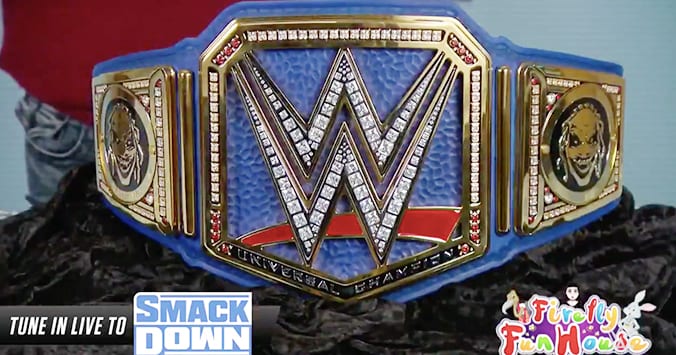 Fans weren't happy with this new Universal Championship title belt and this led to Wyatt posting the following on Instagram:
"Knash says he likes the blue title, so shut the hell up about it."
For those who don't know, Knash is Wyatt and WWE ring announcer JoJo's son (who was born earlier this year).
Below is what Braun Strowman and Matt Hardy commented under the above Instagram post:
Strowman: My dude!!!!!!!! #ForeverFamily
Hardy: The only opinion that matters
WATCH: Nikki Bella Enjoying In A Bikini: