UPDATE: This was an April Fools' Day joke.
AEW President Tony Khan is a man on a mission and he's making moves that are sending shockwaves in the pro-wrestling world.
Just a day before WWE's biggest show of the year, WrestleMania 38, Tony has managed to sign the legendary Goldberg to All Elite Wrestling.
As we have reported before, Goldberg's contract with WWE expired at the Elimination Chamber 2022 premium live event, where he lost to Roman Reigns in a Universal Championship match.
Goldberg was getting paid in millions for doing 2 matches per year in WWE, and Tony Khan surely isn't running short of money.
We are being told that Goldberg will be making $5 million per year in AEW, but he'll have to wrestle more than just 2 matches a year.
When CM Punk heard Goldberg was making more money than him, he wasn't happy. Since Punk idolizes Bret Hart and Bret hates Goldberg, Punk decided to confront the former WCW World Heavyweight Champion.
Punk suddenly remembered his run in the UFC and decided to back off, and instead threw a fit in front of Tony.
Tony then kissed Punk and told him everything is going to be fine when he books Punk to win the AEW World Championship later this year. Punk then kissed Tony back and said 'we're good'.
Khan then did a press conference, announcing the official signing of Goldberg. Khan said the following during the conference:
"Since our birth in 2019, we have signed a lot of former World Champions. Chris Jericho, CM Punk, Bryan Danielson, Jon Moxley…But the man that's about to come out next is biggest signing in the history of our promotion.
Ladies & Gentlemen, please welcome our latest signing – GOLDBERG!"
Goldberg then came out to a huge pop from the media crew and other AEW wrestlers, while CM Punk was clearly seen booing very loud.
Goldberg saw Punk's reaction and wasn't happy, and made the following face: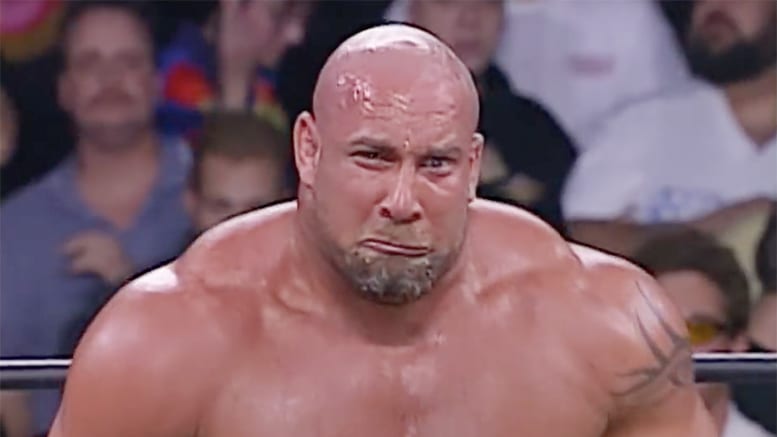 Tony then announced that Goldberg will be making his AEW in-ring debut on their fantastic show "AEW Dark" next week, and he will face his former WCW opponent, "The Big Show" Paul Wight.
The Media people were confused and asked which channel AEW Dark comes on. Tony then replied:
"It airs on YouTube every week guys. It's like our weekly WrestleMania."
Goldberg was then given the mic and he said the following about facing Big Show again:
"Big Show. Paul Wight. The Giant, whatever your name is. You. Me. AEW Dark. YouTube. You're next!"
As usual, WrestleFeed will keep you updated regarding the result of this match.
By the way, Happy 1st of April.
WATCH: AEW Star Paige VanZant Completely Exposes Her Buns: