• BREAKING NEWS: Jeff Hardy Arrested
Former WWE Champion and current AEW Superstar Jeff Hardy was arrested earlier today in Volusia County, Florida.
He is being charged with the following:
DUI (Alcohol or Drugs) – third offense within 10 years [Felony under Florida Law]
– Driving while license canceled/suspended/revoked [Misdemeanor]
– Violation of restrictions placed on driver's license [Misdemeanor]
Hardy is currently listed as incarcerated at Volusia County Jail. He will appear before Court tomorrow at 1:30 PM.
Below is the mugshot: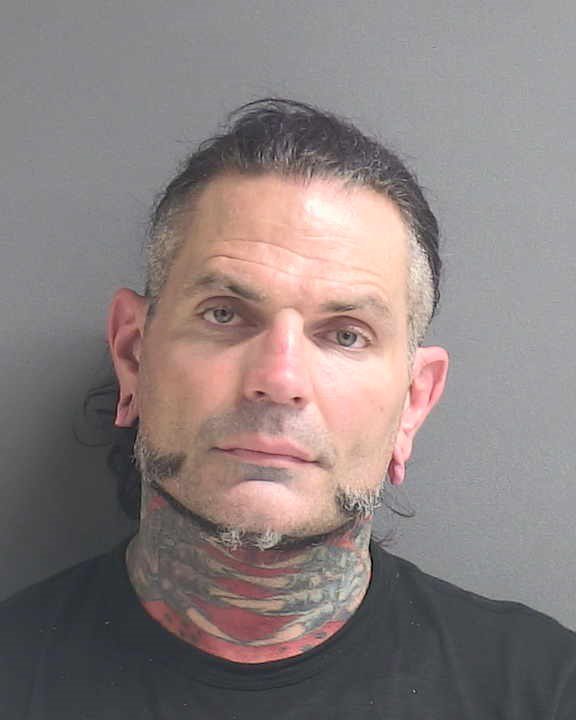 Also Read: Jeff Hardy Could Face Up To 5 Years In Prison (Details)
WATCH: AEW Star Paige VanZant Completely Exposes Her Buns:
• On This Day In Pro Wrestling History (June 13, 1999) – WCW The Great American Bash 1999
On this day in Pro Wrestling history on June 13, 1999, Ted Turner's World Championship Wrestling aired 'WCW The Great American Bash 1999' LIVE on PPV from the Baltimore Arena in Baltimore, Maryland.
This was the 13th edition of WCW's annual The Great American Bash events, although the 1986 & 1987 Great American Bash events were actually tours of several shows with the best matches making it to the VHS', that made them being presented like 1 big event in both years, even though they weren't.
There was no Great American Bash in 1993 & 1994, but after WCW was sold to the World Wrestling Federation in 2001, Vince McMahon brought the pay-per-view back in 2004 under the WWE banner.
The results from that night:
Hardcore match: Hardcore Hak defeated Brian Knobs
Van Hammer defeated Mikey Whipwreck
Buff Bagwell defeated Disco Inferno
The No Limit Soldiers defeated The West Texas Rednecks
Ernest Miller defeated Horace Hogan
Ric Flair defeated Roddy Piper by DQ
Falls Count Anywhere: Rick Steiner defeated Sting
WCW World Tag Team Championship: Jersey Triad defeated Chris Benoit & Perry Saturn (c)
WCW World Heavyweight Championship: Kevin Nash (c) defeated Randy Savage by DQ