• Jeff Hardy Could Face Up To 5 Years In Prison (Details)
Former WWE Champion and current AEW Superstar Jeff Hardy was arrested earlier today in Volusia County, Florida.
He is being charged with the following:
DUI (Alcohol or Drugs) – third offense within 10 years [Felony under Florida Law]
– Driving while license canceled/suspended/revoked [Misdemeanor]
– Violation of restrictions placed on driver's license [Misdemeanor]
Hardy is currently listed as incarcerated at Volusia County Jail. He will appear before Court tomorrow at 1:30 PM.
Below is the mugshot: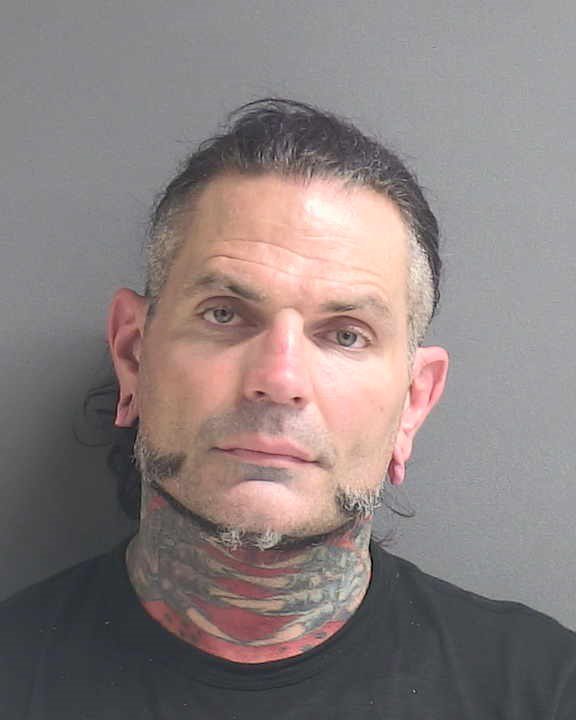 Since a 3rd DUI offense within 10 years is considered a Felony in Florida, Jeff could face the following:
– Minimum 30 days in jail, but up to 5 years in prison.
– Up to 5 years of reporting probation.
– Minimum 10-year driver's license revocation.
– Up to $5,000 in fines.
– 90-day impoundment or immobilization of all vehicles owned by the driver.
– Mandatory placement of an ignition interlock device upon all vehicles owned, used, or routinely operated by the convicted driver for not less than 2 years.
– 50 hours of community service.
– Completion of a 21 hour DUI Substance Abuse Course.
– Completion of a psychosocial evaluation to determine if Substance Abuse Treatment is required.
– Completion of any recommended substance abuse treatment.
UPDATE: Jeff Hardy's Blood-Alcohol Content Was Over 3 Times The Legal Limit (Details)
WATCH: Tay Conti Has The Best Tushy In AEW:
• On This Day In Pro Wrestling History (June 13, 1982) – Old School WWWF Legend Passed Away
On this day in 1982, we lost Old School WWWF Legend "High Chief" Peter Maivia (Real name: Fanene Leifi Pita Maivia) at the age of 45 due to cancer.
Peter Maivia was the father-in-law of Old School WWF Veteran Rocky Johnson and the grandfather of Old School WWF Legend & Hollywood Superstar Dwayne "The Rock" Johnson.
The High Chief used to wrestle for Vince McMahon Sr.'s World Wide Wrestling Federation, where he feuded with "Superstar" Billy Graham, among many others.
Maivia, who was also the NWA promoter for the Hawaii territory, played a villain in the 1967 James Bond movie "You Only Live Twice", where he had a memorable fightscene with Sean Connery, who portrayed 007.
In 2008, him and Rocky Johnson were both inducted into the WWE Hall of Fame by The Rock.
† REST IN PEACE PETER MAIVIA
April 6, 1937 – June 13, 1982