• Jeff Hardy's Blood-Alcohol Content Was Over 3 Times The Legal Limit (Details)
Former WWE Champion and current AEW Superstar Jeff Hardy was arrested earlier today in Volusia County, Florida.
He is being charged with the following:
DUI (Alcohol or Drugs) – third offense within 10 years [Felony under Florida Law]
– Driving while license canceled/suspended/revoked [Misdemeanor]
– Violation of restrictions placed on driver's license [Misdemeanor]
Hardy is currently listed as incarcerated at Volusia County Jail. He will appear before Court tomorrow at 1:30 PM.
Below is the mugshot: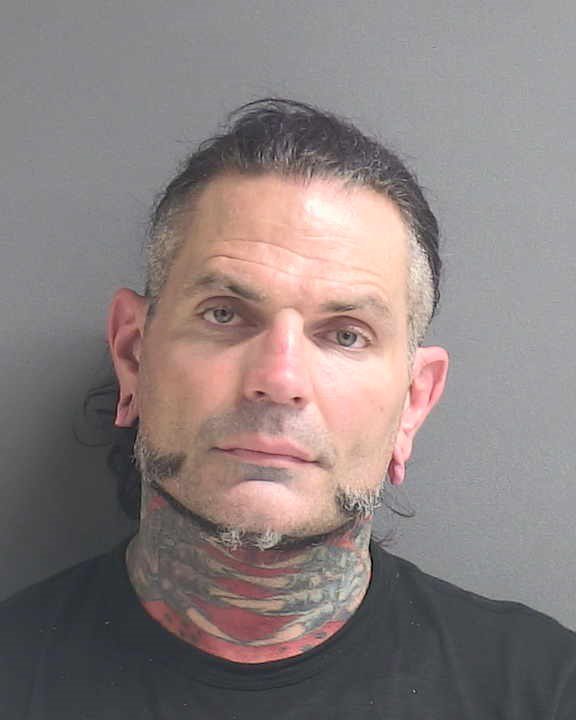 ESPN's Marc Raimondi provided the following details regarding Jeff's arrest:
"Per the Florida Highway Patrol arrest report on Jeff Hardy, a white car was seen 'swerving' and 'running off' the roadway Monday around 12:30 AM.
When the officer made a traffic stop and engaged Hardy, the wrestler seemed 'to be in a stupor and confused,' per the report.
Once he left his car, Hardy was unsteady and smelled of alcohol, per the report. Officers, through conversation, learned Hardy had been drinking. Hardy could not complete any portion of sobriety exercises successfully 'or without risk of falling,' the officer wrote in the report.
Officers administered a breath test and Hardy's first sample read 0.294 of blood-alcohol content. A second sample read 0.291. The legal limit to drive in Florida is .08."
Also Read: Update On Where Jeff Hardy Was Before His Arrest
WATCH: Dawn Marie Exposes Sunny & Brutally Spanks Her:
• ON THIS DAY IN WWF HISTORY (June 13, 1992) – WBF BodyStars
On this day in 1992, Vince McMahon's World Bodybuilding Federation aired another episode of their weekly TV show 'WBF BodyStars'.
They usually taped a full month of TV content for the show during their monthly tapings featuring some of the best Bodybuilding-Superstars on the planet at that time.
World Wrestling Federation owner Vince McMahon, who back then was only known as WWF commentator, also worked as the host on WBF BodyStars.
His very own bodybuilding-nutrition-supplement brand ICOPRO was usually advertised during every episode.
Former WCW World Heavyweight Champion Lex Luger was signed away from Ted Turner's World Championship Wrestling in March of 1992, in order to join the World Bodybuilding Federation and appear on television for them.
With WWF doctor Dr. Zahorian being arrested in 1991 and Vince McMahon's World Wrestling Federation dealing with the infamous steroid scandal by 1992, the timing to run his own Bodybuilding promotion couldn't possibly have been any worse, which is why the project was doomed to fail and it eventually disbanded in July 1992.
The intro theme song of WBF BodyStars was "Go for It!" by Joey B. Ellis & Tynetta Hare.