Let us take a look at the top 8 WWE News & Professional Wrestling stories of the hour:
---
8. Finn Balor Relinquishes The Universal Championship, New Champion To Be Crowned Next Week
"The Demon King" Finn Balor relinquished the Universal Championship on Raw as he suffered a shoulder injury at SummerSlam 2016. A series of matches were held last night on Raw to determine who will compete for the WWE Universal Championship. Below are the matches:
– Seth Rollins def. Sami Zayn
– Kevin Owens def. Neville
– Big Cass def. Rusev via Count-Out
– Roman Reigns def. Chris Jericho
Seth Rollins, Kevin Owens, Big Cass & Roman Reigns will now compete in a Fatal 4 Way match in the main event of next week's Raw to crown the new Universal Champion.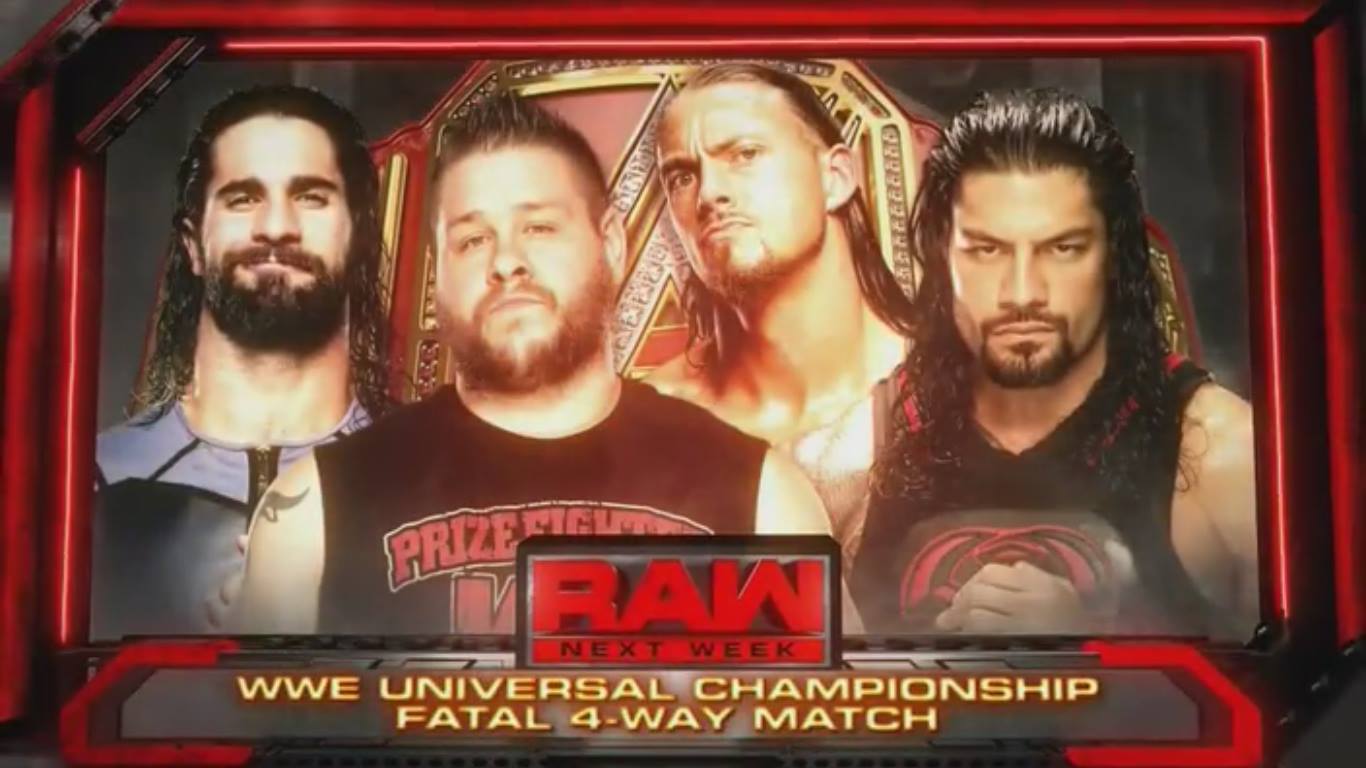 Speaking of next week's Raw, the second match of the "Best of 7" series between Cesaro & Sheamus will take place. The first match of the series took place on the SummerSlam 2016 Kickoff show and was won by Sheamus.
Regarding Balor's injury, below is what WWE posted:
"He hit the wall during the match, dislocated his shoulder and was able to put it back in himself in a split second," said ringside physician Dr. Chris Robinson. Bálor was able to finish the match, but Dr. Robinson noted that an MRI yielded results earlier today showing "a possible labrum tear."
Below is the video showing when Balor got hurt:
This injury could result in Balor missing next year's Royal Rumble PPV.
---
7. What Happened After Raw Went Off The Air?
After last week's Raw went off the air, SmackDown Live Superstars appeared and took part in the dark main event. The team of John Cena & WWE World Champion Dean Ambrose defeated the team of Seth Rollins & AJ Styles. The finish came when Ambrose hit Rollins with Dirty Deeds.
#RAW Dark Match: John Cena & Dean Ambrose vs AJ Styles & Seth Rollins! pic.twitter.com/lqwSulWYLs

— Riz (@johncenaAm) August 23, 2016
#RAW Dark Match:

AJ Styles & Seth Rollins vs John Cena and Dean Ambrose pic.twitter.com/NTZU9w8XwZ

— Mathias Eftedal (@TheVideoScope) August 23, 2016
Speaking of Raw, the following two matches were taped for this week's WWE Superstars before Raw:
– Jack Swagger vs. Jinder Mahal
– The Golden Truth vs. Curtis Axel & Bo Dallas