• ON THIS DAY IN PRO WRESTLING HISTORY (February 1, 2010) – A Legend Passed Away
On this day in 2010, we lost Old School Wrestling Legend Jack Brisco (Real name: Freddie Joe Brisco) at the age of 68 from complications of an open heart surgery.
Brisco was a former NWA World Heavyweight Champion and also formed a legendary Tag Team with his brother Gerald Brisco.
Together they were inducted into the WWE Hall of Fame in 2008 by JBL John "Bradshaw" Layfield.
REST IN PEACE JACK BRISCO!
September 21, 1941 – February 1, 2010
• Brock Lesnar To Negotiate With WWE, AEW & UFC For His Next Deal
WWE Universal Champion Brock Lesnar is a very smart businessman. He has become the highest paid wrestler in WWE while being the wrestler who works the least amount of dates (excluding Old School Legends).
According to the Wrestling Observer, Paul Heyman will be negotiating Brock Lesnar's next deal with WWE, AEW & UFC.
As we noted before, the Wrestling Observer also noted that AEW Superstar Chris Jericho recently taking a shot at Brock Lesnar on Twitter wasn't an accident or Jericho having fun while being drunk, but it was something that Jericho did before with Kenny Omega as well (Jericho began his feud with Omega on Twitter and then moved to NJPW).
The Observer noted that there could be interest from AEW Officials in signing Lesnar and they could do it through Jericho (a person who has worked with Lesnar before).
While AEW managing to sign Brock would be highly unlikely, as Vince McMahon would be willing to beat any offer in order to keep Brock with WWE (as we have seen before with UFC), this is turning out to be a very favourable situation for Brock as he's a very smart businessman and knows how to get the best deal for him.
You can check out Jericho's deleted tweets (where he took shots at Lesnar & WWE) below: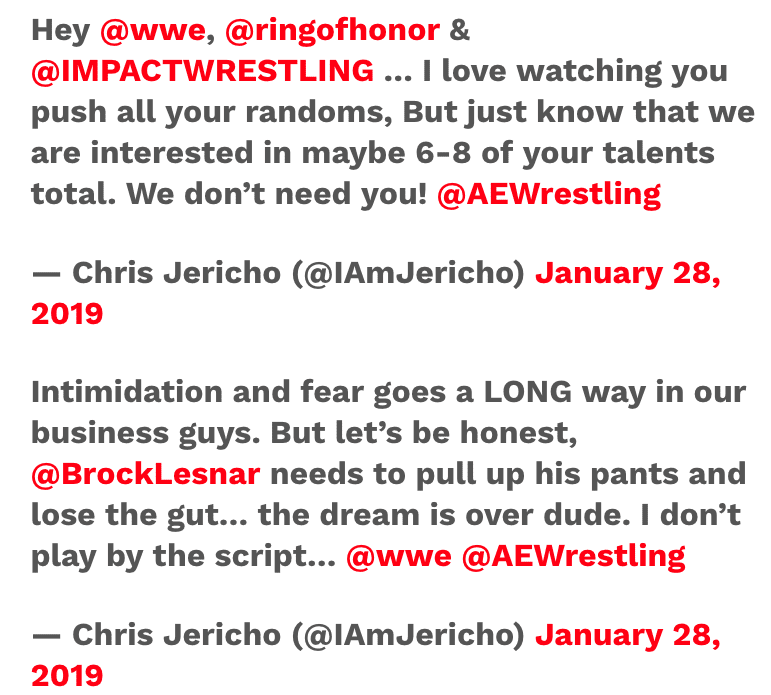 WATCH: Lana, Nia Jax & Paige's Sexy Dance Practice: