• Brock Lesnar's Next Opponent Might Shock WWE Fans
2022 has been an eventful year for "The Beast" Brock Lesnar. He has done the following things so far this year:
– Won the WWE Championship twice.
– Won the Royal Rumble match for the 2nd time in his career.
– Competed in his 1st ever Elimination Chamber match and won it.
– Main evented WrestleMania.
– Main evented SummerSlam.
– Competed in his 1st ever Last Man Standing match.
WWE will return to Saudi Arabia on November 5th for their Crown Jewel premium live event.
Lesnar is WWE's top attraction for the Saudi shows and he always works these shows.
Multiple sources have confirmed that Lesnar will be returning for this show.
According to the Wrestling Observer, Lesnar's opponent for this event could be UFC Hall Of Famer Daniel Cormier.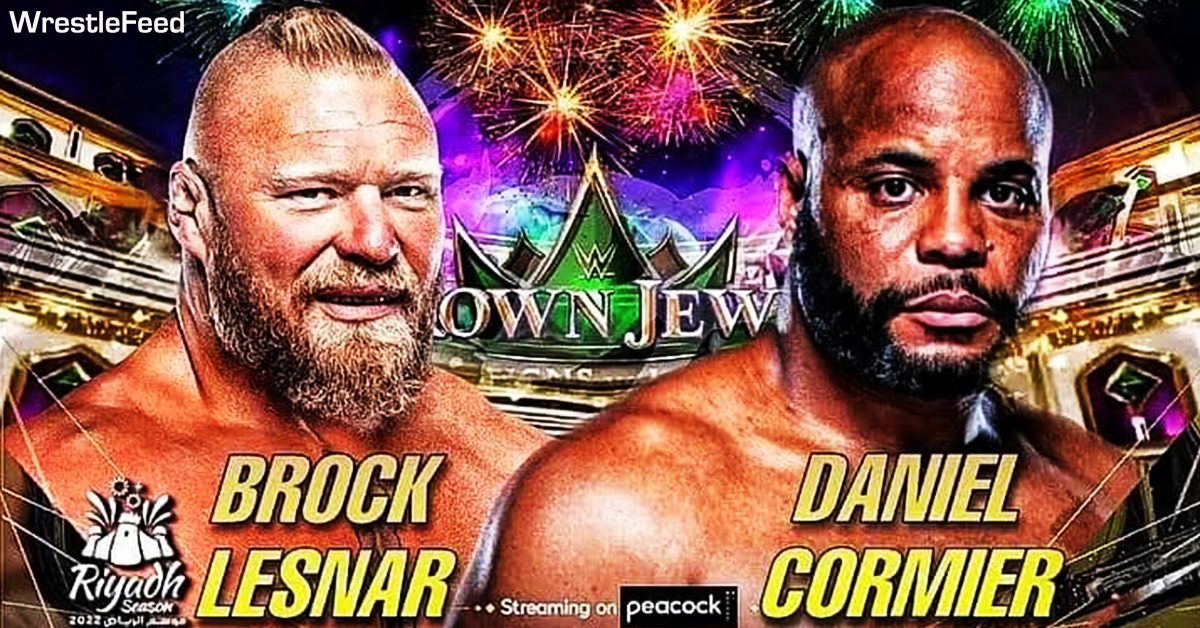 Cormier will make his WWE debut at this weekend's Extreme Rules 2022 premium live event, where he will act as the Special Guest Referee for the Fight Pit Match between Seth Rollins & Matt Riddle.
Lesnar vs. Cormier taking place at a Saudi Arabia show doesn't sound shocking if you consider the fact that WWE booked a similar match back at Crown Jewel 2019 – Brock Lesnar vs. Cain Velasquez.
Velasquez defeated Lesnar to win the UFC Heavyweight Championship in 2010, which led to Lesnar getting his revenge 9 years later at Crown Jewel.
A UFC Heavyweight Title fight between Cormier & Lesnar was scheduled to take place in 2018, but Lesnar decided to stay retired from MMA.
You can watch their exchange from UFC 226 below:
As of this writing, only one match is confirmed for Crown Jewel 2022 – Roman Reigns (c) vs. Logan Paul for the Undisputed WWE Universal Championship.
Also Check Out: Brock Lesnar Changes His Look (Photo)
MUST WATCH: Former WWE Star Chelsea Green (Wife Of Zack Ryder) Exposes Her Knockers (Video & Front-Shot Photos):
• On This Day In Pro Wrestling History (October 3, 2017) – Legendary Old School Announcer Passed Away
On this day in 2017, we lost legendary Old School Announcer Lance Russell at the age of 91.
Lance Russel is well remembered as the voice of the Memphis Wrestling territory that during his career changed it's name from NWA Mid-America to CWA Continental Wrestling Association and later on to USWA United States Wrestling Association.
Russel also worked for Ted Turner's WCW World Championship Wrestling from 1989 till 1993, as well as for Jim Cornette's SMW Smoky Mountain Wrestling in 1995.
† REST IN PEACE
March 18, 1926 – October 3, 2017