Former WWE Tag Team Champion Chavo Guerrero is training really hard these days and is absolutely jacked at the age of 52.
Below is a recent shot of his physique: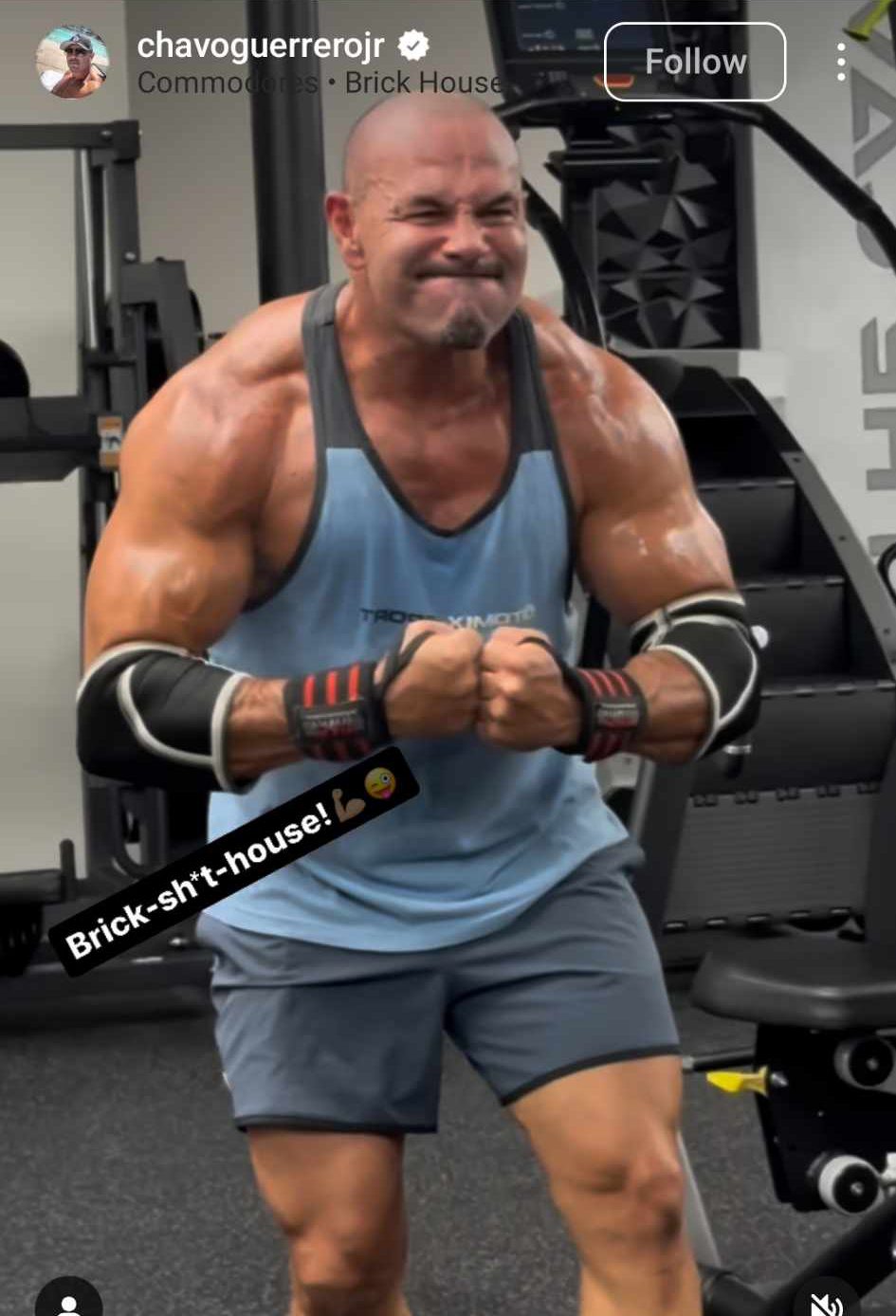 Chavo's last major run in pro-wrestling was in All Elite Wrestling.
He debuted in AEW in 2021 and became Andrade El Idolo's "Executive Consultant".
However, he had to leave for a while, to go to Australia to film for the "Young Rock" show, and this is when things went downhill for him in All Elite Wrestling.
Chavo was removed from AEW's roster page and he was shocked to see that. He tried to get in touch with AEW President Tony Khan, but received no response. This pi$$ed off Chavo.
Below is what Chavo said in 2022 during an interview with Wrestlinginc:
"Originally when I started in AEW, talking to Tony Khan, it was like, alright, so you can start working for maybe it was about two months. Then I got the opportunity, I knew I was going back to Young Rock. I just didn't know when it was going to happen.
So when I talked to Tony about it, I said, 'hey, they just called me, I am going back to Young Rock, what are your thoughts on that?' He said, 'oh, I think it's a great opportunity, man. I mean, we are on a roll with you and Andrade, but it's a great opportunity, I think you should go and do that. Then you will have a job when you come back.'
So I thought, 'great, awesome.' Originally, I was supposed to go for three months, and when I was there at Christmas time, The Rock basically said, 'hey, there's a lot of wrestling on the back end, we really need you to stay. We are asking if you can stay.' So I kicked that around with my wife, back and forth and we decided it's a great opportunity. So, I decided to stay.
Coming back in early February, started giving Tony some texts, no answer, no reply. Called him, left him a voice message, no reply whatsoever. I am like, 'hmm, okay.' Then all of a sudden I see I am not part of the page anymore, of the AEW roster. So, it kind of pi$$es me off, to be honest.
Hey, I am a big boy, if there's no plans for me, totally fine, I get it. But answer your phone. I deal with billionaires all the time, he's not the first one, so it kind of pi$$es me off a little bit.
After working with Vince McMahon, you can deal with anybody. So I am like, 'answer your phone.' This is not cool."
During a recent interview with Chris Van Vliet, Chavo talked about his time in AEW and noted that he isn't pi$$ed anymore.
Below is what the former 4-time WWE Cruiserweight Champion said:
"You know what? That was fun, I had a good time there. It was real quick. We were just getting into what we were starting to do, then Young Rock called for that other season.
I knew that it was coming and I told Tony I've got to do Young Rock at some point. He told me that we would deal with it when it comes. Then it came and I said, 'Look man, this is what I am making over there.' He was like, 'Ok that's a lot', but he said, 'Go and do what you've got to do.'
It was originally only supposed to be for 2 months. It ended up being 3 months. When I came back (originally), he said come back and you'll still have a job here. But when I came back, things changed.
I'm still on good terms with those guys."
New Video: Mickie James Exposes Her Bare Buns: