• Chris Jericho Agrees With A Fan That CM Punk Is Toxic & Not Worth Having In AEW
It looks like the AEW run of CM Punk is over.
The Wrestling Observer is reporting that there are talks within AEW to buy out Punk's official contract, so he won't have to return to the promotion again after what happened backstage at the All Out 2022 pay-per-view:
"Those with close knowledge of the situation said they are in talks with Punk about a buy-out of the remaining years of his contract which tells you that they are not looking to bring him back. The hold-up right now is said to be the non-compete period.
Obviously if the non-compete is an issue, it's about interest in going to WWE because there's no need for a non-compete otherwise because nobody else but AEW and WWE can pay him close to what he was making.
There are those in WWE who have been very negative towards him in the past, but it is a wrestling war and the optics of looking publicly like they have taken Punk from AEW would be very significant."
A fan tweeted the following about Punk:
"Imagine that you're CM Punk. You've had one of the most triumphant comebacks ever in the history of wrestling. You've been promoted as the star you never got to be in WWE. And within a year, you completely ostracize yourself, becoming so toxic that you're not worth having around."
Top AEW Star Chris Jericho liked this tweet. Below is a screenshot of it: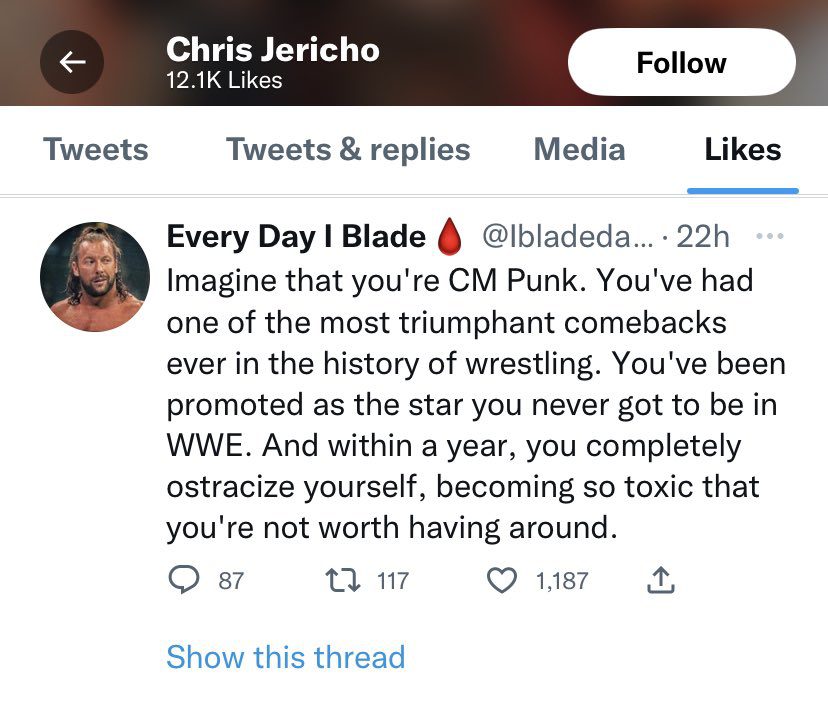 Also Read: "He shot himself in the foot" – 2017 WWE Hall Of Famer On CM Punk
WATCH: AJ Lee's (CM Punk's Wife) Wardrobe Malfunction In WWE:
• On This Day In Pro Wrestling History (October 22, 2005) – Old School Wrestling Legend Passed Away
On this day in 2005, we lost Old School Wrestling Legend The Crusher (Real name: Reginald Lisowski) at the age of 79 due to a brain tumor.
From 1949 to 1988, The Crusher wrestled for various old school territories, such as the American Wrestling Association (AWA), the World Wrestling Association (WWA) and the World Wide Wrestling Federation (WWWF) / World Wrestling Federation (WWF).
In 1994, he was inducted into the short-lived WCW Hall of Fame and it's safe to say, that it's only a matter of time before he will also be inducted into the WWE Hall of Fame as part of their annual Legacy Wing inductions.
† REST IN PEACE CRUSHER
July 11, 1926 – October 22, 2005