• Old School WCW Veteran Celebrates His Birthday
Old School WCW Veteran Lodi (Real name: Bradley Cain) celebrates his 50th birthday today.
Lodi wrestled for Ted Turner's World Championship Wrestling promotion from 1997 till he was let go in 2000.
He made a name for himself as a member of a faction called "Raven's Flock", carrying a variety of signs during his entrance.
HAPPY BIRTHDAY LODI!
• Chris Jericho Calls WWE Petty, Says They Lost & Can't Stop AEW
While speaking on Busted Open Radio, AEW wrestler, Chris Jericho, discussed the Wednesday Night Wars between AEW Dynamite and WWE NXT, and also gave his opinion on rumors of NXT moving to another night.
Below is what he said:
"Once again, it was never a war for me. This is a war that was thrust upon us by a company that is very petty and very spiteful, and we know the reason why NXT was moved to Wednesday nights. To mess with us. We get it. We pay attention to what we are doing. We don't care what they're doing, and we have no interest in it.
If you watch us, you get the ratings, where we beat them week after week. We beat them in the demos where people think it's jokes. The only thing that matters is the TV networks and advertisers that listed the 18-49 demo. Look it up. We win every week.
They should retreat. They should move to any other night. Get away from us! You guys got a great program, and it's good; why would you want to sacrifice your own ratings just to be spiteful and petty to go head to head with AEW? We're not going anywhere and put on anything you want – we'll continue to beat you.
It is a retreat, but it's also the right move from a business standpoint. Get your head out of your rear end and just worry about your product the same way we worry about ours. If they move to Tuesday, smart move. That way, you guys can get your 850 thousand, 900 thousand. Whatever! Get 10 million viewers. Congratulations! Let us do our thing, and we'll get over a million.
I think it's a smart move business-wise on theirs. They lost! There's nothing wrong with conceiting defeat, moving to a different night, and worrying about your show and not worrying about going head to head with AEW because you can't stop us."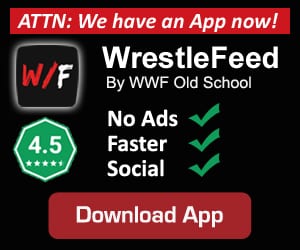 WATCH: Girl Plays With Paige's Juggs:
You can download our official WrestleFeed mobile app to check out more Wrestling news & Divas content. Tap here to download.