• Chris Jericho Invites Recently Released WWE Wrestler To His Podcast
After Tucker got released from WWE, he tweeted out multiple times that he can't wait to tell his story (which will include the break up of his tag team with Otis – Heavy Machinery).
He also took a shot at Vince McMahon (tap here to check it out), but later posted a video to thank the people in WWE.
Here's what he said in the video:
"You know, the weekend has come and gone, and I've had a chance over these last few days to do some reflecting, and so I wanted to take this time to say thank you.
Thank you to all of the men and women who made my time in WWE a more enjoyable experience. The men and women of the locker room, so many incredibly talented individuals doing so many great things. I learned so much from you guys, and I appreciate it.
And the men and women on the production side…behind the cameras, and the lights and the microphones, and setting up and tearing down the rings, and the monitors. We truly would not have a show and it wouldn't even be an ounce of what it is without all the time, effort and dedication that you guys put in, week in and week out, behind the scenes. I learned a lot from you as well, so thank you.
To upper management – even though we maybe didn't see eye to eye on everything, you guys gave me an opportunity to do something that I love and to provide for my family. And I'll always be grateful for that. So thank you.
And finally, I wanna say that moving forward, I don't know exactly what the future holds for Levi Cooper, but I do know this – I am infinitely excited to use the lessons and skills that I developed while in WWE over these last 7 years and apply them to whatever it is moving forward. And lastly I want to say guys, I hope you have a great week, Happy Monday, keep grinding."
Happy Monday

Keep grinding ✊🏼 pic.twitter.com/GzDzW6jVQx

— TUCKy (@REALLeviCooper) April 19, 2021
AEW Superstar Chris Jericho went on to invite Tucker to his podcast to tell his story:
Open invite! @TalkIsJericho https://t.co/ugU5KHieYm

— Chris Jericho (@IAmJericho) April 20, 2021
Tucker's final WWE match took place on the final SmackDown before WrestleMania 37, where he competed in the Andre the Giant Memorial Battle Royal (which was won by Jey Uso).
Also Read: Randy Orton Got Injured On Last Night's RAW
WATCH: Alexa Bliss' Booty Shake:
You can download our official WrestleFeed mobile app to check out more Wrestling news & Divas content. Tap here to download.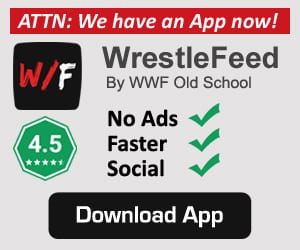 • Old School WCW Veteran Celebrates His Birthday
Old School WCW Veteran Johnny "The Bull" Stamboli (Real name: Jonathan Hugger) celebrates his 44th birthday today.
Stamboli was originally trained at World Championship Wrestling's famous wrestling school, the WCW Power Plant and debuted on WCW TV in late 1999.
In 2000, Johnny became a member of The Natural Born Thrillers, but in March 2001, WCW was sold to Vince McMahon and his contract was bought out by the World Wrestling Federation right away.
After being sent to their developmental promotion HWA, he then wrestled on WWE TV from 2002 till 2004, mainly as a member of The Full Blooded Italians (F.B.I.), a gimmick-stable from ECW, that was resurrected with him, Chuck Palumbo & Nunzio (fka Little Guido).
HAPPY BIRTHDAY JOHNNY STAMBOLI!