• Chris Jericho On How Much Of His Broken Skull Sessions Interview With Steve Austin Got Edited Out
During an appearance on Busted Open Radio, AEW Superstar Chris Jericho talked about his appearance on Steve Austin's Broken Skull Sessions.
Below are the highlights:
On if he would have done this interview if he wasn't allowed to talk about AEW:
"Nobody really knew what to expect. It did come completely out of left field. The opening line of the show, if you've seen it, I said, 'I can't believe there's not snipers on the roof to take me out. I can't believe I'm on the show!' But yeah, what a kind of monumental, groundbreaking moment that was for sure.
I wouldn't have done the show if it wasn't to talk about my whole career, including AEW. There'd be no benefits for me to do the show just to go on and talk about old things I had done in WWE. And Steve wouldn't have had me on either.
So we were both very adamant that if we're going to do this, let's do it right. And that's one of the things that I really enjoyed where people were so surprised.
You have to know how I do things at this point in time. And I wouldn't do anything that wasn't exactly the way I wanted it, and it turned out just perfectly."
On how much of the interview got edited out:
"We both kind of were very adamant of how we wanted the show to be done. But if a certain 73 year old wakes up one days and goes 'what?! I never said that!', the whole thing could be changed, wiped off the face of the earth or whatever.
But I also think there was a lot of trust, both from Vince and Tony Khan, towards both Steve and myself, knowing we wouldn't go that way. There was no reason to talk about things that were going to bury either side. It was a very positive interview as you guys saw.
So there was a lot of trust afforded to us. And I think the moment Vince said 'do it', he knew what we'd be talking about. And Tony even said it to me. He trusted Steve and I to kind of take care of both parties and we did that. If it was anyone else I don't know if we'd be afforded the same trust.
But I had Steve's word and he had my word that we were going to do our best to have a great show. And there was no reason to kind of tear anybody down or talk any bad things. I think that's one of the reasons why it pretty much aired exactly as we spoke.
The thing was over 2 hours long. I don't think there was really much that was edited out, a couple of lines here and there. But probably only 10 minutes of the 2 hours plus we talked about was edited out. And that was mostly for time purposes."
On wanting to do a Part 2 of this interview:
"I realized I could do a part two of this easy. Cause even though we spoke about so much and covered so much, it's only the tip of the iceberg.
There's a lot of chemistry and comradery there. Steve and I are great friends, you could see that. Steve is a very good interviewer and I think I have a lot of fun stories to tell.
And I was really happy with 30 years of stuff encapsulated in 2 hours. But we did discuss everything, for as much as you can discuss in this 2 hour timeframe."
WATCH: Scarlett Bordeaux's Super Hot Buns:
You can download our official WrestleFeed mobile app to check out more Wrestling news & Divas content. Tap here to download.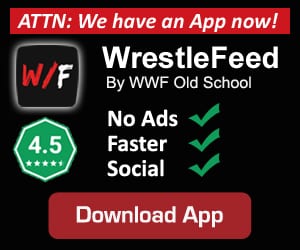 • ON THIS DAY IN WCW HISTORY (April 15, 1990) – NWA Main Event
On this day in 1990, Ted Turner's World Championship Wrestling aired an episode of their weekly TV show 'NWA Main Event'.
This episode featured pre-taped matches & storyline segments on the road to the 'WCW Capital Combat 1990' PPV.
The card can be found below:
– Mark & Chris Youngblood vs. The Galaxian #1 & Scrub
– Eddie Gilbert vs. Samu
– Tom Zenk & Brian Pillman vs. Minnesota Wrecking Crew 2