• On This Day In Pro Wrestling History (January 30, 1991) – NWA Clash Of The Champions 14
On this day in Pro Wrestling history on January 30, 1991, Ted Turner's World Championship Wrestling aired 'NWA Clash Of The Champions 14: Dixie Dynamite' LIVE on TBS from the Georgia Mountains Center in Gainesville, Georgia.
Tom Zenk defended the WCW World Television Championship at the show, even though he had already lost it to Arn Anderson 3 weeks earlier at the TV tapings, but this particular episode hadn't aired yet, so he was still officially the champion here.
Here are the results:
– Sting & Lex Luger defeated Doom via DQ
– WCW World Television Championship: Tom Zenk (c) defeated Bobby Eaton
– The Fabulous Freebirds defeated Tommy Rich and Allen Iron Eagle
– Sid Vicious defeated Joey Maggs
– Terry Taylor defeated Ricky Morton
– Ranger Ross defeated El Cubano
– Arn Anderson & Barry Windham defeated The Renegade Warriors
– Brian Pillman defeated Buddy Lee Parker
– Arm Wrestling: Missy Hyatt defeated Paul E. Dangerously
– WCW World Heavyweight Championship: Ric Flair (c) wrestled Scott Steiner to a time-limit draw
• Chris Jericho Returning To NJPW, Deletes Tweet Regarding Brock Lesnar
Old School WWF Legend and former IWGP Intercontinental Champion Chris Jericho noted on Instagram that he's returning to New Japan Pro Wrestling.
Below is what Jericho posted:
"I'm coming back…I will return… njpw1972"
View this post on Instagram
Speaking of Jericho, he took shots at Brock Lesnar & WWE after the Royal Rumble 2019 PPV, but he has now deleted those tweets. This is despite Jericho confirming that he wasn't drunk while making those tweets.
Below is what Jericho had tweeted: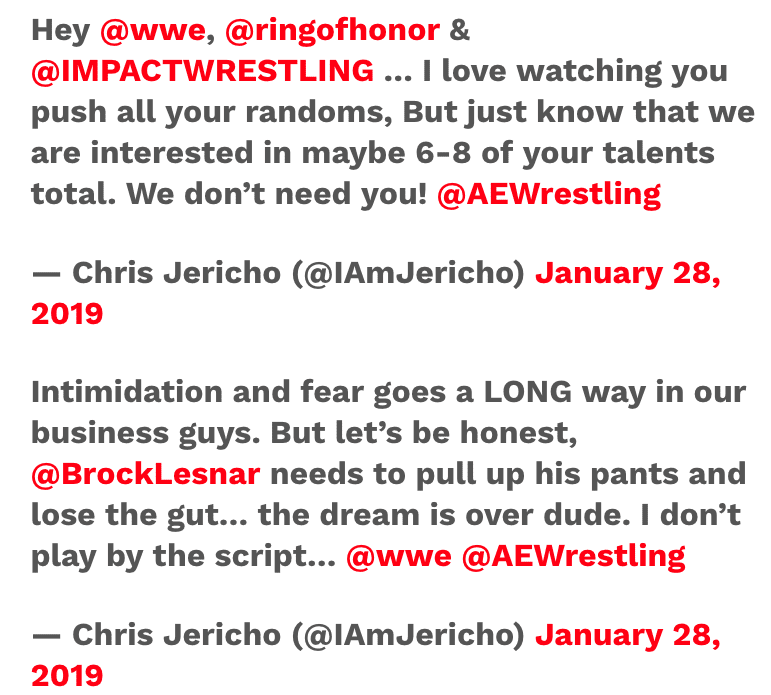 WATCH: Vince McMahon Calls Brock Lesnar An A-Hole Backstage At WrestleMania 34: