• Chyna's Ex-Manager Recalls Triple H & Chyna Apologizing To Each Other At Roddy Piper's Funeral
WWE Hall Of Famer Chyna's former manager, Anthony Anzaldo, was a guest on the latest edition of the WrestlingInc podcast, where he recalled Triple H and Chyna's reunion after over a decade at "Rowdy" Roddy Piper's funeral in 2015.
Below is what he said:
"Roddy Piper dies 6 weeks after he and I have this conversation about how they're going to get Chyna and Hunter together. So, very few people are invited to Roddy's funeral. I'm one of them, and I take Chyna. And we fly to Portland. Rod lived outside of Portland. You may not know this, but when Roddy Piper was fighting Ric Flair and Hulk Hogan back in the day, Vince offered Rod a mansion on the East Coast for free, but Rod's wife loves Portland.
So when he had a day off, he'd fly home while everybody else stayed on the east coast, and then fly back the next day, so he'd get three or four hours with his family. It was an hour and a half from the Portland airport. So to travel from New York or Connecticut to Portland non-stop and then the drive was an hour and a half. We got a car. We drive to this place that was kind of like a middle school, quad indoor thing where there's a cafeteria, and there was a stage.
And that's where they had his funeral. This was for his close people. Bret Hart was there, Ric Flair was there, Sgt. Slaughter was there, there were a couple of other people there and just his family. So I'm shooting footage when we get out of the car, and while Colt (Piper's son) is crying in Chyna's arms, Kitty [goes], 'Chyna, Chyna, Chyna, thank you. Thank you. Thank you. Thank you.'"
He then talked about Triple H and Chyna being in the same room at the funeral, where they finally talked after a long time.
"This was a Monday. Monday Night RAW was in Portland that night. Who the f**k do you think is sitting over there in the corner? Hunter Hearst Helmsley and Chyna are now in the same room together, and it took Rod to die to make that happen. So Hunter's there. 'Oh my God, Hunter's here.' Anyway, the procession happened.
Now, it's the end of the funeral, and people had lined up because they're going to walk past the family and right past Roddy's urn. And who stands up next to the family but Hunter, and Chyna's like, 'Oh my God, what do I do?' I said, 'Walk down there. I want you to' because he stuck. He's in the corner. He can't move. Hunter cannot go anywhere. He cannot move. He is trapped trying to get in line. I say, 'When you walk up to him, here's what I want you say, it's great to see you, and I want you to know how sorry I am for everything that I did and that's my fault. That's it,' and she goes, okay.
So now, I go to the back of the room into the cafeteria area, and I, on my iPhone, zoom in to this encounter. As soon as he sees her, you could see 'oh my God,' and she wraps her arms around him, whispers in his ear and you can see him say, 'Me too.' You can see him say it, and then she walks to the left and goes to the family and we leave."
He also addressed X-Pac's accusation of Chyna attending Piper's funeral uninvited, and creating a scene there.
"So there it is, Roddy came through. Told me he would. Got it on tape. Happened to be at his funeral, not on his podcast. So the next day X-Pac tweets, 'Chyna gets removed at Piper's funeral. Uninvited, creates a scene.' I'm like, what?
All because Hunter told X-Pac what happened and this is to make Hunter look like, 'Oh, I didn't hug Chyna. I didn't do anything.' And we went crazy. We were so upset. Before we can do anything, Kitty responds, 'It's a horrible thing to say. Chyna is a close, dear friend of the family. She was invited, and it was an honor to have her there.' So Kitty had our back."
Also Read: Ex-Manager On What Happened When Chyna Caught Triple H Cheating On Her With Stephanie McMahon
WATCH: Stephanie McMahon's Buns Exposed By Triple H:
You can download our official WrestleFeed mobile app to check out more Wrestling news & Divas content. Tap here to download.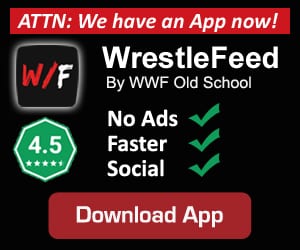 • Old School ECW Veteran Celebrates His Birthday
Old School ECW Veteran Super Crazy (Real name: Francisco Rueda) celebrates his 47th birthday today.
After a career in Mexico and a short stint as 'Super Loco' on the World Wrestling Federation's short-lived lucha libre themed TV-Show 'Super Astros', he joined Paul Heyman's Extreme Championship Wrestling in 1998 and stayed with the promotion till the bitter end in January 2001.
Years later, Vince McMahon brought him back to the (now renamed) WWE, where Super Crazy joined forces with Psicosis & Juventud Guerrera to create the faction 'The Mexicools'.
Since his WWE release in 2008, he's wrestling on the independent scene all over the world.
HAPPY BIRTHDAY SUPER CRAZY!