• Old School WCW Veteran Celebrates His Birthday
Old School WCW Veteran Yuji Nagata celebrates his 51st birthday today.
Yuji Nagata wrestled for Ted Turner's World Championship Wrestling promotion in 1997 & 1998, and was managed by Heel Manager Sonny Onoo.
During his time in WCW, he feuded with fellow Japenese veteran Último Dragón.
Nagata is a former 2 time IWGP Heavyweight Champion (NJPW's World Title) after winning the belt in 2002 and 2007.
HAPPY BIRTHDAY YUJI NAGATA!
WATCH: Sasha Banks' ASSets Exposed On RAW:
• CM Punk Takes A Major Shot At His Former Friend Colt Cabana For Suing Him
Former WWE Champion and new RAW Superstar Rey Mysterio recently posted the following on Instagram:
"Punk-Vs-Eddie-Vs-Rey
What a throwback pic!
Never would of imagined how our destinies would turn out after this night! #RIP?#MissYouEddie #MissYaPunk"
CM Punk commented the following under this post:
"People should know how good Eddie really was. He was in a rough spot. Recently fired, home front was turbulent. He came to this show and looked tired. Said to me 'I hate three ways. If it's okay with you, can you and Rey put something together and just call it to me?' I wasn't sure that was possible. He didn't miss a beat.
And you Rey, so open and giving to a little punk Indy kid. You laid out a masterpiece and I wasn't sure I could keep up. One of the early times I remember being in the ring and thinking to myself, 'this is f***ing MAGIC!' A pleasure. An honor.
I miss Eddie, truly fortunate to have worked him as many times as I did. I feel the same about you Rey! Legends, who treated me like an equal, and I've never forgotten it. Viva la raza!"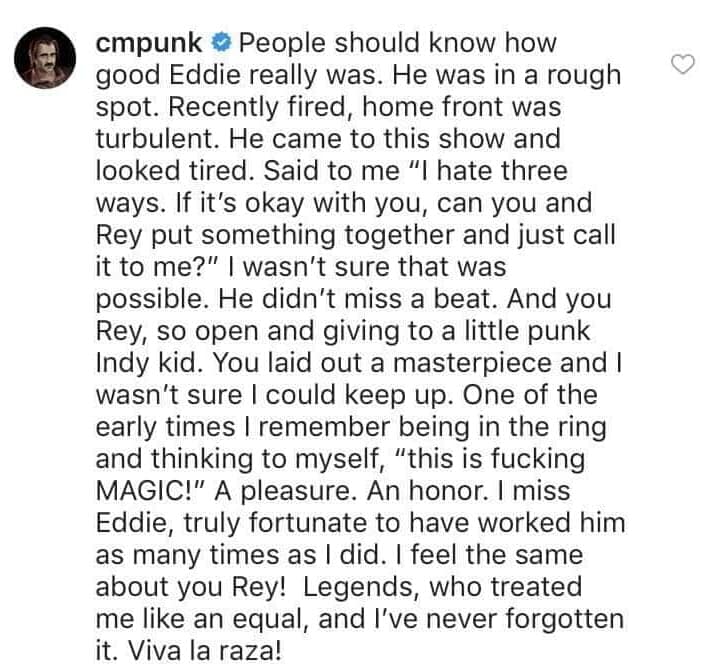 This led to a fan posting the following on Instagram and then asking Punk to start a podcast:
The final post from Punk on his LiveJournal, the day Eddie died, almost 15 years ago. pic.twitter.com/MGZ3SxBfp6

— Danny (@dajosc11) April 19, 2019
+1 punk we need these stories RT @RealLifeKaz: Please, please start a podcast @CMPunk https://t.co/X2r6RcoY9C

— DJ Folk (@DJFolk) April 19, 2019
This led to Punk taking a shot at WWE doctor Chris Amann, WWE (they bankrolled Amann's lawsuit against Punk) and Colt Cabana (who ended up suing Punk as well):
So more lying snakes and unethical fugazis can sue me for telling the truth? Hard pass. ??‍♀️ https://t.co/vH9sY7PgrU

— Coach (@CMPunk) April 19, 2019
In an update to this, Ronald Funches noted on Twitter that he'd like to have Punk on his podcast, but then remembered what happened when Punk was on a podcast last time.
This led to Punk taking a major shot at his former friend Colt Cabana once again:
Promise not to sue me for being a good friend (then sign a legally binding agreement that you're not a greedy steaming pile of ungrateful snake shit) and I'll consider it.

— Coach (@CMPunk) April 23, 2019