• On This Day In WWF History (January 8, 2010) – Old School WWF Veteran Passed Away
On this day in 2010, we lost Old School WWF Veteran Ludvig Borga (Real name: Tony Halme) at the age of 47 due to a self inflicted gunshot wound.
He wrestled for the World Wrestling Federation as an upper mid-carder in 1993 & early 1994 and was eventually going to be pushed to be a main eventer, but then got injured and left the company.
Borga's biggest accomplishment during his time in the WWF, was ending Tatanka's 2 year winning streak.
After his Professional Wrestling Career was over, he became an MMA fighter, losing to Randy "The Natural" Couture at 'UFC 13: The Ultimate Force' on May 30, 1997, before becoming a politician and even got elected into the Parliament of his home country Finland.
† REST IN PEACE LUDVIG BORGA
January 6, 1963 – January 8, 2010
• CM Punk Tells The Miz To "Suck A Blood Money Covered D*ck In Saudi Arabia"
On this week's episode of WWE Backstage, The Miz appeared as a special guest.
When the episode was about to be over, The Miz said the following:
"Oh yeah, we are now done with WWE Backstage. They are taking the microphones off me. It was great, it was amazing. I feel like this was the best WWE Backstage episode ever. It was the best… was it the best-ever?"
Miz then asked Renee Young and Paige the following:
"What do you mean in and around? Name one that was better. Name one."
Renee named the episode which featured Ember Moon on November 19 (which was the debut edition of the show).
This led to Miz saying the following:
"Oh, sorry. I didn't 'change the culture,' My bad. My bad."
The above line was in reference to CM Punk's surprise appearance on WWE Backstage, where he said the following:
"It's as simple as this, just when they think they've got the answers, I change the culture. I'll see you here next week."
This was a harmless comment from Miz and CM Punk ended up tweeting the following regarding it:
"Go suck a blood money covered d*ck in Saudi Arabia you f**king dork."
Punk later deleted his tweet, but below is a screenshot: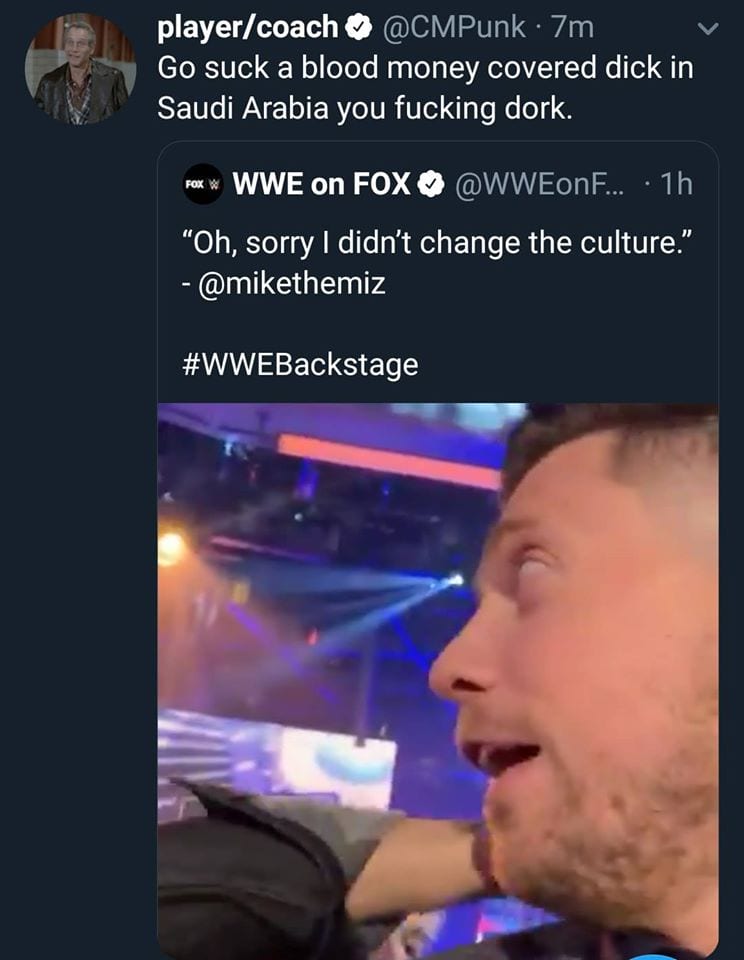 Also Read: CM Punk Reveals If He's Interested In A Saudi Arabia PPV Match With Stone Cold Steve Austin
WATCH: AJ Lee's Wardrobe Malfunction In WWE: