• "Cody beat the pi$$ out of this guy" – Arn Anderson On Cody Rhodes' WWE Match Turning Into A Shoot
During a recent episode of his podcast, Arn Anderson talked about WWE bringing in Sin Cara in 2011, when Arn still worked there as an agent.
Arn noted that WWE wanted Sin Cara to be the new Rey Mysterio, which he said was a major misassumption.
The former 4 Horsemen member and current AEW manager of Cody Rhodes also mentioned how his current client Cody worked a match with Sin Cara that eventually turned into a (partial) shoot.
Here's what the 2012 WWE Hall of Famer had to say:
"This guy came in with all this hype, it was discussed and true, you need a Mexican star if you're going to run Mexico or Spanish countries. Rey Mysterio was that guy and you don't replace Rey, there's nobody coming along. I haven't seen anybody to do this day that's going to eclipse Rey Mysterio and all that he's accomplished.
This guy didn't show me anything, not a damn thing. He had a bad attitude. If he spoke English, he acted like he didn't. We're not talking about Hunico, we're talking about the original Sin Cara. He was one of those guys that flat just brought the Mexican style to our product. Our product was not ready for that lack of contact, lack of selling. The wurly bird stuff that had no psychology behind it.
I like Rey Mysterio because of several reasons. He is small but he figured out a way to work his matches where he used every bit of his body to knock you down or chip away at you and get you in a position where he could do a springboard and knock you down. He spent most of the match selling, he had one flurry that made sense that was able to get him almost to winning or winning in a way that made sense.
None of that reasoning was in this guy's tool belt. He thought he would just bounce guys around twice his size, very little selling. Everything I've been taught about this business and everything the audience loves, storytelling, selling, the underdog, was lost on him. It came from the top, we had to have a Mexican star so those of us that had these feelings and relayed these feelings just got heat. Just like everything else.
This guy had heat with everybody, his selling was terrible, everything was terrible. This guy was booked with Cody, Cody was one of the young guys that was trying to make his way in the business and this dip sh*t made it difficult, in previous matches, every way he possibly could. Cody wasn't advanced enough, I thought, to be able to deal with this guy who's not selling his stuff and wanting to put up and run high spots. I told Cody, go out there and show him what we do.
I'm getting reports, Cody beat the pi$$ out of this guy and made him fight him and all the high spots went away and it turned into a real good scuffle. I guess it was the best match that guy had had to that point and the best match Cody had had, but it was a half a$$ shoot. He was gone after that pretty quickly."
Also Read: "Sin Cara got confused. He thought I was Edge" – Former WWE Wrestler
WATCH: Brandi Rhodes (Cody Rhodes' Wife) Exposed:
You can download our official WrestleFeed mobile app to check out more Wrestling news & Divas content. Tap here to download.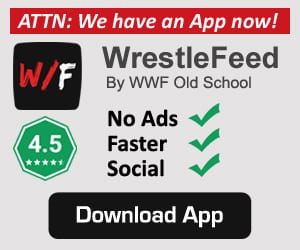 • ON THIS DAY IN WCW HISTORY (March 6, 2000) – WCW MONDAY NITRO
On this day in 2000, Ted Turner's World Championship Wrestling aired another episode of their weekly TV show 'WCW MONDAY NITRO'.
It was broadcasted from the Student Activities Center in Chapel Hill, North Carolina and featured matches, interviews & segments on the road to the 'WCW Uncensored 2000' PPV.
The card can be found here:
– Kaz Hayashi vs. Psychosis
– Big Vito vs. Ron Harris
– David Flair vs. The Wall
– The Dog vs. Evan Karagias
– Curt Hennig vs. Ric Flair
– Norman Smiley vs. Idol
– Stevie Ray & Big T vs. Billy Kidman & Booker
– The Wall & Jeff Jarrett vs. Sid Vicious & Vampiro